Cruise In The South Of France On The Canal du Midi And In Southern Burgundy/Provence Aboard The Ultra Deluxe Hotel-Barge ALOUETTE
BARGE CRUISES: SEVEN DAYS/SIX NIGHTS
The 4-Passenger Alouette offers private charters aboard one of the most luxurious barges currently cruising the Canal du Midi.The beautiful tree-lined canal was built in the 17th century and was an engineering marvel for its time. Highlights of this area include Carcassonne, the most complete medieval, fortified city in existence. Excursions to fortified villages, castles and market towns plus a sophisticated gourmet and service tradition on board the Alouette create the ingredients for an exceptionally memorable barge cruise.
The barge itself offers elegant Provencal decor throughout and has two large and very comfortable staterooms, each with its own private ensuite bathroom with shower. There are large windows that open well above the waterline for you to enjoy the sights as the barge floats by. The spacious living/dining salon with large picture windows has a library area, writing desk, stereo, games, satellite TV and internet access. The sundeck with lounge chairs and sheltering umbrellas is perfect for soaking up the sun while enjoyg the scenery during the day.
The Alouette cruises from Southern Burgundy to Provence in early April before moving to the historic Canal du Midi for the summer to cruise between Béziers and Carcassonne. In late October it returns back to Burgundy via Provence.
One day you may decide to bicycle through the countryside to visit Roman ruins, travel in your own air-conditioned mini-bus to an out of the way vineyard, or visit a local market or the historic towns and villages of the region. Then, at the end of a glorious day, you return to your floating "country home" where your crew has been preparing an evening feast ... an elegant five course gourmet dinner graced by fine wines and cheeses unknown outside France. A sense of comradery seems to prevail as you share the day's adventures with old and new friends ...reliving memories that will carry your conversations for years to come.
We have visited the Alouette several times and think that its latest renovation makes it one of the most beautiful barges afloat, now with very large cabins and bathrooms.
---
Features
Size of barge: 98 ft by 15.9 ft
Number of Passengers: 4
Number of Cabins (all with private bath): 2
Crew: 4
Air Conditioning and Central Heating: Yes
Salon: Comfortable sofas, writing desk, internet, DVD, satellite TV, sofa bed, and dining area with picture windows
Bar: Open bar
Deck: Sundeck with dining table and 4 chairs, 4 lounge chairs and canopy
Spa Tub: No
Cabin Features: Two twin or queen bed cabins, 219 sq ft and 163 sq ft each, with satellite TV, DVD player, phone intercom and ensuite bathroom with shower
Vehicle for Transfers/Excursions: Air-conditioned minibus (4-seater plus driver)
Accessibility: Steps to salon/cabins
Bicycles: Yes - 21 gears
Wi-Fi: Yes - limited in some areas
---
Alouette's Deck Plan


---
ALOUETTE
2018 SEASON PRICES in EUROS
TYPE
LOW

---

Mar 25 thru May 5
Oct 7 thru Oct 27
HIGH

---

May 6 thru Oct 6
Charter for 2

€18,920

€23,650

Charter for 3

€20,811

€26,013

Charter for 4

€22,704

€28,380
---
ALOUETTE
2019 SEASON PRICES in EUROS
TYPE
LOW

---

Mar 24 thru May 4
Oct 6 thru Oct 26
HIGH

---

May 5 thru Oct 5
Charter for 2

€18,920

€23,650

Charter for 3

€20,811

€26,013

Charter for 4

€22,704

€28,380
Please visit our ...
Special Offers Page
... to see potential discounts for this barge or many others.

What's Included
- 7 days and 6 nights on the barge in a cabin with private bath
- Transfers from Paris to the barge and return via TGV train and chauffeur service from Paris hotel to train station
- All meals beginning with dinner on Sunday through breakfast on Saturday, including one dinner at a local restaurant
- All wines with lunches and dinners
- All escorted side-excursions (hot air balloon not available in Canal du Midi area)
- Use of bicycles
What's Not Included
- Overseas air transportation to Paris and return
- Suggested minimum 5% gratuity for the crew, to be paid to the captain in equivalent euros
---
Alouette
2018 Season Cruise Schedule*
Week
Route (Or Reverse)
Season
Mar 25
St. Jean-Lyon
Low
Apr 1
Lyon-Avignon
Low
Apr 8
Avignon-Beziers
Low
Apr 15
Le Somail-Carcassonne
Low
Apr 22
Carcassonne-Beziers
Low
Apr 29
Beziers-Carcassonne
Low
May 6
Carcassonne-Beziers
High
May 13
Beziers-Carcassonne
High
May 20
Carcassonne-Beziers
High
May 27
Beziers-Carcassonne
High
Jun 3
Carcassonne-Beziers
High
Jun 10
Beziers-Carcassonne
High
Jun 17
Carcassonne-Beziers
High
Jun 24
Beziers-Carcassonne
High
Jul 1
Carcassonne-Beziers
High
Jul 8
Beziers-Carcassonne
High
Jul 15
Carcassonne-Beziers
High
Jul 22
Beziers-Carcassonne
High
Jul 29
Carcassonne-Beziers
High
Aug 5
Beziers-Carcassonne
High
Aug 12
Carcassonne-Beziers
High
Aug 19
Beziers-Carcassonne
High
Aug 26
Carcassonne-Beziers
High
Sep 2
Beziers-Carcassonne
High
Sep 9
Carcassonne-Beziers
High
Sep 16
Beziers-Carcassonne
High
Sep 23
Carcassonne-Beziers
High
Sep 30
Beziers-Carcassonne
High
Oct 7
Carcassonne-Beziers
Low
Oct 14
Beziers-Carcassonne
Low
Oct 21
Carcassonne-Beziers
Low
Alouette
2019 Season Cruise Schedule*
Week
Route (Or Reverse)
Season
Mar 24
St. Jean-Lyon
Low
Mar 31
Lyon-Avignon
Low
Apr 7
Avignon-Beziers
Low
Apr 14
Beziers-Carcassonne
Low
Apr 21
Carcassonne-Beziers
Low
Apr 28
Beziers-Carcassonne
Low
May 5
Carcassonne-Beziers
High
May 12
Beziers-Carcassonne
High
May 19
Carcassonne-Beziers
High
May 26
Beziers-Carcassonne
High
Jun 2
Carcassonne-Beziers
High
Jun 9
Beziers-Carcassonne
High
Jun 16
Carcassonne-Beziers
High
Jun 23
Beziers-Carcassonne
High
Jun 30
Carcassonne-Beziers
High
Jul 7
Beziers-Carcassonne
High
Jul 14
Carcassonne-Beziers
High
Jul 21
Beziers-Carcassonne
High
Jul 28
Carcassonne-Beziers
High
Aug 4
Beziers-Carcassonne
High
Aug 11
Carcassonne-Beziers
High
Aug 18
Beziers-Carcassonne
High
Aug 25
Carcassonne-Beziers
High
Sep 1
Beziers-Carcassonne
High
Sep 8
Carcassonne-Beziers
High
Sep 15
Beziers-Carcassonne
High
Sep 22
Carcassonne-Beziers
High
Sep 29
Beziers-Carcassonne
High
Oct 6
Carcassonne-Beziers
Low
Oct 13
Beziers-Avignon
Low
Oct 20
Avignon-Lyon
Low
*Note: Cruise directions and sample itineraries may be in reverse and are subject to change and may depend on bookings and local navigation conditions. Alternate excursions of equal appeal are substituted when needed. For charter cruises special itineraries can be arranged.
SAMPLE ITINERARY*
Canal du Midi
Beziers to Carcassonne 2018

Highlights:

--L'Oppidum d'Enserune: a fascinating archeological site and remains of an antiquity village 8km west of Beziers. The hilltop village that was lived in from 600 BC to 100 AD. Its position on the summit of the hill qualifies the title of Oppidum. The main excavation of the site was conducted by Felix Mouret between 1915 & 1928 and uncovered many period ceramics and artifacts.

--Abbaye de Frontfroide: set in a magnificent rural location the abbey was attached to the order of Citeaux from 1145 and rapidly became one of the richest in Europe. From the 13th century a period of slow decline ensued coupled with the Black Plague that would leave just a handful of monks up until the French revolution The abbey was eventually sold in 1908 to the Fayet family who have passionately restored and redecorated ever since as a witness to past glories.

--Narbonne: The history of Narbonne dates over 2000 years and was originally located on the Via Domitia, the first Roman Road in Gaul connecting Italy to Spain and an important commercial crossroads. To help trade and encourage visitors further the Canal de Robine traverses the town overlooked by the imposing 14th century Cathedral, one of the tallest in France. Today tourists can enjoy mingling with the locals on market day and soak up the vibrant atmosphere of this charming town.

--Cité de Carcasonne: added to the UNESCO list of World Heritage sites since 1997, the majestic medieval walled city has been built up and fortified by its many successive rulers. It now dominates the "modern" town below where the Canal du Midi gracefully meanders through, and Alouette moors in the town port & within walking distance of the shopping centre.

--Minerve: as per the local wine the inhabitants of this village are called the "Minervois". This small village oversees the Cesse-Brian Gorge and a site of incredible beauty. Our guide will unravel the compelling story of Minerve which is steeped in local folk law before heading onto a local domain and winetasting.
Sunday - Beziers
A champagne reception welcomes you on board and gives you a chance to meet the crew and your guide for the trip. Time permitting, enjoy your first cruise to the pretty village of Colombières. The evening brings your first fabulous dining experience on board, with a dinner prepared by our chef showcasing the region's finest seasonal ingredients.

Monday - Visit Abbaye de Fontfroide. Cruise to Capestang
This morning visit l'Abbaye de Fontfroide, a Cistercian monastery founded in the 11th century. Now privately owned, the abbey has been lovingly restored with a well-kept garden and peaceful cloister. Return to the barge for lunch, followed by an afternoon cruise along the beautiful Canal du Midi to Capestang. Dinner is served on board.

Tuesday - Tour Oppidum d'Enserune. Cruise to Le Somail
After breakfast enjoy a visit to Oppidum d'Enserune, a pre-Roman hilltop settlement and one of the most important archaeological sites in the region. The location affords a panoramic view of the "pond of Montady," a former freshwater wetland drained in 1247 and transformed into a sunburst-shaped network of ditches. On the way back to the barge, you stop at a local wine producer for a tasting. Lunch on board is followed by a relaxing afternoon taking in the grandeur and beauty of the Canal du Midi with its fine locks, buildings and aqueducts, scarcely changed since their construction over 300 years ago. Dinner is served on board.

Wednesday - Visit Narbonne and the market. Cruise to Homps
This morning, visit the wonderful covered market in Narbonne with the chef and help choose your dinner menu. Narbonne is a lively Mediterranean city and an important wine-producing centre. The historic architecture, shady boulevards and location on the banks of the River Robine all contribute to its charm. Enjoy lunch at a local bistro close to the market and then return to the barge for an afternoon's cruise to the port at Homps, followed by your evening meal.

Thursday - Visit Minerve. Cruise to Trebes
After breakfast, visit Minerve, an ancient village on a limestone cliff, overlooking the vineyards below. Its now ruined castle was once a Cathar stronghold, besieged and captured by Simon de Montfort. On the way back to the barge, stop at Peyriac-Minervois for a wine tasting. Following lunch on board, relax and soak up the everchanging views from the comfort of the deck, or perhaps walk or cycle along the tow path. Tonight we moor in the pretty town of Trebes, the perfect spot for dinner on board.

Friday - Cruise to Carcassonne. Visit Carcassonne
Finish the week with a tour of Europe's largest medieval fortress - Carcassonne. Explore the intricate fortifications of the two castellated walls, one inside the other, about a mile in circumference. The views from the battlements towards the Pyrenees are stunning. Visit the cathedral, remarkable for its stained-glass rose windows, elegant Romanesque nave and Gothic transepts. Back on board, the chef prepares your farewell gala dinner.

Saturday - Carcassonne
After breakfast the crew bids you farewell before you disembark the barge for your onward travel arrangements.

Note: The cruise runs in reverse on alternate weeks. The route may be subject to change without prior warning as a result of unforeseen circumstances.


---
Dining Aboard The Alouette:
SAMPLE MENU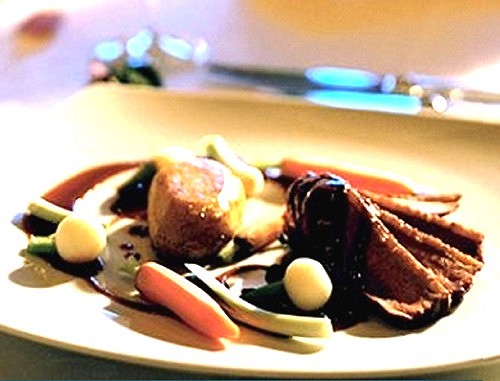 Dining on board the Alouette is among the highlights of the cruise. Our five-course candlelit dinners are a particularly special treat. The table d'hôte menus onboard the Amaryllis are of the very highest quality and include many regional specialties and fine wines. Each week's menu includes some of the Chef's original recipes as well as regional specialties and seasonal delicacies unique to the particular area of the country you are cruising.
You will enjoy a buffet style continental breakfast, large lunch including pâtés, cheeses, cold meats, tarts, terrines and salad. Dinners are always plated with at least four courses and complementary wines.
Meal times may vary to fit in with excursions but are generally:
Breakfast between 8:00 am to 10:00 am
Lunch between 12:00 pm and 2:00 pm
Dinner at 7:30 - 8:00 pm
LUNCH
Moules marinieres shrimp and celeriac remoulade with watercress, frisse, fennel and orange salad
Grilled vegetables
Artichoke and ricotta tart with fruit chutney
Insalata Caprese with mozzarella, basil, tomato, spanish onion & vinaigrette
DINNER
Amuse-bouches of foie gras on pain d'epices
Entree: Roast sweetcorn soup with lobster and spiced butter
Main: Crispy skinned sea bass fillet on pea and mint puree with a truffle beurre blanc and watercress salad
Dessert: Sticky date pudding with whisky toffee sauce and creme fraiche


WINES
Carefully selected wines, including 1
er
Cru and Grand Cru vintages, are served with lunch and dinner. We will of course try and accommodate any specific requests from clients for particular wines and spirits where possible.
---
Passenger Comments:
It was perfect. The staff was exceptional. We took a barge trip 2 years ago and I didn't think it could get any better but it did!
C.A, MA, USA, October 2017
Our crew were just outstanding. From the moment we arrived at the train station to the moment we left, we felt like royalty. A barge cruise is slow food for the mind and body. My husband describes it as floating through an Impressionist painting while dining at a Michelin quality restaurant. The barge was gorgeous, the staff and service were outstanding, and the Canal du Midi mesmerizing. The emphasis on local food, local wine and visiting quirky local museums and vineyards made this holiday a highlight of our trip to Europe. It was a family trip and thoroughly enjoyed by all, irrespective of age.
C.S., Australia September 2011
---
LINKS to Alouette Information
---
Email us at: info@bargesinfrance.com
This page last updated August 3, 2018