Cruise in Holland and in Belgium on the Meuse River Aboard The Deluxe Hotel-Barge SAVOIR FAIRE
BARGE CRUISES: SEVEN DAYS/SIX NIGHTS

The 12-passenger Savoir Faire will be cruising on several new routes in 2017 in Holland and Belgium. In the spring it will again be offering its tulip cruise in Holland, followed by cruises in Belgium in June exploring Bruges, Ghent and Antwerp and then cruises along the Meuse River between Dinant in Belgium and Maastricht, on the border with Holland, for the rest of the season. This area of Southern Belgium, known as the Ardennes, is well known for its beautiful forested landscapes, castles, abbeys and Belgian delicacies, including chocolate, wine and world renowned beers. Excursions include a visit to the famous site of the Waterloo Battlefield of 1815 and to the Limberg vineyards outside Maastricht, some of the oldest vineyards in Holland.

The Savoir Faire dates back to 1932 when she was built as a transport barge in the Belgian estuaries. During World War II, her bow was replaced with a landing bow so she could sail upon the beaches. She was sunk during the war but later lifted from the river bottom and completely refurbished. In 1979, the barge was brought to Holland where she underwent a total metamorphosis and was converted into the elegant three-decked hotel barge that she is today. Carrying just 12 passengers and built on the largest hull that can cruise the waterways, the former "Etoile de Champagne" was substantially refurbished in 2005 and renamed the "Savoir Faire." She continues to maintain the very high standard of excellence in cuisine, accommodations and service that she has been known for. As an owner-operated luxury barge, the Savoir Faire prides itself in customizing your cruise week to your desires.

Chris Bennett has been the Captain and owner of Savoir Faire since the end of 2004. His extensive experience on the waterways of France has included operating a successful hotel barge in Burgundy that set the stage for his operations aboard the Savoir Faire. He is accompanied on board by a crew of four, including a master Chef. We have known Chris since he operated his first barge and have been on board the Savoir Faire many times, most recently in 2013 on its cruise in Northern Burgundy. We have found his itineraries to be excellent and look forward to his new cruises in Belgium.

Savoir Faire's master Chef selects only the freshest ingredients to prepare the subtle sauces and the delicate pastries that are so much a part of exceptional French cuisine. A grand selection of fine, regional wines accompanies both lunch and dinner, beautifully complementing the superb cuisine.All meals are served in Savoir Faire's elegant mahogany panelled dining room with the finest crystal, Christofle silver and Wedgwood china.

The Savoir Faire features six staterooms. Each can be configured with two twin beds or with one queen bed. Cabin #1 has a large bathroom with shower, sink, vanity, and toilet. The five other cabins have a separate toilet and shower rooms. All cabins offer good lighting, a large number of electrical outlets, and include 220v European standard and 110v U.S. standard power outlets.

There are five separate public areas on the Savoir Faire for our passengers' enjoyment. Regardless of whether you need a place for a personal retreat, a place to have a quiet conversation or a small group get-together, the Savoir Faire has room to accomodate all of our passengers. The salon, dining area, and bar are finished in mahogany, teak and brass and decorated with antiques and paintings that were collected over the years. Many new original works of art have been introduced by Chris.

The main lounge has a panoramic view, comfortable custom-made furniture, upright piano, game table, and library. Adjacent to the lounge is an elegant dining room, large enough to double as a dance floor on festive evenings, and a writing desk in its own quiet corner. The aft area of the barge has a cozy cocktail lounge that always becomes a favorite meeting place for aperitifs or quiet conversations, with stereo and CD player. Outside there are two spacious decks: a fore deck that opens directly from the main lounge, and an elevated observation deck that offers a magnificent view of the passing countryside.


---
Features
Size of barge: 129 ft by 16.5 ft
Number of Passengers: 12
Number of Cabins (all with private bath): 6
Crew: 6
Air Conditioning and Central Heating: Yes
Salon: The main lounge has panoramic views with eight large windows and comfortable custom-made furniture, upright piano, dining and library areas. The aft cocktail lounge has a bar, French doors and comfortable seating.
Bar: Open bar
Deck: There is a forward sundeck off the main lounge as well as an observation deck on the upper deck, both with comfortable deck chairs and tables.
Spa Tub: No
Cabin Features: Six suites on the lower deck: forward suite is 142 sq ft with ensuite bathroom with shower, sink and toilet. Five suites are 116 sq ft, with separate ensuite toilet and shower facilities. All cabins with twin beds or queen bed.
Vehicle for Transfers/Excursions: Air-conditioned 9-seater (including driver) long wheelbase minibus with an additional minibus if there are more than 8 guests.
Accessibility: Steps from lounge to cabins and to upper observation deck.
Bicycles: 12 bikes
Wi-Fi: Yes - limited in some areas
---
Savoir Faire's Deck Plan

---
Dining Aboard The Savoir Faire:
SAMPLE MENU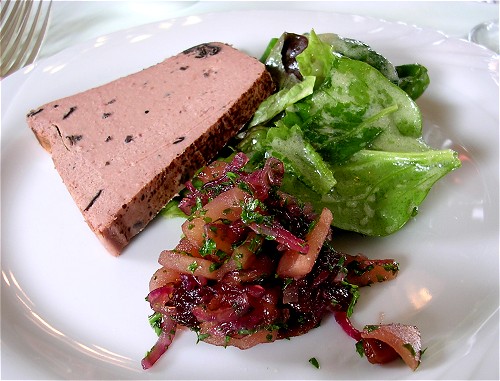 BREAKFAST
Our Continental & hot breakfast offerings include pancakes, Belgian waffles, eggs, bacon, fresh breads, pastries, cereals, fresh fruits and yogurt.

LUNCH

Swordfish nicoise
Fresh lobster and crab cocktail with avocado over salad with mango dressing
Traditional French chocolate custard pots
DINNER
Traditional French onion soup
Beetroot carpaccio with St Agur cheese, pistachios, haricots verts and baby leaf salad
Chicken fermier with wild mushroom and tarragon veloute sauce
Duck confit with pomme fondant, cabbage and greens accompanied by a sauce l'orange
Profiteroles with a trio of ice creams and raspberry coulis
Trio of sorbets
Crème brulee
Assorted cheese selections
---
Passenger Comments:
It was excellent. It was a truly relaxing vacation on the barge. It exceeded my expectation. Every member of the staff was very helpful, engaging, and made much effort to make our stay comfortable and enjoyable. The meals prepared by chef, Mel, were fantastic. Each course was presented beautifully, paired with wine. It was nice that all the excursions were paid for, and therefore no extra expenditures on our part. The dining, living, and lounge spaces were very nicely furnished. The inside of the barge was like a very comfortable home. Visiting palaces, towns, and castles were all wonderful, but most of all, the relaxation and dreamlike quality of gliding on the barge while the world goes by outside of the windows were the unique and high points of the cruise. I much prefer this barge trip to a large cruise ship. I like the idea of small numbers of passengers on the barge boat. The barge provided us with personal and family-like care in all aspects of the trip.
S.G., WA, USA, October 2016

We thoroughly enjoyed our barge experience on the Savoir Faire. The food and wine were excellent; the attention of the crew to the passengers' needs was graciously responsive, from the captain to the chef and deck crew [servers and jacks of all trades] and the van drivers and Tom, the tour guide. The meals were very good, sometimes too much food for our own good! And the wine flowed with abundance. The wines were superb and I think, showed the love of the captain for the "good life" and "good wine."
M&A K. NY USA September 2015

This was our 3rd barge trip. The barge itself was by far the best of the 3. Very spacious; Our 11 people had plenty of room both to be together and to find a quiet nook to relax. Champagne region during harvest/crush spectacular.
P.C., CA, USA, September 2014

Wonderful barge trip! The barge was beautiful with excellent service, they really took good care of us! Exceeded our expectations!
C.D. & L K., OK, USA, October 2012

A pleasurable and relaxing experience. Cruising the canals of Holland was a trip we had wanted to do for awhile, the experience proved to be memorable and enjoyable. The Savoire Faire seemed like our comfortable refuge, floating castle and entertainment palace all in one! Thanks SPT for your help in making the canal trip seamless and full of memories.
P & T P., IA, USA, April 2012



---
SAVOIR FAIRE'S ITINERARIES
SAMPLE ITINERARY*
Holland: Gouda to Gouda Tulip Cruise 2017


Highlights: Gouda, Aalsmeer Flower Auction, the Windmills of Zans Schaans, medieval Haarlem, Delft porcelain, Rotterdam cruise.

Sunday - Gouda
You are met at the designated meeting point in Amsterdam and transferred to Savoir Faire, moored at Gouda. We moor here overnight. Once aboard your Captain and host welcomes you with a Champagne reception and an introduction to your crew and hotel barge. You will then have time for a stroll before your first wonderful dinner on board.

Monday - Gouda to Uithoorn
This morning your tour guide will escort you through the streets of medieval Gouda, where you will see the most famous of all stained glass windows in Holland. A leisurely stroll through town is a must, with its "Disneyesque" main square and tree lined canals. After lunch we cruise through towns clinging to the canal sides to our overnight mooring at Uithoorn. Dinner on board.

Tuesday - Uithoorn to Zaandam
Early optional visit today before breakfast to Aalsmeer Flower Auction where some 17 million cut flowers from all over the world are traded each day. Return to the hotel barge for breakfast and cruise along the winding Amstel River into Amsterdam and then through the very heart of this enchanting city, where small canals and unique architecture take you back to a bygone era. You can literally reach out and touch the passers-by. Leaving Amsterdam we join the mighty North Sea Canal and head west towards our overnight mooring at Zaandam. After lunch, your tour guide drives you to Zaans Schans to see the clog-makers and working windmills. Dinner on board.

Wednesday - Zaandam to Haarlem
This morning's short cruise takes us to Haarlem, a town of exceptional beauty with its main square, once used for jousting. We visit the famous Frans Hals Museum, founded in 1862 with its vast collection of Old Masters. Also of interest is the Müller Organ in the Grote Kerk dating from 1738, which is the most depicted instrument in the world. There will be plenty of time to enjoy this wonderful town. Dinner on board.

Thursday - Haarlem to Delft
During breakfast, enjoy a peaceful cruise along the canals and across the lake towards the oldest lock in Holland at Leidschendam. After lunch, we drive to the world famous Keukenhof Gardens with the largest display of flowers in the world. Here you will see hundreds of varieties of tulips, hyacinths and other beautiful bulbous plants. Return to the hotel barge moored in the center of Delft. Dinner on board.

Friday - Delft to Gouda
After breakfast, we take a walking tour of the Delft Royal Porcelain Factory, where beautiful hand-painted ceramics are still made. We then take a stroll around the cobbled streets of Delft before joining the hotel barge for lunch and to begin your cruise through the port of Rotterdam and onto Gouda. Captain's Farewell Dinner on board.

Saturday - Gouda
After breakfast, disembark Savoir Faire and transfer to the designated drop off point in Amsterdam.

Note: This is a sample itinerary and is subject to change.

SAMPLE ITINERARY*
Belgium: Bruges to Ghent to Antwerp Cruise
June 2017
This cruise has been created for those guests who want a more leisurely vacation allowing extra time to explore what are some of the most famous cities in the world. We have allowed a whole day in each of the following destinations: Bruges, Ghent and Antwerp. By including three of the most important and fascinating cities in Europe, this cruise delivers a true insight into the wealth of Belgian culture and heritage. No other barge offers the freedom and time to truly explore such delights. We believe, after years of visiting these cities, that they are indeed worthy of such high praise. We know you will enjoy them too.

Sunday - Bruges
You are met at the designated meeting point in Brussels and transferred to the hotel barge, moored close to Bruges city centre. Lovingly referred to as the "Venice of the North," Bruges is laced with small canals and magnificent squares. Deserving of its UNESCO World Heritage Site status, our guests are continually delighted by this gem. After a Champagne and canapes welcome, your guide will arrange a tour of the "De Halve Maan" brewery famous for its "Brugge Zot" beer. Once back on board you can enjoy an aperitif and the first of many wonderful dinners lovingly prepared by your personal chef.

Monday - explore Bruges
After breakfast, we set off on a relaxed walking tour of Bruges to explore the many architectural wonders of this town. We have also arranged a canal boat cruise this morning through the center of Bruges. Lunch is to be enjoyed at a local café that specializes in Belgian food. After lunch you are free to explore the many architectural and cultural delights Bruges has to offer (with or without your guide – the choice is yours) as well as its many shops and boutiques. To round off the day we have a horse-drawn carriage ride through town followed by aperitifs and dinner aboard. Bruges is a city that will capture your heart. There's so much to explore and experience in this magnificent city - it's your Captain's favorite. A couple of our suggestions are:

--Particularly popular and therefore ideally visited early in the morning is the Belfry. Up 366 steps and 83 metres high, you are afforded beautiful panoramic views of the Bruges skyline. This is where the Bruges carillon is accommodated which, just like the other carillons in Belgium, was recognised by UNESCO as Intangible Cultural Heritage.

--A visit to the Almshouses for a more peaceful experience. These charitable dwellings were built from the 14th century onward. They were sometimes set up by the guilds to lodge their elderly members, and sometimes by widows or well-to-do burghers who wanted to ensure their place in heaven. In order to secure their spot, each set of almshouses had its own chapel, in which the inhabitants were morally obliged to offer prayers of thanks to heaven. Practically all of the almshouses have been carefully restored and modernized and offer cozy living to today's elderly.

Tuesday - Bruges to Ghent cruise
This morning, after a leisurely breakfast, we begin our cruise towards Ghent. There is plenty of opportunity today to bike alongside the canal. We shall arrive at our mooring later in the afternoon so that you can enjoy a stroll along the river before dinner.

Wednesday - explore Ghent
Today we have the opportunity to visit various attractions, some of our favorites we've listed below. We shall also enjoy lunch ashore.

--Castle of the Count: "I'll show them who's boss": that's what Philip of Alsace had in mind. Therefore he had the imposing castle rebuilt (1180). Overlooking the city from its battlements high up on the keep, one can sense the feeling of wealth and power that the lord of the castle must have had.

--St Bavo's Cathedral: When Charles V was baptised there in 1500, the metamorphosis from a closed Romanesque church to a spacious Gothic one was fully underway. However, despite substantial financial support from the emperor, the cathedral still remained unfinished 58 years later. As a result, the funeral service for the deceased sovereign could not take place there. All that remains of the original Romanesque church is the crypt. St. Bavo's Cathedral houses an impressive number of art treasures: the baroque high altar in white, black and red flamed marble, the rococo pulpit in oak, gilded wood and marble, a major work by Rubens, the "Calvary Triptych," attributed to Joos van Wassenhove, alias Justus van Gent, tombs of the Ghent bishops, and much more. However, one work stands out head and shoulders above the rest: the world-famous Adoration of the Mystic Lamb painted by Hubert and Jan van Eyck around 1432. It's the highlight of the Flemish Primitives and a milestone in art history. The Polyptych survived the Protestant Iconoclasm, fell into French hands under Napoleon and was requisitioned by Nazi Germany during the Second World War. But it has now been hanging peacefully for more than 50 years in the place where it belongs: St. Bavo's Cathedral. Though admittedly, the "Just Judges" panel, which was stolen in 1934, is still replaced by a reproduction. Again a wealth of heritage and culture deserving of the full day spent in Ghent. Another of the many sumptuous dinners on board.

Thursday - Ghent to Antwerp cruise
Your cruise down the tidal Sea Schelde will take you past an ever-changing landscape towards the port of Antwerp. This is about a 9-hour cruise, so for those of you wishing to be on board for a shorter time we can arrange afternoon transport from the barge into Antwerp city. (Please note that we leave on the early tide). There's so much to do and experience that any time spent in this wonderful city is worthwhile. Perhaps all you want to do is sit on a café terrace and watch the world go by. There's nothing quite like soaking up the local atmosphere over a delicious Belgian beer (or two). Dinner on board.

Friday - explore Antwerp
Today we explore this varied and vibrant city. We shall return to the barge for lunch and then continue our tour downtown in the afternoon. Some suggested visits are:

--Reuben's House: Antwerp is the city of diamonds, the port, fashion and Rubens. Rubens is to Antwerp what Gaudi is to Barcelona. Or Warhol to New York. His art has defined the skyline and prestige of Antwerp. The Flemish Baroque master's role as a painter and diplomat, graphic artist, designer, collector, instructor and leading example means that Antwerp still bathes in the golden light of Rubens's genius today. The Rubens House is one of the most renowned artist's residences worldwide. The permanent collection contains a large number of works by the master himself and by his peers and contemporaries. These are the ten masterpieces that you cannot afford to miss. After you have visited the Rubens House, the master awaits you in the city: in museums and churches such as the stately Cathedral of Our Lady. Or in St. James's Church where Rubens is buried. One of his later works, Assumption of the Virgin Mary, hangs over the altar of the chapel where he is buried.

--The Cathedral is an iconic treasury, with an impressive collection of major art works, including a series of paintings by Rubens. Now, after twenty years, the seven-naved church has been restored to its former architectural glory. Fascinating features include Rubens' "Elevation of the Cross" and his "Descent from the Cross." Any visit to Antwerp has to include a visit of this beautiful Cathedral.

--The Town Hall is the beating heart of Antwerp politics. This impressive building is one of the eye-catchers in Grote Markt, along with the statue of Brabo. Antwerp's town hall was included on UNESCO's World Heritage List in 1999.

--At the Diamond Pavilion you can discover why Antwerp is known as the world center for diamonds, and learn about the past and present players in the diamond trade and diamond industry. The pavilion presents the rich history, economic importance and other facets of this typical Antwerp activity. There is, of course, the opportunity to explore the Diamond District (leave your black Amex at home for this visit!).

--HopNstop - a hop-on/hop-off trolley. If you would like to see the highlights of Antwerp the quick and easy way, just get on the HopNstop shuttle City Tour, a hop on/hop off bus that starts and finishes on the Market Square. You can get on and off at the following HopNstop stops: Grote Markt, MAS/Red Star Line Museum, Centraal Station, Groenplaats/Meir and Het Zuid. It's up to you where you get on or off to visit an attraction. You can simply catch the next one coming along. The round trip through Antwerp is about 55 minutes long. On board, you receive information via audio and video in a choice of five languages: Dutch, French, English, German and Spanish.

--Did you know that Kieldrecht Lock is the largest lock in the world? It is 500 meters long, 68 meters wide and it contains three times the amount of steel it took to build the Eiffel Tower. Art in a lock? Only in Antwerp. The graffiti artist Cazn spent ten weeks working on a 300 meter mural which is submerged part of the time under water.

This evening the celebrations begin! Champagne toasts and canapes are followed by the Captain's Dinner. Enjoy!

Saturday - Antwerp: departure
After breakfast, disembark Savoir Faire and transfer to designated drop off point.

Note: This is a sample itinerary and may run in reverse on your cruise week. The Captain reserves the right to adjust if deemed necessary.

SAMPLE ITINERARY*
Belgium & Holland: Meuse River
Dinant to Maastricht 2017


The area of Southern Belgium, known as the Ardennes is well known for its beautiful forested landscapes, castles, abbeys and Belgian delicacies, including chocolate, wine and world renowned beers.

Sunday - Dinant
We meet in Brussels at your hotel or other designated location for your transfer to the Savoir Faire, moored in the historic town of Dinant, home to cathedrals and fortifications as well as the home of Adolphe Sax, inventor of the saxophone. After a Champagne welcome and introduction to the crew, there is time for an evening stroll before the first of many sumptuous dinners on board.

Monday - Dinant to Namur
This morning after a hearty breakfast we will visit the magnificent Chateau and Gardens of Freyr (http://www.freyr.be). This magnificent country setting is home to an outstanding estate exuding a touch of Versailles about it (16th & 18th century). You will be able to enjoy the beautiful interiors and the authentic furnishings of the Dukes of Beaufort-Spontin. In the afternoon we cruise to Namur, the capital of the Walonia region of Belgium. The city boasts an impressive Cathedral and Citadel, among other highlights.

Tuesday - Namur to Huy
Great news for Leffe lovers and connoisseurs! Maison Leffe has opened its doors (http://leffe.com/en). Today's pre-lunch excursion is to the 13th century Abbey de Leffe, which is famous for their beers, both blond and brown varieties. After passing on their know-how from generation to generation for almost eight centuries, the Abbey now wants to share their story with you. A story you can discover through the corridors of an ancient monastery, today converted into a hotel named "La Merveilleuse." A story you can savour through the nine varieties of Leffe. A story that will stir all your senses through interactive experiences, touch screens and of course, tasting. You will discover the true meaning of the word "zythology," the craftsmanship behind every Leffe variety, and the surprising pleasure of food-pairing. This experience right in the heart of Dinant will not only give you impressive views over the Meuse valley but moreover will enable you to explore the rich character and deep roots of this exceptional abbey beer. You can be assured of a warm welcome. After a much-needed lunch, we will cruise to Huy, one of Belgium's oldest towns.

Wednesday - Huy to Liege
We drive to the Waterloo Battlefield, preserved almost as it was in 1815 (http://www.waterloo1815.be/index.php?page=Home). Please note that this is a one hour drive each way. Find out about this great, historical battle, which pitted Napoleon's troops against those of Wellington and Bluecher. In

Thursday - Liege to Maastricht
This morning we drive to Eupen, the German speaking region in Belgium. We visit the Jacques chocolate factory founded in 1896. The factory fills the entire industrial area of Eupen with the sweet smell of sugar. The museum, dedicated to all things chocolate, is situated in one annex of the factory and considers itself educational. The museum covers every step of the process from the cultivation and treatment of cocoa all the way to the creation of finished products. It also includes exhibits that work to highlight the various ceremonial rituals that accompany or have accompanied the tasting of chocolates in different cultures. These exhibits include 18th and 19th century porcelain pieces used to present the delicacy, different advertising methods, and automatic vending machines used for the distribution of chocolate. At one point in the tour - either guided or self-lead - visitors can stand on a footbridge high above the factory floor and watch as chocolate is made below. Of course, visitors are encouraged to stop by the Chocolate House before leaving to pick up some treats to take home. Once back on your barge for lunch, we begin our cruise towards Maastricht arriving in time to enjoy a drink on one of the many terraced cafes surrounding the two main squares. Tonight we will have a simple dinner ashore sampling some of Limburg's traditional dishes.

Friday - explore Maastricht and its vineyards
Today is a fun-filled celebration of this beautiful city and scenic area. After breakfast, we explore this vibrant city followed by a light lunch onboard. Incredible as it may seem, but just outside the city of Maastricht, one finds various vineyards gracing the slopes of the Limburg hills. The vineyards of Maastricht are some of the oldest in Holland, initially planted back in Roman times. You can visit these vineyards, take a tour, and enjoy Pinot Noir, Riesling and Muller-Thurgau. A short drive brings us to one: the "Wine Castle" of Genoels-Elderen. With its 50 acres of vineyards, it is the largest winery in Belgium. The microclimate on the hills of Limburg produces excellent Chardonnay and Pinot Noir vines. We have a guided tour and a wine tasting. Maastricht is renowned for being one of the better culinary cities in Holland. The fact that it has its own vineyards that produce tasty Dutch wines certainly plays an important role in this. So as you are in Maastricht, you should definitely consider visiting one of the vineyards if not several. We recommend Wijngaard De Apostelhoeve, Hoeve Nekum, Domaine Backerbosch, and Wijngoed Thorn. How many you visit is up to you and the time in hand. There will an opportunity to browse some more in town before our evening's Captain's Dinner.

Saturday - departure
After breakfast, disembark and transfer to Brussels by private minibus. Please note: it's possible to connect by train from Maastricht to either Amsterdam or a variety of German cities, including Berlin.

Note: This is a sample itinerary and may run in reverse on your cruise week. The Captain reserves the right to adjust if deemed necessary.

---
Savoir Faire
2017 Season Cruise Schedule*
Week
Route (Or Reverse)
Season
Mar 26
Haarlem-Haarlem
Value
Apr 2
Haarlem-Haarlem
Value
Apr 9
Haarlem-Haarlem
Regular
Apr 16
Haarlem-Haarlem
Regular
Apr 23
Haarlem-Haarlem
Regular
Apr 30
Haarlem-Haarlem
Regular
May 7
Haarlem-Haarlem
Regular
May 14
Haarlem-Haarlem
Regular
May 21
Haarlem-Bruges
Regular
May 28
Bruges-Antwerp
Regular
Jun 4
Antwerp-Bruges
Regular
Jun 11
Bruges-Antwerp
Regular
Jun 18
Antwerp-Bruges
Regular
Cruise Schedule* ... continued


Week
Route (Or Reverse)
Season
Jun 25
Bruges-Antwerp
Regular
Jul 9
Maastricht-Dinant
Value
Jul 16
Dinant-Maastricht
Value
Jul 23
Maastricht-Dinant
Value
Jul 30
Dinant-Maastricht
Value
Aug 6
Maastricht-Dinant
Value
Aug 13
Dinant-Maastricht
Regular
Aug 20
Maastricht-Dinant
Regular
Aug 27
Dinant-Maastricht
Regular
Sep 3
Maastricht-Dinant
Regular
Oct 1
Maastricht-Dinant
Value
Oct 8
Dinant-Maastricht
Value

2017 Season Cruise Schedule*
Week
Route (Or Reverse)
Season
Mar 26
Haarlem-Haarlem
Value
Apr 2
Haarlem-Haarlem
Value
Apr 9
Haarlem-Haarlem
Regular
Apr 16
Haarlem-Haarlem
Regular
Apr 23
Haarlem-Haarlem
Regular
Apr 30
Haarlem-Haarlem
Regular
May 7
Haarlem-Haarlem
Regular
May 14
Haarlem-Haarlem
Regular
May 21
Haarlem-Bruges
Regular
May 28
Bruges-Antwerp
Regular
Jun 4
Antwerp-Bruges
Regular
Jun 11
Bruges-Antwerp
Regular
Jun 18
Antwerp-Bruges
Regular
Week
Route (Or Reverse)
Season
Jun 25
Bruges-Antwerp
Regular
Jul 9
Maastricht-Dinant
Value
Jul 16
Dinant-Maastricht
Value
Jul 23
Maastricht-Dinant
Value
Jul 30
Dinant-Maastricht
Value
Aug 6
Maastricht-Dinant
Value
Aug 13
Dinant-Maastricht
Regular
Aug 20
Maastricht-Dinant
Regular
Aug 27
Dinant-Maastricht
Regular
Sep 3
Maastricht-Dinant
Regular
Oct 1
Maastricht-Dinant
Value
Oct 8
Dinant-Maastricht
Value
*Note: Cruise directions and sample itineraries may be in reverse and are subject to change and may depend on bookings and local navigation conditions. Alternate excursions of equal appeal are substituted when needed. For charter cruises special itineraries can be arranged.
---
SAVOIR FAIRE
2017 SEASON PRICES in US DOLLARS
TYPE
VALUE

---

Mar 26 thru Apr 8
Jul 9 thru Aug 12
Oct 1 thru Oct 14
REGULAR

---

Apr 9 thru Jul 1
Jul 9 thru Aug 5
Aug 13 thru Sep 9
Cabin (per person, double occupancy)

$4,635

$5,250

Single Occupancy Supplement

$1,800

$2,100

Charter for 8

$37,080

$42,000

Charter for 9

$41,715

$47,250

Charter for 10

$46,350

$52,500

Charter for 11

$50,985

$57,750

Charter for 12

$55,000

$63,000


What's Included
- 7 days and 6 nights on the barge in six cabins, each with private bath*
- Transfers from Amsterdam or Brussels to the barge and return
- All meals beginning with dinner on Sunday through breakfast on Saturday*
- Open bar and all wines with lunches and dinners
- All escorted side-excursions
- Use of bicycles

What's Not Included
- Overseas air transportation to Amsterdam or Brussels and return
- Suggested minimum 5% gratuity for the crew, to be paid in equivalent Euros to the captain



---

Please visit our ... Special Offers Page ... to see potential discounts for this barge or many others.










---
Return to TOP of PAGE
---
Text and images Copyright © 2010, 2011, 2012, 2013, 2014, 2015, 2016, 2017 by Special Places Travel, LLC, Edgewater, MD, and by other copyright holders used by permission. Web design by Special Places Travel, LLC. All rights reserved. No further use without express written permission from copyright holders. Contact Special Places Travel LLC, +1-443-321-3614 for further information.
This and all of our web pages are hand-crafted with NO cookies, NO Javascript, NO plug-ins. Compatible with all currently tested mobile, tablet and desktop browsers with equivalent content and information for both mobile and desktop. We value your time, so ALL our barge web pages are designed for one-stop access = no multiple clicks to access barge details such as deckplan, itineraries, cruise routes, and cruise prices. We are by your side as experienced partners -- all the way from initial decision about the best barge cruise for you, through ANY question leading up to your cruise, hotel and rental car recommendations, suggestions for pre- and post-cruise travel, through post-cruise debriefing. We know that you will have the time of your life!
Barges in France, A Division of Special Places Travel, LLC.
Barges in Europe, A Division of Special Places Travel, LLC.
Member: American Society of Travel Agents (ASTA), Cruise Lines International Association (CLIA). Bonded. Founded 1997. American Express, Visa, Mastercard, Discover accepted.


Last Update: March 22, 2017