Cruise In Southwest France On The Canal Lateral a la Garonne Near Bordeaux Aboard The Deluxe Hotel-Barge SAINT LOUIS
BARGE CRUISES: SEVEN DAYS/SIX NIGHTS
The 6-passenger Saint Louis welcomes you aboard for a cruise on the beautiful Canal Lateral a la Garonne in the historic areas of Aquitaine and Gascony in Southwest France; the main cruise route is near Bordeaux and the other route is closer to Toulouse. It is operated by its owners on board, Peter and Wendy Carrington as tour guide/manager and pilot plus a Michelin-trained chef and hostess. Your crew will ensure that the cruise and the excursions suit your own personal preferences.
We visited Saint Louis in September 2015 and then stayed on board in April 2017 when we had a delicious dinner and breakfast and a full day tour of their excursion sites and the restaurants they visit. They have renovated it with new decor and beautiful faux finishing throughout, which has transformed the entire look of the barge. There is a beautiful salon a with a comfortable sofa and chairs as well as a dining table for 6, open bar and large picture windows for viewing the passing scenery. The three large cabins at 127 sq ft each, including a new ensuite bathroom with large shower, can be configured with two twins or an oversized double bed. The large sundeck is a " floating garden " filled with flowers, and has reclining teak sun loungers, sun umbrellas and a dining table for enjoying meals al fresco.
The Saint Louis offers two different cruise routes along the unspoiled Canal de Garonne between Toulouse and Bordeaux; both routes meet in the town of Boe. Most of its cruises follow its western (Bordeaux) itinerary, but it also offers an alternate eastern (Toulouse) itinerary. The western route cruises close to, but not into Bordeaux, with excursions including a day-long visit to Saint Emilion and nearby vineyards, a visit to the famous Lily Gardens at Temple sur Lot which inspired Monet, and a visit to the 11th century Chateau Henry IV. The eastern itinerary includes a visit to Moissac Abbey and its Cloisters dating from the 13th century, along with the 12th century town of Lauzerte, and quaint villages all along the way.
Over the past three years the owners have developed their relationship with the best producers in the region and bring to the dining table the very best fruit, vegetables, meats, cheeses and wines that the region has to offer. The chef works closely with their wine distributor in St Emilion, who is also an executive chef, in selecting a wide variety of great quality regional wines to complement the food he serves.
For wine enthusiasts who would like a more in-depth experience in Saint Emilion, the barge offers on its Bordeaux route a day with a wine expert and guide, including lunch at a Michelin star restaurant in Saint Emilion and a private visit to a Premier Grand Cru Chateau in Saint Emilion to see the process of wine making and have a guided tour of their cellars. The day also includes a private tasting of some older fine wines. There is an extra cost for this optional excursion for a minimum of four passengers.
Features
Size of barge: 96 ft x 16
Number of Passengers: 6
Number of Cabins (all with private bath): 3
Crew: 4
Air Conditioning and Central Heating: Yes
Salon: Salon/dining area with comfortable sofas, bar, dining table and picture windows
Bar: Open bar for full board
Deck: Sundeck with loungers, umbrellas, and tables and chairs for dining on deck
Spa Tub: No
Cabin Features: Three cabins are 127 sq ft with twin beds or oversized double bed, including ensuite tiled bathroom with large shower
Vehicle for Transfers/Excursions:Air-conditioned minivan
Accessibility: 6 steps from deck to salon, 2 steps from salon to cabins
Bicycles: Yes
Wi-Fi: Yes - limited in some areas
---
Saint Louis' Deck Plan

Note: Cabins 1, 2, and 3 may be configured as an oversized double bed OR two twin beds
---
SAINT LOUIS
2018 SEASON PRICES in US DOLLARS
TYPE
REGULAR

---

May 5 thru Oct 19
Charter for 2

$23,000

Charter for 3

$27,000

Charter for 4

$27,000

Charter for 5

$31,500

Charter for 6

$31,500
---
SAINT LOUIS
2019 SEASON PRICES in US DOLLARS
TYPE
REGULAR

---

May 11 thru Oct 11
Cabin (per person, double occupancy)

$6,500

Charter for 2

$25,000

Charter for 3-4

$30,000

Charter for 5-6

$33,600
Please visit our ...
Special Offers Page
... to see potential discounts for this barge or many others.

What's Included
- 7 days and 6 nights on the barge in cabins with private bathrooms
- Transfers from Bordeaux or Toulouse, depending on the cruise route, to the barge and return
- All meals beginning with dinner on Saturday through breakfast on Friday, including any meals on shore with wine as selected by the captain
- Wines with lunches and dinners on board
- Open bar
- All escorted side-excursions
- Use of bicycles and other on-board equipment
What's Not Included
- Overseas air transportation to Paris and return or from Paris to Bordeaux or Toulouse and return.
- Suggested minimum 5% gratuity for the crew, to be paid to the captain in equivalent Euros
- Travel or health insurance
- Personal items and purchases on shore
- Optional excursions such as golf, etc.
- Optional special St Emilion Experience Day (495 euros per person, 4 passenger minimum, to be paid on board) including wine guide, lunch at gourmet restaurant, visit to Premier Grand Cru Classe chateau and wine tasting
---
Saint Louis
2018 Season Cruise Schedule*
Week
Route (Or Reverse)
Season
May 5
Lacourt St Pierre-Boe
Regular
May 12
Serignac-Castets
Regular
May 19
Castets-Serignac
Regular
May 26
Serignac-Castets
Regular
Jun 2
Castets-Serignac
Regular
Jun 9
Serignac-Castets
Regular
Jun 16
Castets-Serignac
Regular
Jun 23
Serignac-Castets
Regular
Jun 30
Lacourt St Pierre-Boe
Regular
Jul 7
Serignac-Castets
Regular
Jul 14
Castets-Serignac
Regular
Jul 21
Boe-Lacourt St Pierre
Regular
Jul 28
Lacourt St Pierre-Boe
Regular
Aug 4
Serignac-Castets
Regular
Aug 11
Castets-Serignac
Regular
Aug 18
Serignac-Castets
Regular
Aug 25
Castets-Serignac
Regular
Sep 1
Serignac-Castets
Regular
Sep 8
Castets-Serignac
Regular
Sep 15
Serignac-Castets
Regular
Sep 22
Castets-Serignac
Regular
Sep 29
Serignac-Castets
Regular
Oct 6
Castets-Serignac
Regular
Oct 13
Boe-Lacourt St Pierre
Regular
Saint Louis
2019 Season Cruise Schedule*
Week
Route (Or Reverse)
Season
May 11
Lacourt St Pierre-Boe
Regular
May 18
Serignac-Castets
Regular
May 25
Castets-Serignac
Regular
Jun 8
Castets-Serignac
Regular
Jun 15
Serignac-Castets
Regular
Jun 22
Castets-Serignac
Regular
Jun 29
Boe-Lacourt St Pierre
Regular
Jul 6
Lacourt St Pierre-Boe
Regular
Jul 13
Serignac-Castets
Regular
Jul 20
Castets-Serignac
Regular
Jul 27
Boe-Lacourt St Pierre
Regular
Aug 3
Lacourt St Pierre-Boe
Regular
Aug 10
Serignac-Castets
Regular
Aug 17
Castets-Serignac
Regular
Aug 24
Serignac-Castets
Regular
Aug 31
Castets-Serignac
Regular
Sep 7
Serignac-Castets
Regular
Sep 14
Castets-Serignac
Regular
Sep 21
Serignac-Castets
Regular
Sep 28
Castets-Serignac
Regular
Oct 5
Boe-Lacourt St Pierre
Regular
*Note: Cruise directions and sample itineraries may be in reverse and are subject to change and may depend on bookings and local navigation conditions. Alternate excursions of equal appeal are substituted when needed. For charter cruises special itineraries can be arranged.
Bordeaux
Southwest
SAMPLE ITINERARY*
Southwest: Canal Lateral a la Garonne
Serignac-sur-Garonne to Castets-en-Dorthe; 2018

Saturday - Serignac-sur-Garonne
Collection from agreed pick-up point 15.30hrs to arrive at barge around 17.00hrs and champagne reception. On our way to the barge we stop to see the famous Aqueduct, the second largest aqueduct in France which opened in 1849. It carries the Canal de Garonne over the Garonne river and is an engineering marvel.

Sunday - Serignac-sur-Garonne to Buzet-sur-Baise
Morning cruise followed by lunch and afterwards our visit to The Latour-Marliac Lily Gardens at Temple Sur Lot. The garden is the original one that inspired and provided Monet with his lilies for his paintings and his own gardens at Giverny. Dating from 1875 the Latour-Marliac gardens are a delight to visit and explore. We return to the barge which will now be moored for the evening at Buzet for dinner.

Monday - Buzet-sur-Baise to La Falotte
Enjoy a leisurely breakfast followed by our visit to a 4th generation Armagnac producer to learn about and taste this traditional local spirit. Armagnac predates Cognac by approximately 200 years and is still produced in the time honored way. During the visit guests have the opportunity if they wish to choose a year (perhaps of their wedding, birth of a child etc), select a bottle size and then watch the armagnac being drawn from their chosen barrel, corked and the wax seal applied. A unique memento of their visit and it tastes great as well! Later guests will learn the secrets of our signature cocktail, the Saint Louis Sundowner from hostess Julia featuring Armagnac from their visit. Time permitting (or if Armagnac is not a preferred visit) we may also visit the 11th Century town of Nérac; which includes the Château Henry IV (built around 15th Century) and home to the King and his wife Queen Margot between 1577 and 1582. There is also the Garenne royal park nearby. The visit is an opportunity to explore this ancient town and learn about the development of this region. We also visit the medieval Bastide town of Vianne. Bastide towns were built across southern France during the 13th and 14th centuries to provide security and safety and to develop trade. We return to the barge for lunch followed by our afternoon cruise through to La Falotte and our evening mooring, one of the most picturesque along the entire canal.

Note: In July and August, a visit to the night market at Damazan can be arranged. A very small local village, about 20 minutes from our mooring by car, This is a taste of rural France in full swing. The night market is entirely geared to locals, it features live music, food stalls and is an interesting insight into local festivities. We usually go after the dinner main course on board and return for dessert!

Tuesday - La Falotte to Le Mas d'Agenais to Forques-sur-Garonne
At our mooring point there is a privately owned semi-precious gem museum just a short stroll across their garden where we can visit the museum whilst lunch is being prepared by our chef on our outdoor plancha, weather permitting. The owners give us a guided tour through their unique collection of fossils, minerals and semi-precious gems from around the world collected by them over 50 years of travels. A thought provoking visit for those who enjoy natural history. After lunch we continue our cruise through to Le Mas d'Agenais where we take a short walk from our mooring to visit the centre of this quaint and unspoiled 12th Century town and go inside its church where there is an original Rembrandt painting of Christ on the Cross. We then continue our afternoon cruise to Forques where we moor for the evening.

Wednesday - Forques-sur-Garonne to Meilhan
Morning cruise followed by lunch on board. After lunch guests are driven to a private visit to Chateau d'Arche, one of the top Grand Crus Sauternes Châteaux. The visit includes a guided tour of the production process, their cave and tastings. We return to the barge which will have moved on a little to our evening mooring at Meilhan. There should be time to go to the superb view point at the port which provides a fantastic vista out over the Garonne river and the canal below. About a 5 minute walk up steps from the mooring point. Alternatively we can arrange a guided tour of Château d'Yquem, the number one Sauterne Châteaux with a global reputation. The tour lasts approximately 1hour 20minutes and costs 100Euro per person and must be booked in advance by us.

Thursday - Meilhan to Castets en Dorthe
We leave the barge after breakfast for our day visit to Saint Emilion a world heritage site, the heart of Bordeaux wines with private wine tastings with our negociant, Patrick, and a 1st Grand Crus Châteaux visit. Guests may also go on a guided tour of the 12th Century underground church. We return to meet the barge if time permits for a further short cruise into Castets en Dorthe for the evening and dinner on board. At Castets en Dorthe we can visit "The end of the canal" before it joins the mighty Garonne river on its way to Bordeaux. Guests may walk (or can be driven) to see the huge double lock that was the gateway to the river and the trade route to the Mediterranean via the Canal de Midi in one direction and to the Atlantic ocean in the other. The river is spanned at this point by a bridge designed by Eiffel (of Eiffel Tower fame!).

For wine lovers: We can also organise a full wine experience day with Patrick. He takes the guests from 10.30 to 17.00 and gives the guests a complete run through the region, the classification of St Emilion wines, how to taste wine, pairing wine with food, tasting of fine old wines, a private Châteaux visit, a tour of the 1st Grand Crus estates by car and a Michelin Star lunch. The price is 495Euros per person, minimum of 4 people, to be paid to us upon arrival as we shall have booked and paid for the day long before the guests arrive.

Friday - Castets en Dorthe
This morning guests will be transferred to agreed drop off locations leaving the barge around 10.00am.
Ideal pick up : Agen train station or alternatively Toulouse or Bordeaux (airports or city) Ideal drop off: Bordeaux City or Airport (Merignac)

Cooking with the chef(s)! We can arrange for some "cook's tips" with Martin our chef and me. Generally this would be based around preparation of fish, oysters or a stuffed filet mignon. How to select the right cut of meat for a specific dish, how to cook different meats etc. We can also engage the guests with pairing of wine with food, what to look for and how to do it successfully without having an encyclopedic knowledge of wines. This can be a really interesting addition to on board cruising for those who may be interested.

Note: this is a sample itinerary and is subject to change. It runs in reverse on alternate weeks.



SAMPLE ITINERARY*
Southwest: Canal Lateral a la Garonne
Lacourt St. Pierre to Boé 2018
Saturday - Lacourt St. Pierre
Transfer to the barge to arrive around 5.00pm. Champagne reception upon arrival, then time to settle in, get to know your crew, a short safety briefing and a general talk through the itinerary for the week.
Sunday - Lacourt St. Pierre to Castelsarrasin
After breakfast we enjoy our first cruise through to a flight of 5 locks where we disembark and drive to the 12th Century town of Lauzerte. A hill top Castelnau-le-Lez with a bloody past but now a way point for pilgrims on the Saint Jacques trail to Santiago de Compostella. We enjoy lunch together before returning to the barge at St Porquier and our cruise continues through to our mooring at Castelsarassin for the evening.
Monday - Castelsarassin to Moissac
We head off down the canal after breakfast, and after descending four locks we cross over the River Tarn by means of an amazing brick-built aqueduct, 30 metres over the river. A few more locks and we arrive in the port of Moissac. After lunch, we are taken to one of the highlights of the trip - Moissac Abbey with its Cloisters that are said to be the finest in the world, and the 13th century church which contains a 10th century organ. There are numerous art shops, including a glass blower, in this gem of a mediaeval town. As an option, Saint Louis can leave the canal at Moissac, for a short cruise on the River Tarn and the River Garonne.
Tuesday - Moissac to Pommevic
We have breakfast on deck, while passing through the swing-bridge of Moissac emerging into lovely countryside, with rolling hills to the right and the River Garonne to the left. In time for lunch we moor at the peaceful port of Pommevic - we usually expect to be the only boat in the port. During the morning we could pass numerous pilgrims making their way on Christendom's third most important pilgrimage route, to the Spanish burial site of Saint James at Santiago di Compostella, which is still 1200 km away at this point. In the afternoon, we go in the car to nearby Auvillar, listed as one of the most beautiful villages in France. This village has a history in which the manufacture and export of china and quills (for writing) were of major importance - as so often we see the influence that the River Garonne had as a trade artery in the world of commerce of yesteryear.

Wednesday - Pommevic to La Magistere
We head off in the morning, having breakfast on the deck under the plane trees. We pass through Valence, and moor for lunch at Lamagistere, surrounded by nothing but views and peace. In the afternoon, we go by car to nearby Donzac, where there is an amazing museum dedicated to the ancient trades of this corner of France - this is a world class display, put together with professionalism and humour. Later, we visit the ancient Bastide village of Dunes, with lovely half-timbered houses and wall-plaques that detail some astounding events in the history of this little village.
Thursday - La Magistere to Boé
In the morning, we go in the car to nearby Clermont-Soubiran, where we have views over the whole Valley of the Garonne, and where a walk around the outside of the château never fails to impress. We then return to the boat and cruise down towards the provincial city of Agen. We moor at Boé on the outskirts of Agen. The possible excursions from Boé include a visit to the Musée des Beaux Arts in Agen, where there is a fine Egyptian and Levant collection as well as number of Goyas, or perhaps a visit to the first water-lily nursery in Europe, where Monet gained his inspiration.

After a leisurely breakfast on the Saint Louis, we are taken by car back to our connection in Toulouse (or elsewhere), passing through deep rural countryside with fruit orchards, sunflowers and vineyards.



NOTE: This is a sample itinerary and is subject to change. It runs in reverse on alternate weeks.

---
Dining Aboard The Saint Louis:
SAMPLE MENU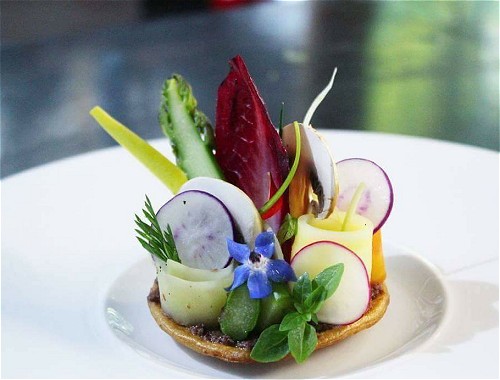 BREAKFAST
Fresh juices, fruit, yogurt, fresh bread and croissants each morning from the local baker. Cooked breakfasts are available upon request.
LUNCH:
You may have a freshly-made savory tart, or a variety of cold meats, with salads to compliment, or even a delicious bowl of soup. Afterwards, the dessert course is likely to be fresh fruit or a dish prepared from fresh fruit. Lunch will be served with carefully selected wines from the region.
DINNER:
Guests will enjoy a freshly prepared, delicious four-course dinner. To accompany the meal, specially selected wines from this region of France will be served. The Saint Louis dinner experience is a fitting and enchanting way to round off another wonderful day on the barge. The wines on board are of excellent quality, selected personally from local vineyards including some wonderful examples from Gaillac and Fronton. Local liqueurs are well represented in the bar, with a range of Armagnacs and Flocs de Gascogne.
SAMPLE WINE MENU:
The Saint Louis owners work with their main distributor in St Emilion each season to provide a broad selection of high quality wines to pair with menus. Wines feature categories that include Champagne, Methode Ancestral sparkling, Perles (effervescant), Rose, Whites that include Bordeaux, Gaillac, Fronton, Sancerres and Pouilly Fumee and Sauternes wines from the Premiere Grand Cru Chateau D'Arche. Reds include terrific wines from small independent producers and are personally selected. Also featured are Grand Cru from St Emilion, Grand Vin de Bordeaux such as Chateau Le Puy, bold reds from vinyards across the region from Marmande, Fronton and Gaillac. Here is a small sample of the wines served on board:
Chateau de Pressac 2007 Saint-Emilion Grand Cru
Chateau Le Puy 2010 Cotes de Francs
Chateau La Commanderie 2011 Saint-Emilion Grand Cru Classé
Chateau Goulée 2010 Médoc
Hostans Picant Cuvée des demoiselles 2011 White
Chateau Dauphiné Rondillon 2009/2010 Loupiac
Chateau Lucie 1998 Saint-Emilion Grand Cru
Chateau Olivier 2003 Pessac Léognan
---
Passenger Comments:
It was a fabulous experience. Peter and Wendy, the owners of the barge, as well as their support staff could not do enough for us. They were constantly asking if we needed anything as well as going out of their way on the daily excursions to make sure we had an enjoyable time. The meals were equivalent to those found in a Michelin-starred restaurant. The wines were also very good, although I'd have liked to have seen less wines from St. Emilion and more from the Medoc area. High points were the wine excursions and seeing part of a stage of the Tour de France.
J.A. CA USA July 2017
Fantastic! First rate in every way! I'd recommend it to anyone who wants to experience the Bordeaux region in a unique and special way. To a person, everyone on the crew was wonderful. The food and the service on every level was truly outstanding! the escursions were exactly what we wanted. I especially enjoyed the flexibility of the crew to adjust to new opportunities. For example, attending Stage 11 of the Tour de France was not part of the itinerary and yet they made it possible for us.
L B. CA, USA, July 2017
A unique experience that included friendly, helpful people, excellent cuisine, interesting side trips, and marvelous scenery. I saw France from a completely different perspective, and it was lovely! The meals and wines were the best. That's right, I mean the best! I loved the cruise route -- beauty everywhere. And locks are fascinating. I had no expectations -- I approached the experience as an adventure. And, it couldn't have been more satisfying. Off the beaten path in an entirely unexpected way.
P.T., IL, USA, May 2016
I've run out of adjectives to describe our week on the Saint Louis. I mean, they're all there -- wonderful, fun, amazing, delicious, surprising, jolly, hysterical (in the good sense), funny, heartwarming, extraordinary, etc. -- and they all apply, but none of them captures any more than a tiny aspect of the magic that is Saint Louis.
B.H., NY, USA, May 2016
We expected to like our barge trip because we had heard good things about barge trips in general. That's why we, three cousins and two spouses from America, chose the St. Louis to celebrate three 70th birthdays together. However, as people who had assiduously avoided cruises for our entire adult life, we never imagined loving it as much as we did.
M.T. MA, USA, May 2016
Fantastic, one of the most relaxing and enjoyable experiences of my life. The service was attentive, and top class, without being overdone. Felt we could truly relax, and that nothing was too much trouble. High points were cruising along the canal, between the plane trees, eating lunch on the deck!
M. B, Australia, June 2014
---
LINKS to Saint Louis Information
---
Email us at: info@bargesinfrance.com
This page last updated August 3, 2018