Cruise In France On The Canal du Midi, Or On The Rhone River And Canal du Rhone a Sete In Provence And The Camargue On Request, Aboard The Ultra Deluxe Hotel-Barge ROI SOLEIL
BARGE CRUISES: SEVEN DAYS/SIX NIGHTS
The 6-passenger Roi Soleil has established herself as one of Europe's preeminent canal and river cruisers that offers the 5 star comfort and style of a luxury motor yacht. There are 3 spacious, bright and airy staterooms with skylights and en-suite bathrooms decorated in the provençal style. Each bathroom is equipped with thermostatically controlled showers, heated towel racks, hand-made Provencal tiles, lava in the bathrooms and the rich hues of stylish Pierre Frey fabrics.
Roi Soleil has more to do with luxury yachting than barging - hence the term 'River Yacht'. Her classic lines and mahogany and brass trim, are inspired by the classic motor yachts of the 1920's, while her interior brings you the best of contemporary design and comfort. The stylish salon with fireplace, elegant dining area, bar and panoramic views through her 20 windows, offer you a level of comfort equivalent to that of luxury motor yachts. The separate forward sun deck, the aft teak deck with Spa Pool and the outside dining area under the retractable canopy are all measures of pure luxury yachting at its best.
Your Chef will cater to your preferences while surprising you with imaginative and gourmet Mediterranean cuisine. The wines are carefully selected by the owner together with some of the best sommeliers of the region. They represent the quintessential flavor profiles of the Languedoc & Provence regions as well as the top appellations of the whole of France. In addition to the large selection of wines, the bar will always be stocked with your favorite drinks.
We have visited the Roi Soleil many times since it was launched in 1999 by its owners Guillaume and Tracey de Perthius and we have continued to be impressed with its high standards as an ultra deluxe barge, its unique two level yacht design, and its panoramic views from the saloon as well as its covered deck. On our most recent visit in April 2017 we spent time with Guillaume, who showed us the many recent upgrades to the barge, which include new enameled lava flooring in the bathrooms and comfortable new lounge chairs on deck.
The Roi Soleil cruises primarily on the historic Canal du Midi in the south of France -- between Beziers and Carcassone but also offers cruises in Provence on the Rhone River and the Camargue National Park in the fall upon request.
---
Features
Number of Passengers: 6
Number of Cabins (all with private bath): 3
Crew: 4
Air Conditioning and Central Heating: Yes
Salon: Large open plan saloon on upper deck with comfortable seating, fireplace, bar, and elegant dining area. Panoramic views from its 20 windows, skylights. Spacious wheelhouse with banquette couch and panoramic views.
Bar: Open bar
Deck: Two sundecks: aft teak deck with spa pool, wrap-around seating under retractable canopy, teak table and seating for 12, with roll-down sides for protection from the elements.
Spa Tub: Yes
Cabin Features: Three cabins 160 sq ft each with Pierre Frey fabrics, opening skylights, twin beds or queen bed, and ensuite bathroom with oversized shower, heated towel rack, Provencal tiles, and enamelled lava stone floors.
Vehicle for Transfers/Excursions: Air-conditioned VW Eurovan Comfort, seating 8
Accessibility: Wide steel-framed gangplank; Steps to cabins and forward deck.
Bicycles: 6 Giant Boulder Breeze Hybrid bikes, 6 helmets.
Wi-Fi: Yes - limited in some areas
---
Roi Soleil Deck Plan

---
ROI SOLEIL
2018 SEASON PRICES in US DOLLARS
TYPE
VALUE

---

Mar 25 thru Apr 21
Jul 15 thru Aug 18
Oct 14 thru Oct 27
REGULAR

---

Apr 22 thru Jul 14
Aug 19 thru Oct 13
Charter for up to 4

$29,700

$34,100

Charter for up to 6

$33,000

$37,900
---
ROI SOLEIL
2019 SEASON PRICES in US DOLLARS
TYPE
VALUE

---

Mar 24 thru Apr 20
Jul 14 thru Aug 17
Oct 13 thru Oct 26
REGULAR

---

Apr 21 thru Jul 13
Aug 18 thru Oct 12
Charter for up to 4

$30,500

$35,000

Charter for up to 6

$33,900

$38,900
Please visit our ...
Special Offers Page
... to see potential discounts for this barge or many others.

What's Included
- 7 days and 6 nights on the barge in cabins with private baths
- Transfers from Montpellier, Beziers, Carcassonne, Avignon (depending on cruise route) to the barge and return
- All meals beginning with dinner on Sunday, through breakfast on Saturday
- All wines with lunches and dinners
- Open bar
- All escorted side-excursions (golf, etc. at additional cost)
- Use of bicycles
What's Not Included
- Overseas air transportation to Paris and return
- Transfers from Paris to Montpellier, Beziers, Carcassonne, or Avignon (depending on the cruise route) and return
- Suggested 5-10% gratuity for the crew (to be paid in equivalent euros to the captain)
---
Roi Soleil
2018 Season Cruise Schedule*
Week
Route (Or Reverse)
Season
Mar 25
Beziers-Carcassonne
Value
Apr 1
Carcassonne-Beziers
Value
Apr 8
Beziers-Carcassonne
Value
Apr 15
Carcassonne-Beziers
Value
Apr 22
Beziers-Carcassonne
Regular
Apr 29
Carcassonne-Beziers
Regular
May 6
Beziers-Carcassonne
Regular
May 13
Carcassonne-Beziers
Regular
May 20
Beziers-Carcassonne
Regular
May 27
Carcassonne-Beziers
Regular
Jun 3
Beziers-Carcassonne
Regular
Jun 10
Carcassonne-Beziers
Regular
Jun 17
Beziers-Carcassonne
Regular
Jun 24
Carcassonne-Beziers
Regular
Jul 1
Beziers-Carcassonne
Regular
Jul 8
Carcassonne-Beziers
Regular
Jul 15
Beziers-Carcassonne
Value
Jul 22
Carcassonne-Beziers
Value
Jul 29
Beziers-Carcassonne
Value
Aug 5
Carcassonne-Beziers
Value
Aug 12
Beziers-Carcassonne
Value
Aug 19
Beziers-Avignon
Regular
Aug 26
Avignon-Beziers
Regular
Sep 2
Beziers-Carcassonne
Regular
Sep 9
Carcassonne-Beziers
Regular
Sep 16
Beziers-Carcassonne
Regular
Sep 23
Carcassonne-Beziers
Regular
Sep 30
Beziers-Carcassonne
Regular
Oct 7
Carcassonne-Beziers
Regular
Oct 14
Beziers-Carcassonne
Value
Oct 21
Carcassonne-Beziers
Value
Roi Soleil
2019 Season Cruise Schedule*
Week
Route (Or Reverse)
Season
Mar 24
Carcassonne-Beziers
Value
Mar 31
Beziers-Carcassonne
Value
Apr 7
Carcassonne-Beziers
Value
Apr 14
Beziers-Carcassonne
Value
Apr 21
Carcassonne-Beziers
Regular
Apr 28
Beziers-Carcassonne
Regular
May 5
Carcassonne-Beziers
Regular
May 12
Beziers-Carcassonne
Regular
May 19
Carcassonne-Beziers
Regular
May 26
Beziers-Carcassonne
Regular
Jun 2
Carcassonne-Beziers
Regular
Jun 9
Beziers-Carcassonne
Regular
Jun 16
Carcassonne-Beziers
Regular
Jun 23
Beziers-Carcassonne
Regular
Jun 30
Carcassonne-Beziers
Regular
Jul 7
Beziers-Carcassonne
Regular
Jul 14
Carcassonne-Beziers
Value
Jul 21
Beziers-Carcassonne
Value
Jul 28
Carcassonne-Beziers
Value
Aug 4
Beziers-Carcassonne
Value
Aug 11
Carcassonne-Beziers
Value
Aug 18
Beziers-Avignon
Regular
Aug 25
Avignon-Beziers
Regular
Sep 1
Beziers-Carcassonne
Regular
Sep 8
Carcassonne-Beziers
Regular
Sep 15
Beziers-Carcassonne
Regular
Sep 22
Carcassonne-Beziers
Regular
Sep 29
Beziers-Carcassonne
Regular
Oct 6
Carcassonne-Beziers
Regular
Oct 13
Beziers-Carcassonne
Value
Oct 20
Carcassonne-Beziers
Value
*Note: Cruise directions and sample itineraries may be in reverse and are subject to change and may depend on bookings and local navigation conditions. Alternate excursions of equal appeal are substituted when needed. For charter cruises special itineraries can be arranged.
SAMPLE ITINERARY*
Canal du Midi
Beziers to Carcassonne 2018
As you drift along the magnificent Canal du Midi you will step back into the time of Louis XIV- the "Sun King" or "Roi Soleil" - who commissioned this prodigious engineering feet; thus finally achieving the dream of linking the Mediterranean Sea with the Atlantic Ocean.

Deservedly, the Canal du Midi is now classed on the World Heritage List of Conservation. The region of Languedoc, interlaced with the Canal du Midi, unravels a rich history from prehistoric time, through the Roman occupation, succeeded by the turbulent Middle Ages. The landscape and exceptional architecture captures the atmosphere of time revisited. Whether your passion is for history, arts and crafts, adventure, village atmosphere, wine discovery or shopping ... your cruise on board "Roi Soleil" will be personally tailored to your specific interests.

The Canal du Midi meanders through the vast diversity of scenic landscapes that changes dramatically from the rugged, rural Languedoc regions to the sun-drenched, azure blues of the Mediterranean. Within this vast region also lies a land of poetry, and of proud people devoted to the soil and of course the wine ... a passion they will share with you in private tastings of the local Minervois and Corbières wines. Be prepared for new sights, tastes and aromas that will take you on a voyage of aesthetic discovery.

A charter on Roi Soleil is all about CHOICE. Here is the route - and suggestions on what is available each day to customize your cruise. This sample includes wine-tastings, if you do not wish for this activity the excursions schedule may vary. We have not included the cycling, running or walking opportunities.


Sunday - Béziers East-Cassafiere to Portiragnes
- Transfer, welcome on-board, and cocktails
- Navigation along the canal through a rural area with wetlands, a reserve for flamingos and horses.

Monday - Portiragnes to Fonserannes
- Sailing through the great locks of Fonserannes (9 locks staircase)
- excursion to historical city of Pézenas (famed architecture, many artisans & antiques, option to add a wine tasting at a prized property)
- or excursion to the impressive hill village of Roquebrun (possible to swim or kayak)
- and /or visit to the pre-roman Oppidum of Enserune, a major archaeological site with panoramic views of the surrounding valleys
- and /or visit Béziers historical centre and shops

Tuesday - Fonserrannes to Capestang
- sailing into the heart of the historic village of Capestang
- private visit to the Cistercian Abbey of Fontfroide, one of the finest examples in France
- or excursion to the impressive hilltop village of Roquebrun (possible to swim or kayak)
- and / or a visit a Camargue bull and horse ranch with the opportunity to round up the bulls on horseback
- and / or wine tasting at the cellar of a top sommelier who supplies Michelin starred chefs.

Wednesday - Capestang to La Croisade or Somail
- morning excursion to the charming City of Narbonne that was the Roman Capital of the early Gaulle with its vibrant food market and the famed art and roman archeology museums within the Bishop Palace and many shops and cafès along cobbled streets and plazas, a highlight of the week
- afternoon sailing to the peaceful country village of Somail with an impressive antique bookstore
- sailing beneath the smallest canal bridge in France

Thursday - Somail to Paraza
- morning visit to the hilltop village of Minerve, which is a beautiful natural site that has a dramatic history dating back to the Crusades.
- visit to prized olive oil mill, Oulibo, and a historic Languedoc village
- an afternoon sail to Paraza and mooring by an ancient canal bridge with views across the valley
- private wine tasting at a renowned Minervois domain with up to 15 varietals

Friday - Paraza to Homps
- visit to the fortified city of Carcassonne - Europe's largest Medieval Fortress, a great place to be transported into medieval history and a shopping opportunity.
- or visit the medieval village of Lagrasse and its artisans.
- afternoon sailing to Homps with many locks

Saturday - Homps
- a leisurely breakfast on board then transfer to the departure point at 10 am
Note: This is a sample itinerary and is subject to change. It runs in reverse on alternate weeks.
SAMPLE ITINERARY*
Provence, Camargue & Canal du Midi:
Avignon to Beziers 2018

The Provence route enters a region of diverse culture, history and nature. Cruising along the rivers of the Rhone through Provence, Roi Soleil glides along a tributary of the Rhone through wild nature, then onto the Lagoon of Thau dotted with sailing boats and oyster beds and eventually along the Canal du Midi - which opens the doors to the wilderness of the Camargue and takes you to the shores of the Mediterranean.

In Avignon, what better way to appreciate the rich golden hues of Provence whilst cruising on a luxury barge past the ancient ramparts of the 14th Century Palace of the Popes, a glass of Châteauneuf du Pape in hand! Roi Soleil glides before the majestic 15th Century castles of Tarascon and Beaucaire that tower over the Rhone River!

For art lovers, entering the city of Arles evokes images depicted by Van Gogh, Cezanne and scores of artists, drawn here by the extraordinary light and golden pastel hues of Provence. Meandering the cobbled streets by foot, your guide can direct you through this bastion of Provençale culture and history that was founded by the Greeks in VI BC. You can even have a drink in the Van Gogh Café, where art meets reality!

Let your personal English/French speaking guide help you follow your quest in the heart of the Gard and Vaucluse - be it in the antique houses of Isle sur Sorgues, local arts and crafts in picturesque villages of St. Quentin la Potterie, Uzès and St. Remy or tranquility at the Fontaines de Vaucluse. Take in the sweeping views of the ancient town of Baux de Provence, or a leisurely stroll across the 40AD Roman aqueduct of Pont du Gard or for the adventurous, see it all from a Hot-air-balloon or an airplane.

The Provence Route continues to surprise with its incredible diversity. Leaving the Rhone River, Roi Soleil barge cruise enters a region of sand dunes and salt marshes. Flocks of pink flamingos plunge their heads in the marshland, wild white horses drink idly from the banks of the canal, black bulls graze in the pastures. To discover the stunning beauty of the Camargue region, you can take a 4 wheel drive or mount the Camargue horses on a Bull ranch and be amongst the "Guardians" rounding up their herd in rodeo style.

The lines are cast, "Roi Soleil" pulls in for the evening and we step off the boat to find ourselves in a fortified village - Aigues Mortes. Before the Gypsy Kings sang their ballades in the local cafés and restaurants of this quaint village, the crusaders of King St Louis embarked from the banks of the city in the 13th Century.

Whenever the urge takes you, there is, of course, the wine - let yourself be guided through some of the best vineyards in the South West of France - Roi Soleil has special privileges that open doors for private tastings with the winemakers themselves. Why not let yourself be swept into the atmosphere of one of the many cultural events of the season...festivals with bulls and horses, parades in the streets of chariots and the local men and women dressed in traditional silks and lace...

The canal barge meanders into the fishing port of Sète where pastel coloured houses with wrought iron balconies overlook the canal. Colourful fishing boats line the canals, their nets drying on the docks by the seafood terrace restaurants.

Roi Soleil crosses the large lagoon of Thau, dodging the oyster beds and the little sailing yachts to rejoin the Canal du Midi by Agde, named by Marco Polo as "the black pearl of the Mediterranean" due to its black lava architecture. As the sun sets once again on the changing landscape, cocktails are served on deck, appetizing aromas drift from the galley and we coast into the closing of another day full of unexpected pleasures ...

A charter on ROI SOLEIL is all about CHOICE. Here's the route - and suggestions on what is available each day to customize your cruise. According to local festivities your guide will offer more options. We have not included the cycling, running or walking opportunities.

Sunday
Transfer to the barge in Avignon, welcome on board, and cocktails before your first dinner on board.

Monday
Cruise from Avignon or Vallabregues - possible excursions:
-- the Pope's Palace and Arts Museum,
-- and /or Châteauneuf du Pape (private tasting with the winemaker)
-- and/or Pont du Gard
-- and/or Uzès (similar to St. Remy but with much more elaborate architecture)
-- and/or St. Quentin la Pottery (a center for traditional and contemporary earthenware).

Tuesday
Cruise from Arles - possible excursions:
-- Arles city with its Roman and Medieval history and architecture; van Gogh tour; shopping; and cafes
-- and St. Remy de Provence,
-- and/or Baux de Provence
-- and/or Roman ruins,
-- and/or Isle sur la Sorgue antique dealers,
-- and/or the Villages of Provence

Wednesday
Cruise from Aigues Mortes - possible excursions:
-- the battlement tower, shops and art galleries,
-- bull ranches with Camargue "cowboys"
-- and/or bird watching

Cruise from Cabannes du Roc - possible excursions
-- the Montpellier historic center, shops, and antiques
-- and/or wine tasting in historic domains

Thursday
Cruise from Sète, easterly approach - possible excursions:
-- walk along the Mediterranean
-- visit the Sète historic center and lively market,
-- see the panoramic view from Mont-St.-Clair

Cruise from Marseillan - possible excursions:
-- wine tasting
-- and/or the Valmagne Abbey
-- and/or a Roman villa and museum

Friday
Cruise from Agde - possible excursions:
-- the city of Agde
-- and/or Pézenas and its shops
-- and/or Beziers and its shops,

Saturday - departure at 10 am.
Enjoy a leisurely breakfast on board then transfer to the departure point.

Note: This is a sample itinerary and is subject to change. It may run in reverse on alternate weeks.

---
Dining Aboard The Roi Soleil:
SAMPLE MENU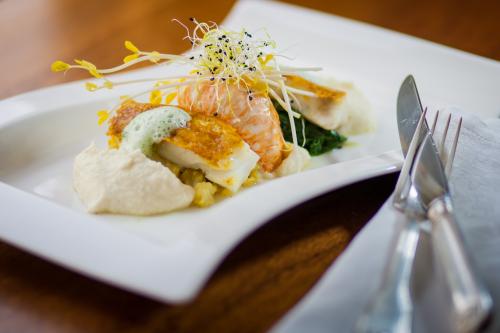 BREAKFAST
Our Continental breakfast includes fresh breads, pastries, cereals, fresh fruits, yogurt, freshly brewed coffee and tea.
LUNCH
Smoked duck and granny smith apple salad with fresh raspberry dressing
Braised quail served on creamy porcini mushroom risotto
Lemon souffle
DINNER:
Duo of foie gras: Home made foie gras au torchon with pear and date chutney & pan fried fresh foie gras on poached pear and marinated date. Paired with AOC Muscat de Saint-Jean de Minervois 2010
Charollais beef fillet on braised beetroot and fresh asparagus with chunky basil pesto and plum, apple chutney. Paired with AOC Chateauneuf du Pape Chateau Mont Redon 2001
Assorted cheese platter that includes Roquefort, Reblochon de Savoie & Langres
Chilled blackberry & vanilla soup with caramel & balsamic ice cream on a chocolate truffle with pistachio spun sugar
Coffee, tea and liquers with fine chocolates from St Remy de Provence
NOTE: The galley on the Roi Soleil was specifically designed with an open plan to accomodate passengers who may be interested in participating in our Chef cooking demonstrations to learn new techniques or pick up a few tricks.
SAMPLE WINE LIST:
The wines are selected by the owner with the best sommeliers of the region. They represent the quintessence of Languedoc and Provence as well as the appellations of the whole of France.
---
Passenger Comments:
Absolutely Fabulous!!! The boat itself was lovely. Damian, the chef prepared the most incredible food we've ever had anywhere. Finn and Emily were wonderful, delightful hosts and Barry chose really interesting day trips for us and was incredibly knowledgeable and nice. Couldn't have asked for more! We will never forget our trip on Le Roi Soleil! Never having taken a barge before, I have nothing to compare. Pretty scenery, some cute towns where we stopped. The locks were most interesting!
B&L. E., PA, USA, September 2017
Our barge trip on the Roi Soleil was superb. The excursions were excellent and varied. We liked the cruise route on the Canal du Midi very much. Dinners where the food and wine were superb were high points.
A&R M. NY USA September 2015
The barge was wonderful. The bedrooms were roomy and it was wonderful to have our own bathroom. The staff kept the barge very clean. It had all the amenities needed. The service was excellent, and the meals and wines outstanding. Daniel did an exceptional job. We loved him. The cruise route was lovely and the historical excursions very informative. The service was very good. All questions were answered in a timely manner and when additional help was needed in France we received it.
M & B G. NC, USA, June 2014
The crew and service were A+. The crew Finnegan, Rex, Damian and Emily were wonderful. They went out of their way to see to our every want and need and did so willingly and with great pride in their work. Loved the Narbonne market and shopping area, Carcassone was amazing and really enjoyed the olive oil and wine tastings. Highlights were the food, wine and general ambiance! Damian is an amazing chef. He not only produced incredible meals but invited us to watch, take notes, gave out recipes, etc. as we are all avid cooks so it was a real treat for the 3 ladies on board. Wines and cheese selections were terrific.
J & G H., ND, USA, May 2013
The staff made the trip memorable. They added excursions and activities to offset the poor weather. The barge is in great shape and had all the conveniences available for our trip. We have recomended this trip to friends and cannot say enough about the staff. They were a joy to travel with on the Canal Midi. Nothing was a problem, they were eager to make our vacation a memorable one and they did just that. The meals were the best we had in France and Chef Damian served some of the best food we have ever experienced.
J & C M., GA, USA, May 2013
---
LINKS to Roi Soleil Information
---
Email us at: info@bargesinfrance.com
This page last updated August 3, 2018