Cruise In Holland, Belgium & In France In Champagne On The Marne River And In Alsace On The Canal de la Marne au Rhin Aboard The Deluxe Hotel-Barge PANACHE
BARGE CRUISES: SEVEN DAYS/SIX NIGHTS
The 12-passenger Panache is traditionally furnished in an old ship style with brass and mahogany, creating a comfortable and charming ambiance designed for luxury, elegance and spaciousness. The accommodations offer a choice of six air-conditioned Junior Suites, each with full en-suite facilities including oversized showers with massage jets an double sinks. The sleeping quarters offer a choice of twin or queen size bed configurations. Both the salon and dining rooms feature comfortable sofas, books and music and an always open inclusive bar. The sun deck is spacious and has a heated spa pool, a perfect place to relax and appreciate the scenery. We have cruised on board the Panache several times on several different cruise routes both when it was called the Marjorie II and since it was renamed Panache in 2012. We most recently visited the Panache in April 2017 outside Amsterdam and found that it has never looked so good! The experienced and hospitable crew, who we first met on the barge in 2012 were still aboard, operating the meticulously preserved Panache. We think it's a beautiful deluxe barge with great accommodations and its diverse cruise routes provide a unique opportunity to explore Holland, Champagne and Alsace.
The Panache cruises in Holland in April for its Amsterdam tulip cruises, including excursions to the Keukenhof Gardens, working windmills and Delft pottery. In May the barge cruises from Holland through Belgium to the beautiful town of Bruges. It then cruises from Bruges to Paris. From June to July it cruises in Champagne, visiting the Champagne houses and then moves to Alsace to cruise on the Canal de la Marne au Rhin. In Alsace you will visit the Inclined Plane at Arzviller as well as Strasbourg and its Gothic Cathedral.
Panache's highly professional crew is led by a knowledgeable and experienced Captain who will ensure that your cruise is more than memorable. Their knowledge of the region combined with the 12 bikes provided, will allow you to explore the areas you cruise through in as much detail as you desire.
---
Features
Size of barge: 129 ft by 16 ft
Number of Passengers: 12
Number of Cabins (all with private bath): 6
Crew: 6
Air Conditioning and Central Heating: Yes
Salon: Large salon with 12 picture windows, large comfortable U-shaped sofa and two settees. Dining area with table for 12.
Bar: Open bar
Deck: Sundeck with Jacuzzi, chairs, dining table for alfresco dining, and umbrellas for shade.
Spa Tub: Yes

Cabin Features: Six cabins 150 sq ft each including two twins or queen bed and large ensuite bathroom with oversized shower and double sinks. TV with DVD player.
Vehicle for Transfers/Excursions: Air-conditioned 9-seater (including driver) long wheelbase Mercedes minibus and 6-seater (not including driver) Mercedes minibus.
Accessibility: 4 steps from salon to deck, 7 steps from salon to two cabins, 4 more steps to other cabins.
Bicycles: 12 all-terrain bicycles
Wi-Fi: Yes - limited in some areas
---
Panache's Deck Plan

---
PANACHE
2018 SEASON PRICES in US DOLLARS
TYPE
VALUE

---

Mar 25 thru Apr 7
May 20 thru Jun 9
Jul 22 thru Aug 25
Oct 7 thru Oct 27
REGULAR

---

Apr 8 thru May 19
Jun 17 thru Jul 14
Aug 26 thru Oct 6
Junior Suite (per person, double occupancy)

$5,350

$6,190

Single Occupancy Supplement

$1,900

$2,150

Charter for 8

$52,400

$59,800

Charter for 9

$54,100

$61,900

Charter for 10

$55,400

$63,600

Charter for 11

$56,700

$65,300

Charter for 12

$58,000

$67,000
---
PANACHE
2019 SEASON PRICES in US DOLLARS
TYPE
VALUE

---

Mar 24 thru Apr 13
Jul 21 thru Aug 24
Oct 6 thru Oct 26
REGULAR

---

Apr 14 thru May 18
May 26 thru Jul 6
Jul 14 thru Jul 20
Aug 25 thru Oct 5
Junior Suite (per person, double occupancy)

$5,490

$6,350

Single Occupancy Supplement

$1,950

$2,200

Charter for 8

$53,900

$61,600

Charter for 9

$55,600

$63,700

Charter for 10

$56,900

$65,400

Charter for 11

$58,200

$67,100

Charter for 12

$59,500

$68,800
Please visit our ...
Special Offers Page
... to see potential discounts for this barge or many others.

What's Included
- 7 days and 6 nights on the barge in a cabin with private bath
- Transfers from Amsterdam, Bruges, Paris or Strasbourg, depending on cruise route, to the barge and return. For charter groups transfers are also possible from Brussels for Amsterdam cruises or from Basil, Zurich or Frankfurt for Alsace cruises
- All meals from dinner on Sunday through breakfast on Saturday, including one dinner at a local restaurant
- All wines with lunches and dinners
- Open bar
- All escorted side-excursions (special excursions are extra)
- Use of bicycles
What's Not Included
- Overseas air transportation to Amsterdam, Paris or Strasbourg and return
- Suggested minimum 5% gratuity for the crew, to be paid in equivalent euros to the captain
---
Panache
2018 Season Cruise Schedule*
Week
Route (Or Reverse)
Season
Mar 25
Delft-Alkmaar
Value
Apr 1
Alkmaar-Delft
Value
Apr 8
Delft-Alkmaar
Value
Apr 15
Alkmaar-Delft
Regular
Apr 22
Delft-Alkmaar
Regular
Apr 29
Alkmaar-Delft
Regular
May 6
Delft-Alkmaar
Regular
May 13
Alkmaar-Delft
Regular
May 20
Delft-Courtrai
Value
May 27
Courtrai-Pont l'Eveque
Value
Jun 3
Pont l'Eveque-Paris
Value
Jun 10
Paris-Conde-sur-Marne
Regular
Jun 17
Chalons-en-Champagne-Chateau Thierry
Regular
Jun 24
Chateau Thierry-Chalons-en-Champagne
Regular
Jul 1
Chalons-en-Champagne-Chateau Thierry
Regular
Jul 8
Chateau Thierry-Chalons-en-Champagne
Regular
Jul 15
Chalons-en-Champagne-Niderviller
Jul 22
Niderviller-Krafft
Value
Jul 29
Krafft-Niderviller
Value
Aug 5
Niderviller-Krafft
Value
Aug 12
Krafft-Niderviller
Value
Aug 19
Niderviller-Krafft
Value
Aug 26
Krafft-Niderviller
Regular
Sep 2
Niderviller-Krafft
Regular
Sep 9
Krafft-Niderviller
Regular
Sep 16
Niderviller-Krafft
Regular
Sep 23
Krafft-Niderviller
Regular
Sep 30
Niderviller-Krafft
Regular
Oct 7
Krafft-Niderviller
Value
Oct 14
Niderviller-Krafft
Value
Oct 21
Krafft-Niderviller
Value
Panache
2019 Season Cruise Schedule*
Week
Route (Or Reverse)
Season
Mar 24
Delft-Alkmaar
Value
Mar 31
Alkmaar-Delft
Value
Apr 7
Delft-Alkmaar
Value
Apr 14
Alkmaar-Delft
Regular
Apr 21
Delft-Alkmaar
Regular
Apr 28
Alkmaar-Delft
Regular
May 5
Delft-Alkmaar
Regular
May 12
Alkmaar-Delft
Regular
May 19
Delft-Courtrai
May 26
Paris-Conde-sur-Marne
Regular
Jun 2
Chalons-en-Champagne-Chateau Thierry
Regular
Jun 9
Chateau Thierry-Chalons-en-Champagne
Regular
Jun 16
Chalons-en-Champagne-Chateau Thierry
Regular
Jun 23
Chateau Thierry-Chalons-en-Champagne
Regular
Jun 30
Chalons-en-Champagne-Bar-le-Duc
Regular
Jul 7
Niderviller-Krafft
Jul 14
Krafft-Niderviller
Regular
Jul 21
Niderviller-Krafft
Value
Jul 28
Krafft-Niderviller
Value
Aug 4
Niderviller-Krafft
Value
Aug 11
Krafft-Niderviller
Value
Aug 18
Niderviller-Krafft
Value
Aug 25
Krafft-Niderviller
Regular
Sep 1
Niderviller-Krafft
Regular
Sep 8
Krafft-Niderviller
Regular
Sep 15
Niderviller-Krafft
Regular
Sep 22
Krafft-Niderviller
Regular
Sep 29
Niderviller-Krafft
Regular
Oct 6
Krafft-Niderviller
Value
Oct 13
Niderviller-Krafft
Value
Oct 20
Krafft-Niderviller
Value
*Note: Cruise directions and sample itineraries may be in reverse and are subject to change and may depend on bookings and local navigation conditions. Alternate excursions of equal appeal are substituted when needed. For charter cruises special itineraries can be arranged.
Holland
Alsace

SAMPLE ITINERARY*
Holland: Alkmaar to Delft
Tulip Cruise April-May 2018


Sunday - Alkmaar
Guests are met in Amsterdam and transferred by private chauffeured minibus to Panache. Once on aboard, enjoy a champagne welcome and an introduction to your crew and hotel barge. Dinner on board.

Monday - Alkmaar to Zaanse Schans
Perhaps visit the Alkmaar cheese market, before our first cruise to Zaanse Schans near Amsterdam, a place renowned for its wooden windmills, barns and houses built in the traditional Dutch style. After lunch, there is a bicycling opportunity or minibus back to tour Zaanse Schans, an open air conservation area and museum, giving you a vivid impression of the Dutch way of life in the 17th and 18th centuries. This historical area consists of authentic houses and windmills, an historic shipyard, pewter factory, a cheese and dairy farm and an age-old grocery store dating back to the 1900's. Dinner on board

Tuesday - Zaanse Schans to Haarlem
We enjoy an early morning cruise to the historic city of Haarlem, dating back to the 13th century. After lunch on board, this afternoon marks a highlight of the week with a visit to the world famous Keukenhof Gardens, known as the 'Garden of Europe'. There are more than 100 acres filled with over 7 million flowering bulbs and we stroll through a breath-taking backdrop of color on this unforgettable half-day excursion. Dinner ashore this evening at a local restaurant.

Wednesday - Haarlem to Oude Wetering
An optional very early morning tour to Aalsmeer flower auction, where some 17 million cut flowers from all over the world are traded each day. We return to the hotel barge for breakfast, then enjoy a tour of Haarlem. The city is home to the Frans Hals Museum founded in 1862 with its vast collection of Old Masters. Other highlights include St. Bavo's Cathedral on the main square, where both Handel and Mozart played the magnificent Muller organ or there is free time to visit a fine selection of boutique shops. After lunch on board, we cruise to Oude Wetering and there is free time this afternoon to walk or cycle along the towpaths around the lake. Dinner on board.

Thursday - Oude Wetering to Leiden
After breakfast we cruise to Leiden. Home to one of the oldest universities in the country and the birthplace of Rembrandt, Leiden is an historical city full of charm and character, a perfect place to explore on a bicycle, or simply stroll the banks of the pretty tree-lined canals. This afternoon we take a tour of the city and a private boat trip, with your tour leader explaining the history that dates back to Roman times and more recent sites such as the church, St. Pieterskerk, from which the pilgrims departed for America. Free time to explore the many local cafes, boutique shops, markets and antique dealers. Dinner on board.

Friday - Leiden to Delft
Morning cruise arriving in Delft by lunchtime, our final mooring. Delft is renowned for its pottery ceramic products, which were styled on the imported Chinese porcelain of the 17th century. This beautiful, unspoiled town is more than 750 years old, and began as the home port of the Dutch East India Company. Following lunch, we visit the Royal Delft factory, just 5 minutes' walk from our mooring to learn how this world-famous porcelain is made. You will have time during the afternoon to explore Delft further. Captain's Farewell Dinner on board.

Saturday - Delft
After breakfast, guests are transferred by private chauffeured minibus to their choice of location in Amsterdam.

Note: This is a sample itinerary and is subject to change. On alternate weeks the cruise is in the reverse direction.


SAMPLE ITINERARY*
Alsace: Canal du Marne au Rhin
Krafft to Niderviller July-October 2018

Sunday - Krafft
Guests are met in Strasbourg and transferred by private chauffeured minibus to Panache for a Champagne welcome and the first opportunity to meet your crew. Perhaps there is time for a walk or cycle ride before dinner on board.

Monday - Krafft to Strasbourg
Our day starts with a morning cruise, across the Gran Ried wetlands and home to an abundance of birdlife, to arrive at the historic city of Strasbourg. Later, we enjoy a tour of the beautiful "capital city of Europe" including, of course, a visit to the 12th century Gothic pink sandstone cathedral, home to an astronomical Renaissance clock and soaring spire. We visit Place Gutenberg and explore La Petite France, a pedestrian area brimming with half-timbered houses, boutique shops and cafes. Dinner on board.

Tuesday - Strasbourg to Waltenheim-sur-Zorn
After breakfast, our cruise takes us past the impressive European Parliament building on the outskirts of Strasbourg and on through the Brumath Forest to our picturesque mooring at Waltenheim-sur-Zorn. This afternoon we enjoy a scenic drive into the rolling Vosges hills on the Route des Grands Vins, where the finest wines of Alsace are produced, and a private tasting of Gewürztraminer, Pinot Noir and Riesling wines at a long-established winemaker, such as Domaine Pfister. Dinner ashore this evening at a traditional Alsatian restaurant.

Wednesday - Waltenheim-sur-Zorn to Saverne
This morning we take a guided tour, with an optional beer tasting, at the Meteor Brewery, founded in 1640 and the last privately-owned brewery in Alsace. Returning to Panache, we cruise further along the canal, with good walking and cycling opportunities, to the enchanting town of Saverne where history traces back over 2,000 years to the Gallo-Roman Times, mooring at the foot of the Château de Rohan, also known as the "Versailles of Alsace". Dinner on board.

Thursday - Saverne to Lutzelbourg
This morning, perhaps after a visit to Saverne's market, we enjoy a cruise to our mooring in the pretty village of Lutzelbourg, surrounded by hills and overlooked by the ruins of the medieval castle. In the afternoon, we visit the mountaintop village of La Petite Pierre with its medieval castle, then tour the outstanding René Lalique collection and see over 500 exceptional examples of Art Nouveau and Art Deco glassware. Nearby Wingen-sur-Moder is also the World War II battleground where American infantry fought with distinction. Before dinner on board, time for aperitifs and perhaps some traditional Alsatian "Flammekueche" prepared by your chef.

Friday - Lutzelbourg to Niderviller
For early risers, there is an optional visit to a local bakery to watch skilled patissiers preparing their delicious creations, before we cruise through beautiful Alsatian countryside, visiting the Lehrer Crystal glassworks en-route. We then ascend the unique Arzviller boat elevator that carries Panache 450 feet up the mountainside in minutes and enjoy a candlelit cruise through the two Arzviller tunnels to our final mooring at Niderviller. After lunch on board, we set off on a tour of Sarrebourg, including visits to the 13th century chapel containing Marc Chagall's remarkable stained-glass window and the impressive museum of Roman and Medieval artefacts. Captain's Farewell Dinner on board.

Saturday - Niderviller
After breakfast, guests are transferred by private chauffeured minibus to their choice of location in Strasbourg.

Note: This is a sample itinerary and is subject to change. On alternate weeks the cruise is in the opposite direction.


SAMPLE ITINERARY*
Champagne: Marne River and Canal Lateral a La Marne
Chalons-en-Champagne to Chateau Thierry June-July 2018

Sunday - Chalons-en-Champagne
Guests are met at the designated meeting point in Paris and transferred to the hotel barge moored in Chalons-en-Champagne. Enjoy a Champagne welcome while your Captain introduces you to the crew. Dinner on board.

Monday - Châlons-en-Champagne to Tours-sur-Marne
This morning we cruise from Châlons-en-Champagne along the Canal Lateral à la Marne to our pretty mooring at Tours-sur-Marne. After lunch on board, we visit the magnificent 800-year-old Reims cathedral, a Gothic masterpiece where the Kings of France were crowned. We also visit one of the city's "fromagiers" to taste some of the region's wonderful cheeses. Dinner on board.

Tuesday - Tours-sur-Marne to Dizy
Today we continue our cruise along the canal, with the opportunity to explore on foot or bicycle en route, and moor at Dizy, near Epernay. After lunch, we visit the pretty hilltop village of Hautvillers, known as the "cradle of Champagne". It is here that the monk Dom Perignon discovered the "méthode champenoise" and we enjoy a private tasting at a boutique in the village. Dinner ashore at a local restaurant.

Wednesday - Dizy to Damery
After breakfast, we head into the nearby town of Epernay, home to many of the major champagne houses for a cellar tour and tasting. There is time afterwards to explore the town and to do some shopping. After lunch on board, we head west along the beautiful River Marne, passing through the champagne vineyards to our mooring at Damery. Dinner on board.

Thursday - Damery to Dormans
Today the barge continues her cruise along the meandering Marne to moor at the pretty riverside town of Dormans, the site of a château, watermill and World War I memorial. In the afternoon, we visit the battlefield at Château-Thierry with its impressive monument, before paying our respects to the fallen at the American cemetery at Belleau Wood. Dinner on board.

Friday - Dormans to Château-Thierry
This morning, we visit La Maison Pannier, a select champagne house with a labyrinth of medieval underground cellars, for a tour and a private tasting. After lunch on board, we cruise to our final mooring at Château-Thierry, a historic, strategically-situated town overlooking the river, surrounded by vineyards that produce some of the region's famous sparkling wine. Captain's Farewell Dinner on board.

Saturday - Château-Thierry
After breakfast, guests are transferred by private chauffeured minibus to Paris.

Note: This is a sample itinerary and is subject to change. On alternate weeks the Panache cruises in the opposite direction.


---
Dining Aboard The Panache:
SAMPLE MENU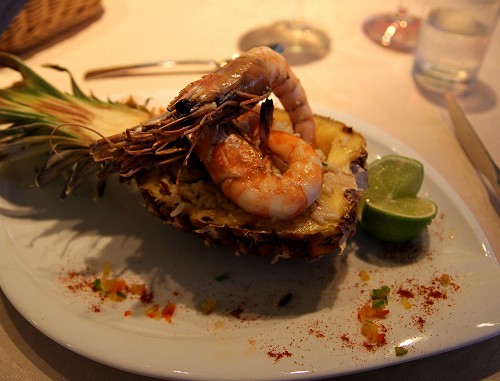 BREAKFAST
Our Continental & hot breakfast offerings include pancakes, Belgian waffles, eggs, bacon, fresh breads,
pastries, cereals, fresh fruits and yogurt.
LUNCH
Flammekueche tart filled with cream, bacon and onions
Quiche Lorraine
Alsatian potato salad
Pfluten (potato and leek quenelles)
Grilled Strasbourg sausages
Traditional Alsatian fried carp
DINNER
Cheese tartlet with mesclun salad
Local foie gras terrine, riesling jelly and homemade brioche
Rhine River matelote (traditional fish stew with pike, perch and zander) and steamed vegetables
Roasted duck breast with red cabbage, apples & sweet chestnuts served with a red wine
and Alsatian cherry reduction
Coq au Vin Sylvaner served with the spaetzle
Deboned frog legs vol au vent (baked puff pastry shells) with garlic and herb sauce
Choucroute garnie (pickled white cabbage, finely sliced and macerated) served with a selection
of salted and smoked meats
Pears poached in Gewürztraminer wine, gingerbread ice cream
Mirabelle plum crème brûlée
Traditional Alsatian vacherin (fresh fruits and whipped cream meringue cake)
Molten chocolate cake with coffee custard
SAMPLE CHEESE BOARD
Mont d'Or, Bleu de Gex, Camembert, Sainte Maure de Touraine, Comté, Saint Félicien, Roquefort, Beaufort
SAMPLE WINE LIST
Riesling Grand Cru, Chassagne-Montrachet, Chablis Premier Cru Pouilly Fuisse, Gewurztraminer, Cremant d'Alsace, Florimont Riesling
---
Passenger Comments:
We thoroughly enjoyed our time on Le Panache. The accommodations were comfortable and the crew was friendly and always eager to please and make the passengers feel at home away from home. What made the trip pleasurable was the fact that the passengers bonded as a group with many similar interests; amazing when you think of a small number of travelers from varying backgrounds coming together in a small space. We also enjoyed the side excursions. Weather could have been sunnier! The service was enthusiastic and friendly and catered to everyone's needs. Loved Kim's "throwing of the Tulips" ceremony on the last night. Florian's "herding of his cats [the passengers]" on our shore trips was exceptional. Helen's skill with napkin folding provided an amusing touch to our meals! The food and wine and cheeses were superb and the Chef Jim's presentation of the dinners was wonderful. A pleasant way to gain weight for sure. High points were the people, both the crew and our fellow passengers we met. Loved the Keukenhof Gardens and the Flower Auction in Haarlem.
M&A. K. NY USA , April 2017 (Holland)
The Panache was beautiful and the staff was gracious and accommodating. The rooms were a nice size and had plenty of storage. The bathroom was a nice size. The water pressure and hot water was very good. The a/c worked well and was appreciated since the temperature rose into the 80s. The bed was very comfortable and the room was very quiet at night. The food was good and the portions were a reasonable size rather than huge. The chef was British. The wines were very good. Occasionally we mentioned desiring something like a crepe suzette and the next day it would appear on the menu. Going through the two tunnels and down the elevator were high points.
B.& J.S., MD, USA, July 2016
The service was at a very high level and always courteous and cheerful. The best part of the voyage was the cuisine. Fresh bread purchased at a local village every morning. Fine wines were paired with each course of each meal. A fabulous chef who described each course with incredible enthusiasm and determined each passenger's likes and dislikes in advance.
B & H W., TX, USA, June 2012
---
LINKS to Panache Information
---
Email us at: info@bargesinfrance.com
This page last updated August 3, 2018