Cruise In France On The Canal du Nivernais In Northern Burgundy Aboard The First Class Hotel-Barge LUCIOLE
BARGE CRUISES: SEVEN DAYS/SIX NIGHTS
The 12-passenger Luciole began life on the French canals in 1926 as a mule-drawn freight vessel carrying coal. In 1966 she was converted into the first hotel-barge and renamed the Palinurus. In 1985 she was acquired by John Liley, renamed the Luciole and has been cruising on the Nivernais Canal ever since. Penny Liley, who is now responsible for the overall running of the business, worked on the Luciole as a chef in 1986, and since then has played a major role in creating a warm, welcoming atmosphere. We have known Penny for many years and always look forward to cruising when she is on board. We were most recently on board for a delicious lunch and cruise on the beautiful Nivernais Canal in April 2017.
The Luciole offers a variety of accommodations on board - there are three cabins with a double bed or two twin beds, three cabins with fixed twin beds and two cabins with one twin bed, all with new ensuite bathrooms with a glass enclosed shower. The salon has a dining area and comforable sofas with picture windows. There is also a large deck with dining table, umbrella and ample seating.
Meals on board the Luciole are treasured times and offer an opportunity to sit, relax and share with friends, old or new, a summer luncheon or candlelit dinner of culinary delights. The chef is encouraged to be innovative and imaginative, marrying French cuisine with a contemporary twist while using fresh local ingredients to inspire and spoil you. Your day commences with the arrival of freshly baked breads and pastries. Lunch is a feast of salads and savory dishes, followed by a selection of cheese. The four-course evening meal includes wines from he region on each menu. With Chablis on our doorstep, local vineyards are well represented, but wines from the Cote d'Or are also on our list, together with Chateauneuf du Pape and selections from Bordeaux.
The new Adventure Charters on the Luciole offer a unique barge cruising vacation, combining adventure activities with canal cruising. Tree walking, horse riding, scrambling over the remains of a Medieval castle, cave wall climbing and kayaking are some of the exciting activities. For families and friends wanting a summer adventure that pleases every age see the itinerary below. And should there be those wanting less of the adventure and a little more history and culture, the barge is still able to offer a daily visit.
---
Features
Size of barge: 117 ft. by 17 ft.
Number of Passengers: 12
Number of Cabins (all with private bath): 8
Crew: 6
Air Conditioning and Central Heating: Yes
Salon: The salon/dining area has large picture windows, comfortable seating and dining areas with dining table for 12
Bar: Open bar
Deck: Sundeck with chairs, dining table and umbrellas.
Spa Tub: No
Cabin Features: Three cabins with twin or double beds, three cabins with twin beds, all about 107 sq ft and two single cabins 67 sq ft, all including ensuite bathroom with shower.
Vehicle for Transfers/Excursions: l6-passenger air-conditioned Mercedes van
Accessibility: 2 steps from deck to salon, 8 steps from salon to cabins
Bicycles: 12 Bicycles; 8 sturdy hybrid roadster bicycles with 21 gears and 4 electric bikes.
Wi-Fi: Yes - limited in some areas
---
Luciole's Deck Plan

---
LUCIOLE
2018 SEASON PRICES in US DOLLARS
TYPE
VALUE

---

Apr 15 thru May 26
Jul 22 thru Sep 1
Oct 14 thru Oct 27
REGULAR

---

May 27 thru Jul 21
Sep 2 thru Oct 13
Cabin (per person, double occupancy)

$4,650

$5,150

Single in Single Cabin

$4,650

$5,150

Charter for up to 8

$39,950

NA

Charter for up to 10

$46,000

$52,000

Charter for up to 12

$52,000

$58,000

Activity Charter Supplement

$2,000

$2,000
---
LUCIOLE
2019 SEASON PRICES in US DOLLARS
TYPE
VALUE

---

Apr 28 thru May 25
Jul 21 thru Aug 31
Oct 6 thru Oct 26
REGULAR

---

May 26 thru Jul 20
Sep 1 thru Oct 5
Cabin (per person, double occupancy)

$4,650

$5,150

Single in Single Cabin

$4,650

$5,150

Charter for up to 8

$39,500

NA

Charter for up to 10

$47,000

$53,000

Charter for up to 12

$53,000

$59,000

Activity Charter Supplement

$2,000

$2,000
Please visit our ...
Special Offers Page
... to see potential discounts for this barge or many others.

What's Included
- 7 days and 6 nights on the barge in a cabin with private bath
- Transfers from Paris to the barge and return
- All meals beginning with dinner on Sunday through breakfast on Saturday, including one lunch at a restaurant
- All wines with lunches and dinners
- Open bar
- All escorted side-excursions (hot air ballooning, golf, etc. at additional cost)
- Use of bicycles
What's Not Included
- Overseas air transportation to Paris and return
- Suggested minimum 5% gratuity for the crew, to be given to the captain in equivalent euros
---
Luciole
2018 Season Cruise Schedule*
Week
Route (Or Reverse)
Season
May 6
Clamecy-Auxerre
Value
May 13
Auxerre-Clamecy
Value
May 20
Clamecy-Auxerre
Value
May 27
Auxerre-Clamecy
Regular
Jun 3
Clamecy-Auxerre
Regular
Jun 10
Auxerre-Clamecy
Regular
Jun 17
Clamecy-Auxerre
Regular
Jun 24
Auxerre-Clamecy
Regular
Jul 1
Clamecy-Auxerre
Regular
Jul 8
Auxerre-Clamecy
Regular
Jul 15
Clamecy-Auxerre
Value
Jul 22
Auxerre-Clamecy
Value
Jul 29
Clamecy-Auxerre
Value
Aug 5
Auxerre-Clamecy
Value
Aug 12
Clamecy-Auxerre
Value
Aug 19
Auxerre-Clamecy
Value
Aug 26
Clamecy-Auxerre
Value
Sep 2
Auxerre-Clamecy
Regular
Sep 9
Clamecy-Auxerre
Regular
Sep 16
Auxerre-Clamecy
Regular
Sep 23
Clamecy-Auxerre
Regular
Sep 30
Auxerre-Clamecy
Regular
Oct 7
Clamecy-Auxerre
Regular
Oct 14
Auxerre-Clamecy
Value
Oct 21
Clamecy-Auxerre
Value
Luciole
2019 Season Cruise Schedule*
Week
Route (Or Reverse)
Season
Apr 14
Auxerre-Clamecy
Apr 21
Clamecy-Auxerre
Apr 28
Auxerre-Clamecy
VALUE
May 5
Clamecy-Auxerre
VALUE
May 12
Auxerre-Clamecy
VALUE
May 19
Clamecy-Auxerre
VALUE
May 26
Auxerre-Clamecy
REGULAR
Jun 2
Clamecy-Auxerre
REGULAR
Jun 9
Auxerre-Clamecy
REGULAR
Jun 16
Clamecy-Auxerre
REGULAR
Jun 23
Auxerre-Clamecy
REGULAR
Jun 30
Clamecy-Auxerre
REGULAR
Jul 7
Auxerre-Clamecy
REGULAR
Jul 14
Clamecy-Auxerre
REGULAR
Jul 21
Auxerre-Clamecy
VALUE
Jul 28
Clamecy-Auxerre
VALUE
Aug 4
Auxerre-Clamecy
VALUE
Aug 11
Clamecy-Auxerre
VALUE
Aug 18
Auxerre-Clamecy
VALUE
Aug 25
Clamecy-Auxerre
VALUE
Sep 1
Auxerre-Clamecy
REGULAR
Sep 8
Clamecy-Auxerre
REGULAR
Sep 15
Auxerre-Clamecy
REGULAR
Sep 22
Clamecy-Auxerre
REGULAR
Sep 29
Auxerre-Clamecy
REGULAR
Oct 6
Clamecy-Auxerre
VALUE
Oct 13
Auxerre-Clamecy
VALUE
Oct 20
Clamecy-Auxerre
VALUE
*Note: Cruise directions and sample itineraries may be in reverse and are subject to change and may depend on bookings and local navigation conditions. Alternate excursions of equal appeal are substituted when needed. For charter cruises special itineraries can be arranged.
SAMPLE ITINERARY*
Burgundy: Canal du Nivernais
Auxerre to Clamecy 2018

Sunday - Auxerre
The rendezvous in Paris at the Hotel Mansart with the Luciole's representative is at 2.30 pm, followed by the journey to Auxerre in the barge's private bus. The Luciole will be moored on the impressive river frontage of the city, overlooked by the Cathedral St Étienne, the 13-15th Century Abbey of St Germain and the Parish Church. A Champagne reception, delicious canapés and our crew, welcome Luciole passengers on board..

Monday - Auxerre to Vincelles - Wine tasting in Chablis
The cruise upriver leads us into beautiful pastoral countryside intermingled with sweeping reaches of the River Yonne. After lunch we pass by Bailly. Here in 1972 local winemakers restored the fortunes of these ancient vineyards with the production of sparkling Crémant de Bourgogne in the large limestone Caves de Bailly. The picturesque villages of St Bris and Irancy, also devoted to wine, stand nearby. We moor for the evening on the wide river in Vincelles. A journey in the afternoon is made to a wine cellar in the Chablis vineyards, barely sixteen kilometres to the east of Auxerre. Chablis is one of the greatest names in wine, with production within a strictly-defined area. The most prestigious wines are produced from vineyards on the south of the town on 'Grand Cru Hill'.

Tuesday - Vincelles to Accolay - Walking tour of Auxerre
In the morning the canal takes you towards the River Cure on the 'Vermenton Arm' and the village of Accolay. Our excursion to historic Auxerre is in the afternoon. The city offers many historic features: the Cathedral of St Étienne, Abbey of St Germain, with the Romanesque crypt and attractive clock tower in the centre of the town, built in the 15th Century. The Church presides over one of the most attractive waterfronts in France, recently renovated and where the Luciole now has her own private mooring. Auxerre was originally a Roman camp and became a centre of learning and pilgrimage in the Middle Ages. It was declared a holy city by the Pope in the 11th Century. The afternoon provides a good opportunity to visit the shops and take time to enjoy French provincial life.

Wednesday - Accolay to Mailly-le-Château - Market day in Noyer
In the morning we travel from Accolay, to the delightful town of Noyers-sur-Serein. With its friendly market stalls, half timbered houses and turreted ramparts it is easy to see why Noyers is considered one of the most beautiful villages in France. Above the town, the reconstruction of the medieval castle progresses. Catholic Henry IV ordered the destruction of the Protestant-owned château in 1599. Look out for the orchids in May and June. After lunch the Luciole's journey continues southwards to a night-time mooring beneath the walls of Mailly-le-Château. Here you can take the steep path from our mooring at Bourg d'en Bas, or Lower Town up to Mailly-le-Château where a terrace offers spectacular views of the Yonne Valley.

Thursday - Mailly-le-Château to Lucy-sur-Yonne - Tour Vézelay Basilica
We visit Vézelay in the morning, where the spectacular 11th Century Basilica dominates the steep sided hill town which has numerous shops and cafés. Vézelay was the historic starting point for two of the Crusades to the Holy Land, where Saint Bernard preached to the Crusaders in the presence of Louis VII and Eleanor of Aquitaine. Vézelay owed its position of influence and prestige since it holds the relics of Saint Mary Magdalene and a Papal declaration attesting to their authenticity. The town was a high point of Medieval pilgrimage and was a major gathering point for the Crusaders on the way to Santiago de Compostela in northern Spain. There is plenty of time to soak up the atmosphere of this hilltop town and a super chance to visit the numerous craft shops selling clothes and gifts. Another opportunity too, to stop at one of the local cafés and watch the world go by (very French café life!). We cruise in the afternoon to an evening mooring at Lucy-sur-Yonne, passing through a region where dramatic cliffs stand by the water's edge. Watch out for the delightful ducks and geese, who have made this canal bank their home. Along the cruise route the Rochers du Parc and those at Les Saussois are regularly used by climbers.

Friday - Lucy-sur-Yonne to Clamecy - Tour Château of Bazoches
Our final cruise in the morning takes us to the delightful Medieval town of Clamecy, a worthy venue for the climax of our cruise. The town features the 12-16th Century church of St Martin that stands up on the hill in the town centre. Beside the river, stands the church of Our Lady of Bethlehem, which was opened in 1927. It was dedicated to the 50 successive bishops of Bethlehem who, unable to preside in Bethlehem itself, were resident at Clamecy from 1225 until the French Revolution in the late 18th Century. Our final tour is to the imposing Château of Bazoches. Set on a hillside amidst splendid rolling countryside, this was the 17th Century home of the Marquis de Vauban (1633-1707). Vauban was France's great military tactician and engineer, who was responsible for the creation of the first coherent network of fortifications surrounding the developing kingdom of France. He was also a prolific and at times visionary writer who remained steadfastly loyal to his roots in the Morvan region around Avallon and Vézelay and considered the Château of Bazoches as his true home.

Saturday - Paris
After breakfast, the Luciole bus departs for Place Vendôme, central Paris where taxis are available for onward travel. Anticipated arrival is at 1pm. For guests wishing to travel elsewhere in France by train or hire car, a stop can always be made in Auxerre en-route to Paris.

Note: This is a sample itinerary and is subject to change. The cruising itinerary will be in the reverse direction if the Luciole is moored in Clamecy at the start of the week.


SAMPLE ITINERARY*
Burgundy: Canal du Nivernais
Auxerre to Clamecy Adventure Charter 2018

Sunday - Auxerre
The rendezvous in Paris with the Luciole's tour guide is at 2.15pm and at a location of your choice. A Champagne reception welcomes guests on arrival to the barge.

Monday - Auxerre to Vincelles
Early walking tour of Auxerre before the cruise begins along the Nivernais Canal, that combines river and canal sections. Our evening mooring in Vincelles, provides opportunities to swim and dive from the deck of the barge into the River Yonne. Always a summer favorite for our crew! Today there is tree walking and zip-line wiring through the trees at "Parc Aventure". The activity is suitable for all ages and levels of confidence. Harnesses with carabiners and hard hats are issued to everyone. We also take the opportunity to visit Guedelon, a Medieval village in the making.

Tuesday - Vincelles to Accolay
Cruise in the morning towards the River Cure on the 'Vermenton Arm' and the village of Accolay. There are lots of opportunities to bike along the towpath and explore the villages. A smooth tarmac path runs the length of our cruise route, which is safe and easy to walk or bike along. The canal locks provide the perfect opportunity to step on or off the barge. This afternoon there is horse riding in the hills. There are mounts for any age or proficiency. Hard hats are provided. The alternative visit is to the archaeological Gallo-Roman site and museum at Escolive-Saint-Camille. Auxerre.

Wednesday - Accolay to Mailly-le-Château
Visit Noyers-sur-Serein, the delightful town with its Wednesday market. Time to walk the ramparts or visit a café before going up to the rambling ruins of the Medieval castle. The old castle is under reconstruction, with the help of volunteers, led by the enthusiastic Dutchman, Willem Adriaan de Bruyn. Cruise after lunch southwards to a nighttime mooring beneath the walls of Mailly-le-Château. Here you can take the steep path from our mooring at Bourg du Bas up to Mailly-le-Château where the town's terrace offers spectacular views of the Yonne Valley.

Thursday - Mailly-le-Château to Lucy-sur-Yonne
Cruise to Lucy-sur-Yonne through a region where dramatic cliffs stand by the water's edge. Footpaths up to the top offer panoramic views over the countryside. For more of a challenge, you can wind your way up the road on one of the Luciole's bikes. This afternoon there is cave climbing in Dissangis. A vast old stone quarry cave has been adapted to allow climbers to traverse along ledges and wires. Different routes of easy for the timid to difficult for the fittest are secured round the cave walls. The café with seating area provides a perfect place for spectators not wishing to participate in the activity. The reward of an afternoon's adventure is returning to the barge for cocktails or strong cups of tea!

Friday - Lucy-sur-Yonne to Clamecy
Cruise on to our final mooring in Clamecy which provides further opportunities to swim in the River Yonne or explore the quaint Medieval streets of the town. Today there is canoeing at Saint Père sous Vézelay, suitable for swimmers of any age, with adaptable seats for the little ones. Paddling down the River Cure and under the Roman bridge is delightful and timeless. Life jackets are provided by the canoe centre. The alternative visit is to the Château of Bazoches. The 17th Century home of the Marquis de Vauban, France's great military engineer. As an extra, we can always make a quick call-by to Vézelay on the way back to the barge for visiting the shops or buying an ice cream!

Saturday - Clamecy with Transfers back to Paris
After breakfast, the Luciole's bus departs to a location of your choice in Paris. For guests wishing to travel elsewhere in France by train or hire car, a drop-off stop can always be made in Auxerre.

Note: The cruising itinerary will be in the reverse direction, if the Luciole is moored in Clamecy at the start of the week. This is a sample itinerary and is subject to change. Hot air ballooning is an optional extra that can be organized for passengers when they arrive on board. 'France Montgolfiers' (founded by ex-barge crew 25 years ago) is based close to the cruise route.


SAMPLE ITINERARY*
Burgundy: Canal du Nivernais
Auxerre to Clamecy Wine Tasting Cruise September 23, 2018

Sunday
We rendezvous in Paris at the Hotel Mansart for transfer to the barge. Captain Francisco welcomes you on board the Luciole, with Champagne reception and canapés.

Monday
In the morning we begin our cruise towards Vincelles. Along the route, we stop in Bailly to visit the impressive caves where Crémant de Bourgogne Bailly Lapierre is made. The afternoon wine tasting is at the inspiring vineyard of Brocard. The tour introduces you to Chablis, the real Chablis made from the grapes within the town's boundaries. After the tour, we take you to look over the prestigious "Grand Cru Hill" and the vineyards stretched out into the distance.

Tuesday
Breakfast cruise to Vincelles before a departure to Beaune. The Pinot Noir grape is grown in this famous wine region of Haute Côte de Beaune. We visit the stunning Chateau Meursault and lunch in town before going to Beaune to visit the Hospice.

Wednesday
The small delightful town of Irancy nestles in an amphitheatre of vines and cherry trees. The winemakers here combine Pinot Noir grapes and the ancient variety of César for the town's Appellation d'Origine Contrôlée (AOL) red wine. We wine taste in St Bris, awarded AOC status in 2003. The wine is famed for being the only Burgundy to be permitted to use the Sauvignon Blanc and Sauvignon Gris grape varieties. Cruise in the afternoon to Mailly-le-Château, where we moor beneath the dramatic rocks.

Thursday
Early morning cruise to Lucy-sur-Yonne, a delightful mooring between the village and the River Yonne. The bus departs to drive west for lunch in the enchanting hilltop town of Sancerre, overlooking the majestic River Loire. In this region, the Sauvignon Blanc grape is grown, a fruity contrast to the mineral white Chardonnay of Burgundy. We return home via Pouilly Fumé on the Loire's east bank. The wine from this town, called Pouilly Fumé, takes its name from the grapes which, when ripe, are covered with a smokey bloom. A fascinating day for wine lovers.

Friday
Our final cruise is to the medieval town of Clamecy. The afternoon visit is to an organic wine producer, close to the magnificent hilltop town of Vézelay. After the winery we visit the imposing World Heritage Site Basilica of Mary Madeleine and have an opportunity to shop in the delightful boutiques of clothes, jewelry, art and crafts. In the evening we celebrate the cruise with the farewell Captain's Dinner.

Saturday
Departure from the Luciole is after breakfast at 9.30am, arriving in Paris at lunchtime.

Note: This is a sample itinerary and is subject to change.


---
Dining Aboard The Luciole:
SAMPLE MENU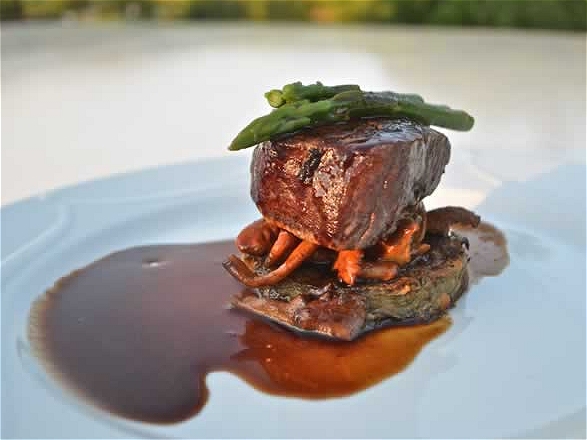 BREAKFAST
Our Continental breakfast offerings include pancakes, Belgian waffles, fresh breads, pastries, cereals, fresh fruits and yogurt.
LUNCH
Escargots de Bourgogne; Cheese & chive twists; Celeriac coleslaw; Salted cucumber salad; Feta cheese with red onion and mint salad; Marinated chicken skewers
Couscous; Prawn & mango cups; Brie with apple and grape salad; Balsamic strawberry, avocado & spinach salad
Fennel crab with orange; Goats cheese & caramelised onion quiche; Radish salad; Pepper, tomato & onion tagliatelle; Frogs legs
Italian anti-pasti; Melon platter; Stuffed courgettes; Carrot and orange salad; Ham & egg cups
Mussels in a creamy white wine sauce; Gougere; Octopus platter; Vegetable stuffed fries; Caprese salad; Walnut Salad
Sample Desserts to include Tarte citron & Fresh seasonal soaked berries
Assorted cheese to include Morbier & Petit Billy, Camembert, Liverot, Cantal and Bresse Bleu,


DINNER
Scallops with roasted shallot puree, lemon coral tuile & baby onion, topped with anchovy creme fraiche
Orange sugar-smoked duck served with kale, dauphone potatoes and leeks, with a carrot and red wine sauce
Wild mushroom and rabbit Wellington, honey glazed vegetables with a honey and rabbit jus
Pan -fried Cod served with creamed potatoes, salicornia, vine tomatoes and a cucumber gazpacho
Lobster tortellini servide with a pea puree and a fresh tomato consomme
Lamb saddle with a mint gel, served on a bed of root and sweet-potato mash and seasoned vegetables
Boudin noir served with caramelised apple, pancetta crisp and blackberry balsamic glaze
Beetroot-cured Salmon with a pea, mint and samphire puree, on a ying-yang risotto alongside roasted vine tomatoes and a beurre-blanc sauce
Chestnut veloute with a salted caramel sauce, garlic flowers and a parmesan crisp
Guinea-fowl served with black pudding, Lyonnaise potatoes, spring vegetables with whisky sauce
Pan-fried fois-gras escalope on honey toasted granola, with wild asparagus, sun-dried tomatoes, soaked cranberries and a truffle oil
Fillet of Charolais beef served with spring vegetables, oyster mushrooms and Dauphinois potatoes, with a red wine jus
Sample desserst to include Banoffee cheesecake with caramelised banana, rosemary & nutmeg; Chocolate & lime fondant, candied lime zest, white chocolate creme Anglaise presented in a sugar nest; Brioche pain perdu topped with toasted pistachios served with rhubarb and a honey marscapone; Chocolate cup filled with a caramel cappuccino espuma cream and pink peppercorn shortbread; Pears poached in red wine, cinnamon & thyme, served with a rasberry, mint creme fraiche and a mulled-wine syrup.
Assorted cheese to include Comte, Calencay, Bleu d'Auvergne, Delice de Bourgogne, Reblochon, Chaource, Saint Maur, Saint Agur, Brillat Savarin, Tomme de Savoie, Epoisses, Brie de Meaux and Roquefort
Coffee, chocolates and liqueurs


SAMPLE WINE LIST
Pinot Noir Fixin-Philippe Rossignol; Chablis Premier Cru-Jean-Marc Brocard; Pinot Noir Irancy-Benoit Cantin; Sauvignon-St. Bris
---
Passenger Comments:
An extraordinary experience, exceeding my wildest dreams. The Luciole is a wonderful hotel barge: a living historical treasure of the era of barges; a great itinerary on the Nivernais Canal that runs right through some of Burgundy's most picaresque and bucolic scenery; a superb crew devoted to guests' well-being and comfort; magnificent food prepared by a gifted and creative chef; an intimate setting (ten in the group) of an engaged and engaging group of world travelers to share in the magic of the Luciole; and even 7 days of perfect sun. High points: the scenery, the charm of the barge, the sophisticated cuisine, including local cheeses and wines, the dedication of the Luciole crew, the pleasure of traveling in a cozy and comfy setting, and the opportunity to have good conversations guests and crew.
E. C. MA USA, May 2017
Our cruise on the Luciole Barge along the Canal de Nivernais was absolutely special. The scenery was spectacular, the crew members were friendly and professional, the food was delicious and the accomodations were spacious and comfortable. The barge owner Penny greeted us the first evening and made us feel very welcomed. We enjoyed all the time that she spent with us on the barge. The combination of the other guests blended well. We had a fun hot air balloon excursion even without a lot of wind. This will be a well remembered vacation and left us with many fond memories.
M.M & A.G, OR USA September 2017
The barge trip was outstanding. First class top to bottom in food, service and travel. Anna was a jewel as our tour guide. Francisco a cordial and friendly captain. Loved the barge route - quiet, peaceful and lots of time for walking and biking. The winery, Auxerre cathedral, caves, Vezeley and tour thru the Basilica were high points.
B.P. MA USA September 2015
Wonderful experience. The efforts of the crew to please made this a delightful week. The meals were outstanding. Mark, the chef is a gem. Everyone should make this trip.
L.Z. NY, USA, June 2014
A trip of a lifetime made possible by the wonderful Luciole, crew and Canal Du Nivernais. We will never forget all of them for helping us to celebrate our 50 year love story. So many thanks to each and everyone involved with this perfect moment in time. It was only because of Chip and everyone at Special Places that we experienced this lovely celebration of our 50th wedding anniversary.
R & R P., CA, USA, July 2013
The barge trip was wonderful and I enjoyed every minute. It was everything I expected and more. The service from Special Places Travel was excellent and the service from the crew was faultless. They were friendly and accommodating at all times. It was actually quite sad to leave, they made the feeling of a family atmosphere. The meals and wines were wonderful and our chef was always doing his best to satisfy everyone's taste.
J. S., Australia, August 2013
---
LINKS to Luciole Information
---
Email us at: info@bargesinfrance.com
This page last updated August 3, 2018