Cruise In France On The Canal du Centre, Saone River and Canal du Rhone au Rhin in Southern Burgundy Aboard The Deluxe Hotel-Barge HIRONDELLE
BARGE CRUISES: SEVEN DAYS/SIX NIGHTS
The 8-passenger Hirondelle has four beautifully appointed staterooms, three with twin beds and one with a queen bed, and each with their own private en-suite bathroom with shower. Each has large windows that open well above the waterline. There is a spacious living room/dining salon, sun deck with lounge chairs and sheltering umbrellas, stereo, games, writing desk and reading material. The Hirondelle provides bicycles for cycling along the towpath and into villages, and has a minibus for excursions to local landmarks.
The Hirondelle is one of the few barges to cruise from Southern Burgundy to the Franche Comté region to visit the delightful town of Dole, home of Louis Pasteur. The route offers both canal and river cruising, from the wide expanses of the Saone to the winding Canal du Centre at the southern end of the Cote d'Or vineyards. Dijon and Beaune are just two of the historical, cultural and wine-based excursions included in the itinerary.
The large windows and the sundeck make it easy for you to enjoy the passing scenery. One day you may decide to bicycle through the countryside to visit Roman ruins or travel in our own air-conditioned mini bus to an out of the way vineyard or you may choose to soar over the countryside in a hot air balloon. At the end of a glorious day, you will return to your floating 'country home', where your personal Chef has been preparing an evening feast. An elegant five course gourmet dinner will include many fine wines and cheese that are unknown outside of France. A sense of comradery seems to prevail as you share the day's adventures with new and old friends, reliving memories that will carry on in your conversations for years to come.
We've enjoyed cruising on the Hirondelle in the past and visited it most recently a couple of years ago after the salon and cabins were redecorated. We were very impressed with its new look, especially the elegant new bedding in the cabins.
---
Features
Number of Cabins (all with private bath): 4
Crew: 5
Air Conditioning and Central Heating: Yes
Salon: Salon with comfortable sofas and chairs, stereo system, books/games library, dining area, skylight, picture windows, guest computer with internet access and BOSE ipod docking station.
Bar: Open bar
Deck: Sundeck with dining table and chairs
Spa Tub: No
Cabin Features: One cabin is 133 sq ft with queen bed, two cabins are 125 sq ft with twin beds or queen bed, one cabin is 122 sq ft with twin beds, all including ensuite bathroom with shower
Vehicle for Transfers/Excursions: Air-conditioned minibus (8-seater plus driver)
Accessibility: 5 steps from deck to salon, no steps from salon to cabins
Bicycles: Yes
Wi-Fi: Yes - limited in some areas
---
Hirondelle's Deck Plan


---
HIRONDELLE
2018 SEASON PRICES in EUROS
TYPE
LOW

---

Mar 25 thru May 5
Oct 7 thru Oct 27
HIGH

---

May 6 thru Oct 6
Cabin (per person, double occupancy)

€3,741

€4,810

Single Occupancy Supplement

€2,244.60

€2,886.00

Charter for 6

€26,418

€33,966

Charter for 7

€28,273

€36,351

Charter for 8

€30,128

€38,736
HIRONDELLE
2019 SEASON PRICES in EUROS
TYPE
LOW

---

Mar 24 thru May 4
Oct 6 thru Oct 26
HIGH

---

May 5 thru Oct 5
Cabin (per person, double occupancy)

€3,741

€4,810

Single Occupancy Supplement

€2,245

€2,886

Charter for 6

€26,418

€33,966

Charter for 7

€28,273

€36,351

Charter for 8

€30,128

€38,736
Please visit our ...
Special Offers Page
... to see potential discounts for this barge or many others.

What's Included
- 7 days and 6 nights on the barge in a cabin with private bath
- Transfers from Paris to the barge and return
- All meals beginning with dinner on Sunday through breakfast on Saturday, including one dinner at a local restaurant
- All wines with lunches and dinners
- All escorted side-excursion
- Use of bicycles
What's Not Included
- Overseas air transportation to Paris and return
- Suggested minimum 5% gratuity for the crew, to be given to the captain in equivalent Euros
---
Hirondelle
2018 Season Cruise Schedule*
Week
Route (Or Reverse)
Season
Mar 25
St Leger-Dole
Low
Apr 1
Dole-St Leger
Low
Apr 8
St Leger-Dole
Low
Apr 15
Dole-St Leger
Low
Apr 22
St Leger-Dole
Low
Apr 29
Dole-St Leger
Low
May 6
St Leger-Dole
High
May 13
Dole-St Leger
High
May 20
St Leger-Dole
High
May 27
Dole-St Leger
High
Jun 3
St Leger-Dole
High
Jun 10
Dole-St Leger
High
Jun 17
St Leger-Dole
High
Jun 24
Dole-St Leger
High
Jul 1
St Leger-Dole
High
Jul 8
Dole-St Leger
High - Short Week Charter
Jul 15
St Leger-Dole
High
Jul 22
Dole-Dijon
High
Jul 29
Dijon-Vandenesse en Auxois
High
Aug 5
Vandenesse en Auxois-Dijon
High
Aug 12
Dijon-St Leger
High
Aug 19
St Leger-Dijon
High
Aug 26
Dole-Gissey-sur-Ouche
High
Sep 2
Dijon-St Leger
High
Sep 9
St Leger-Dole
High
Sep 16
Dole-St Leger
High
Sep 23
St Leger-Dole
High
Sep 30
Dole-St Leger
High - Short Week Charter
Oct 7
St Leger-Dole
Low
Oct 14
Dole-St Leger
Low
Oct 21
St Leger-Dole
Low
Hirondelle
2019 Season Cruise Schedule*
Week
Route (Or Reverse)
Season
Mar 24
St. Leger-Dole
Low
Mar 31
Dole-St. Leger
Low
Apr 7
St. Leger-Dole
Low
Apr 14
Dole-St. Leger
Low
Apr 21
St. Leger-Dole
Low
Apr 28
Dole-St. Leger
Low
May 5
St. Leger-Dole
High
May 12
Dole-St. Leger
High
May 19
St. Leger-Dole
High
May 26
Dole-St. Leger
High
Jun 2
St. Leger-Dole
High
Jun 9
Dole-St. Leger
High
Jun 16
St. Leger-Dole
High
Jun 23
Dole-St. Leger
High
Jun 30
St. Leger-Dole
High
Jul 7
Dole-St. Leger
High
Jul 14
St. Leger-Dole
High
Jul 21
Dole-St. Leger
High
Jul 28
St. Leger-Dole
High
Aug 4
Dole-St. Leger
High
Aug 11
St. Leger-Dole
High
Aug 18
Dole-St. Leger
High
Aug 25
St. Leger-Dole
High
Sep 1
Dole-St. Leger
High
Sep 8
St. Leger-Dole
High
Sep 15
Dole-St. Leger
High
Sep 22
St. Leger-Dole
High
Sep 29
Dole-St. Leger
High
Oct 6
St. Leger-Dole
Low
Oct 13
Dole-St. Leger
Low
Oct 20
St. Leger-Dole
Low
*Note: Cruise directions and sample itineraries may be in reverse and are subject to change and may depend on bookings and local navigation conditions. Alternate excursions of equal appeal are substituted when needed. For charter cruises special itineraries can be arranged.
SAMPLE ITINERARY*
Burgundy: Canal du Centre, Saône River & Canal du Rhone au Rhin
St Léger-sur-Dheune to Dole 2018
Highlights

Château de Rully: Nestled in the Dheune Valley, the Château of Rully is an exceptional example of family heritage dating back to the 12th century. Today Count Raoul D'aviau de Ternay proudly recounts his family's story and a chance to taste some of the estates delicious wines.

Château de Chamirey: Built in the early 18th century, the Château of Chamirey in Mercurey owned by the Devillard family oversees 95 acres of vines including some of the finest Premiers Crus of the appellation. The Devillard family have recently transformed existing buildings to create an exceptional "Vine to Wine" experience and tasting.

Hôtel-Dieu in central historic Beaune: Visit it for a fascinating insight into the life and times of Chancellor Nicolas Rolin, and spanning 500 years of Burgundian history. With its gothic facade, varnished roof tiles and flamboyant colours, it makes up part of the patrimony of the Hospices de Beaune, a charitable institute created in 1443 by Nicolas Rolin and his wife Guigone de Salins. A recent exhaustive inventory includes 2,500 pieces of furniture and some 2,500 objects (tapestries, paintings, sculptures etc.), a fascinating and informative tour.

Dijon Market Day: After an historical tour with your guide, what better way to enjoy a town and region than by visiting the local market? A chance to savour the colours, flavours and aromas of local produce and some free shopping time in the capital of Burgundy.

Clos de Vougeot: Perfect for history, architecture and wine lovers, originally a wine farm built in the 12th century by the monks from nearby Abbey of Cîteaux. In the 16th century a splendid Renaissance style château was added to the existing buildings - a tribute to the incredible winegrowing prowess of the Cistercian Monks centuries ago. Many famous guests have been wined and dined at the several banquets held each year.

Sunday - St. Léger.
Board the barge at St Léger-sur-Dheune for your cruise through Burgundy. A champagne reception welcomes you on board and gives you a chance to meet the crew. Later that evening enjoy your first dining experience on board.

Monday - Cruise to Chagny. Visit Château de Rully.
A leisurely cruise on the Canal du Centre gives you a chance to savor the beauty of the French countryside, with plenty of opportunities at the many locks to get off the barge and walk or cycle along the splendid tow path. After lunch, your guide will take you to the pretty village of Rully to the 12th Century medieval fortress which has remained in the same family by marriage since its origin. The owner will guide you through his home sharing the intriguing history of his ancestors. Your visit is completed by a wonderful tasting of the wines produced by the de Ternay family in the 15th Century kitchen.

Tuesday - Cruise to Fragnes. Visit Beaune
After breakfast disembark with your guide and visit the charming old town of Beaune to see the famous Hotel-Dieu, a magnificent 15th century charity hospital, followed by a private wine tasting. There is time to stroll through the old town taking in the wonderful architecture and fine shopping before returning to the barge for lunch. Relax on board while the barge cruises the final section of the Canal du Centre, mooring in the pretty village of Fragnes just before the last and very deep lock into the River Saône just north of Chalon-sur-Saône. This evening visit a charming local restaurant for dinner.

Wednesday - Cruise to Seurre. Visit Château de Chamirey
After breakfast enjoy a visit to the Château de Chamirey, a family run wine estate in Mercurey where a tour of the vineyards themselves will be followed by a guided visit of the property and wine cellar, and a tasting of the fine range of wines. Return to the barge for lunch and enjoy a somewhat different cruising experience this afternoon, as we leave the canal behind and join the majestic Soane River. Dinner is on served on board.

Thursday - Cruise to Auxonne. Visit Clos de Vougeot
This morning the barge continues the cruise upstream on the Saône River to Auxonne. After a wonderful lunch on board we visit the historic Clos de Vougeot where the Cistercian monks first began making wine in the 12th century. The ancient château is now the headquarters of the celebrated Burgundian wine society the, Confrererie des chevaliers de tastevin, and contains the ancient cellar and wine presses from medieval times. Rejoin the barge in Auxonne, this evening's mooring location. Dinner is served on board.

Friday - Cruise to Dole. Visit Dijon
After breakfast, enjoy a walking tour of historic Dijon including a visit to the market, the famous Maille mustard shop and the Ducal Palace, seat of the great medieval dukes of Burgundy. There will be some free time for shopping, or perhaps sit in one of the numerous pavement cafés and simply watch the world go by. Return to the boat for lunch and the final cruise towards Dole. As the chef prepares for your Farewell gala dinner on board, perhaps try a 'Kir' aperitif; a cocktail which mixes the locally produced Cassis black current liqueur with the area's Aligoté white wine.

Saturday - Dole
After breakfast the crew bids you farewell before you disembark the barge for your onward travel arrangements.

Note: The route may be subject to change without prior warning as a result of unforeseen circumstances. The cruise runs in reverse on alternate weeks.



---
Dining Aboard The Hirondelle:
SAMPLE MENU
Below is a sample as menus change daily and ingredients chosen are based on seasonal ingredients and guest preferences.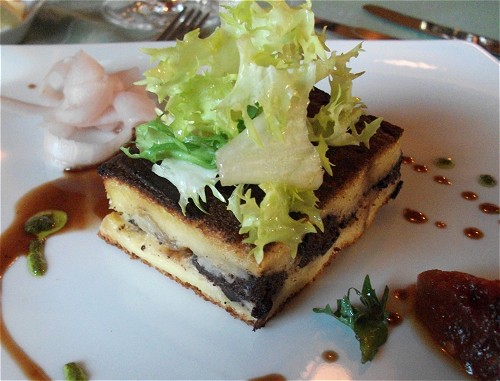 BREAKFAST
Local Pastries: Croissants, Pain au Raison, Pain au Chocolat and Brioche
Fresh Baguettes: Cereal Bread, Wholemeal Bread and Walnut Bread with Butters, Jams and Honey
Yogurts: Plain and Fruit
Fresh & Dried Fruits: Apricots, Prunes, Dates and Figs
LUNCH
Curried Chicken salad and Tomato tart filled with sautéed shallots and garlic
Tri coloured pasta salad with cucumber and cherry tomatoes
Greek salad with feta and roasted peppers with Fancy green leaf salad with raspberry vinaigrette
Brie du Meux with grapes and celery with cheese biscuits and fresh baguette
Coffee and tea with Cookies or cake
DINNER
Marinated confit of duck orange and grape salad
Crispy salmon
Hazelnut & Coriander sticky rice
Shellfish and lemongrass butter
3 cheeses
Apple tart tatin, vanilla pod ice-cream


SAMPLE WINE LIST
Champagne - Laurent Perrier Champagne
White Wines - Saint Romain; Saint Veran; Montagny 1
er
Cru; Pouilly Fuisse; Sancerre; Meursault; Puligny Montrachet; Chassagne Montrachet 1
er
Cru; St Aubin 1
er
Cru; Chablis Grand Cru
Rose Wines - Marsannay Rose
Red Wines - Gevrey Chambertin Village; Gevrey Chambertin 1
er
Cru; Nuits St George; Morey St Denis; Chorey les Beaune; St Aubin 1
er
Cru; Beaune 1
er
Cru; Volnay; Chateauneuf de Papa
Bar Wines - Bourgogne Chardonnay; Bourgogne Pinot Noir
Please note this is a sample list of the usual wines served on board. We will of course try and accommodate any specific requests from clients for particular wines and spirits where possible.
---
Passenger Comments:
The barge trip was excellent in all respects. The service was "Over the top." We were looked after very well at all times. The meals and wines were Superlative. Congratulations to Lorne and his colleagues.
J.C., TX, USA, September 2014
The barge cruise was wonderful, one of the best vacations I've taken. The staff was exceptional. The guide, Sara, was very informative and responsive to our requests. The food was great - 3 star Michelin for every meal. The route was very interesting with beautiful landscapes.
M.S., VA, USA, May 2013
It was fantastic! The crew were all very welcoming and helpful. They were an important part of making the trip so wonderful. They looked after us superbly and when it was possible catered to our wishes with food, wine and sightseeing. The food was delicious and the wine complimented the food and the region we were in. Our sightseeing trips were very informative and interactive. We were able to participate if we wanted to, or just stay on board and relax. The service was exceptional in all aspects.
D.B., Australia, April 2013
This trip was absolutely fantastic! It was the most relaxing trip I have experienced.
J & J P., Australia, April 2012
Our cabin accommodations were lovely, light and bright, and main quarters were nice and comfortable (not too formal) furniture. The deck was excellent, with full sun if desired or an umbrella for shade. We had a twin bed room which was just fine. Meals were excellent, far exceeding my expectations. They were creative, beautiful and delicious. Portion sizes were perfect at dinner and not too large. Wines paired well with the meals and were good quality. We felt the excursions were all excellent and engaging, not too far to drive, and there was flexibility offered for those who may or may not have wanted to participate. We loved the barge route in the Upper Loire, it was pastoral, with a bit of variation, especially at the end when the canal was more forested and curving. Two canal bridges were a real surprise and fascinating engineering to see.
C & P M., NH, USA, September 2011
Hirondelle was FABULOUS. Our service from the captain, deck hand, housekeeper and food server, chef and guide was impeccable. Our wines were far superior to anything we have had on a cruise before. The chef was fabulous! I thought our guide's choice of excursions showed she had listened to our different interests, the excursions were varied and fun.
C & A S., MA, USA, September 2011
---
LINKS to Hirondelle Information
---
Email us at: info@bargesinfrance.com
This page last updated August 3, 2018