The 6-passenger Grand Victoria has been transformed by its current owners, Edward Anderson and and Cindy Unvericht, into an elegant luxury barge with three large 180 sq ft cabins with new ensuite bathrooms and stunning new decor and furnishings throughout. The cabins have king size or twin beds, Simmons Beautyrest Luxury mattresses, upholstered headboards, 800-thread count sheets, chenille damask comforters and Matelasse coverlets. Each cabin has a large flat screen TV as well as an Apple TV to stream free on demand movies. Huge windows in the salon and dining area allow natural light to flood in. Top quality sofas and chairs enhance the salon area, and the dining table easily seats 6 guests in comfort. The sundeck at the bow has a dining table for eight, large sun umbrellas, and reclining chairs. The sundeck at the stern adds another comfortable outdoor living space with elegant fireplaces that iluminate a soft glow as the sun sets over the Burgundy landscapes. There is also a 4-person spa pool for relaxing on board.
The Grand Victoria cruises in the famous Cote d'Or wine region of Southern Burgundy on the Saone River and Canal du Centre. The area features a majestic landscape of rolling hills, beautiful chateaux, and picturesque vineyards. The all-inclusive itineraries are packed with adventure. Explore the vineyards of Clos de Vougeot in a WWII jeep. Use the onboard mountain bikes to explore the tow paths and small villages along the way. Lunches in Beaune and Dijon are also included. The Grand Victoria also offers a special cruise from Chagny to Lyon on the Saone River on request.
We stayed on board the barge in April 2017 and spent time with the owners, Edward and Cindy, on one of their excursions. They remain passionate about providing an exceptional experience on board and we continue to be impressed by their transformation of the barge. There is a professional crew of six to provide whatever passengers need, even personal laundry service! This commitment to their guests includes being on board themselves and personally leading guests on tours around Burgundy. Itineraries are flexible depending on passengers' interests. Their aim is to provide an experience, not just a vacation, to ensure that their guests return home with a story to share.
Another unique feature of the Grand Victoria is that it welcomes any passenger's small dog weighing up to 40 pounds. No other pets are permitted. They are happy to provide a Grand Victoria dog bed, a pet welcome kit, and food bowls with a mat. Pets may not be left unattended in a guest cabin or on the barge during excursions. The owners have a friendly Lhaso Apso named Angus who stays in the crew quarters or on deck, whatever the guests prefer.
- Suggested minimum 5% gratuity for the crew to be paid in equivalent euros to the captain for distribution to the crew
Sunday - Arrival and Champagne Welcome
Our private driver meets our guests in Paris or Geneva at the airport or hotel of your choice at 2:00pm. You will then be chauffeured by private chauffeur to the yacht, moored in Auxonne. Upon arrival, you will be greeted by our cheerful crew and experience our Grand Victoria welcome. While we get you checked in and the crew take your luggage to your stateroom, you'll have the chance to sit and relax with our signature champagne welcome. Afterwards there will be plenty of time to unpack and unwind before your first of many incredible dinners on board.
Monday - Auxonne to Saint Jean de Losne
We start our week with breakfast aboard, before setting off on a morning cruise. Guests are welcome to relax on deck during our cruise on the scenic Saone River. After a lunch onboard the Grand Victoria, we depart for the historic Château du Clos de Vougeot, once home of the Cistercian monks and their vineyards. We then will enjoy an informal private wine tasting at a renowned Côte d'Or vineyard, before returning to the Grand Victoria. Enjoy sundowners and laughter on board, while the chef prepares a mouth-watering dinner.

Tuesday - Saint Jean de Losne to Seurre
We depart the Grand Victoria in the morning for a walking tour of Dijon and its historic marketplace. Mingle amongst the local shoppers and experience this traditional French market day. A short informal historic tour of the Ducal Palace, Notre Dame, and a 15th century medieval shopping street will bring us to the Place du Bareuzai, where we'll enjoy lunch with the locals at an authentic French bistro. After lunch, guests are welcome to explore Dijon's many shopping options before returning to the Grand Victoria for an afternoon of cruising down the Saône River to the medieval village of Seurre.

Wednesday - Seurre to Chalon-sur-Saone
Guests can kick back and relax on our spacious deck as we spend the morning cruising down the majestic Saône river. Enjoy a magnificent buffet lunch onboard, before we depart to tour the majestic Château de Rully. A medieval fortress built in the 12th century, located on the side of a hill, the castle overlooks its expansive vineyards. Visiting the castle will take you on a journey through French history, ending with a private wine tasting in the medieval kitchen. Then it's back to our mooring in Chalon-sur-Saone for cocktails & dinner. Feel free to take a stroll through the streets of the city which once served as a port for Roman Emperor Constantius II in 354 AD and the birthplace of photography.
Thursday - Chalon-sur-Saone to Fragnes
Embark on an early morning tour of the historic city of Beaune. Here we visit the famous Hotel Diêu. A hospital from the Middle Ages, the Hospices de Beaune is one of France's most prestigious historic monuments. Its flamboyant Gothic architecture and its polychrome roofs make this museum one of Burgundy's gems. The Hospices de Beaune is also famous for its prestigious wines. We'll return for lunch onboard. Relax and enjoy the views as we take a short afternoon's cruise up the canal to the village of Fragnes. Here you can ride one of our onboard bicycles, explore the towpaths and canal paths. Happy hour starts a little earlier with a selection of vinyl albums to take you back in time, while the chef prepares another culinary masterpiece.

Friday - Fragnes to Chagny
After breakfast, we'll depart on a morning cruise of the canal. We will depart the Grand Victoria for a foodie's delight with a lunch at the famous Maison Lameloise, a 3-star Michelin restaurant. The history of Maison Lameloise stretches back to 1921. It first received a third Michelin star in 1979 and continues the honor under chef Eric Pras. After lunch, we will visit the famous Château de Pommard. Here we'll discover the true taste of Burgundy's appellations, viticulture, and wine-making from the heart of the largest privately owned Clos in the Cote d'Or, founded in 1726. After our tasting, we will return to the Grand Victoria, where guests have the opportunity to relax onboard with a cocktail, good book and enjoy the afternoon in the village of Chagny.

Saturday - Farewells
It's our final morning together. Your private chauffeur arrives at 09h00. Enjoy a delicious breakfast as you get ready to depart the Grand Victoria. Your private chauffeur arrives at 09h00 to take you back to Paris or Geneva.
Note: This is a sample itinerary which may be subject to change depending on local conditions. It runs in reverse on alternate weeks.
SAMPLE ITINERARY*
Burgundy: Canal du Centre & Saône River
Chagny to Lyon 2018 (On Request)


Sunday - Chagny, A Champagne Welcome
Our private driver meets our guests in Paris, Geneva or Lyon at the airport or hotel of your choice at 2:00 pm. You will then be chauffeured by minivan to the yacht, moored in Chagny. Upon arrival at the Grand Victoria's mooring place, you will be greeted by Edward, Cindy, and our cheerful crew with a champagne toast. There will be plenty of time to unpack and unwind before your first of many incredible dinners on board.

Monday - Chagny to Chalon-sur-Saône
Delight in a relaxing cruise into Chalon and marvel at the beautiful Château la Rochepot settled high over the canal. A fortress once belonging to the Knights of the Golden Fleece, in service to the Dukes of Burgundy, the Château is known across France for its magnificent, patterned roof. After a light buffet lunch, we'll embark on a tour of the 13th century château and enjoy the magnificent views of the countryside and a stroll around the grounds. After we have enjoyed our cultural excursion, we'll return to the Grand Victoria for a late afternoon cruise and dinner aboard.

Tuesday - Chalon-sur-Saône to Tournus
Enjoy an early breakfast before embarking on a visit to Chalon. We'll visit the historic Cathedrale Saint Vincent, a storied church in the heart of town with beautiful stained glass windows. From there, we'll explore the Musée Denon. This museum is owned by a former curator from the Louvre, and numerous portraits and sculptures call this hidden gem home. We'll a stop at a local café for lunch near the river. Guests will return to the Grand Victoria for a late afternoon cruise. Relax with sundowners and dinner aboard.

Wednesday - Tournus to Mâcon
Relax aboard for a delightful morning cruise along the Saône River following breakfast. We will then tour the Abbey de Cluny, once counted amongst the largest churches in the world, followed by a visit to Chèvrerie la Trufiere, a local goat cheese farm. We return in time for our signature sundowners aboard. Kick off your shoes and flick through a diverse selection of vinyl records from then and now. Turn up the volume of your favorite records for us all to enjoy, while the chef adds the final touches to dinner.

Thursday - Mâcon to Montmerle
After a morning of cruising, we will enjoy lunch on board before debarking for a tour of the vineyards at Pouilly-Fuissé. A private wine tasting will follow the tour. After, we will go to the Roche de Solutré, an interesting geographical phenomena overlooking the Saône. A historic site dating to the ancient prehistory, Roche later attracted media attention for the annual climbs made by a former French president. Follow in his footsteps to a memorable view overlooking southern Burgundy. Return to the Grand Victoria for sundowners and dinner aboard.

Friday - Montmerle to Lyon
Enjoy an early breakfast before you spend the morning exploring the magnificent city of Lyon, France's second largest city and gastronomic capital. Edward will take you to tour the majestic Basilique de Fourvière that dominates the skyline of the west banks of the Saône, and see the ruins of ancient Roman amphitheaters. We will enjoy lunch at one of Lyon's many cafés before exploring the magnificent shopping districts that rival Paris in their offerings. You'll be treated to a fantastic dinner cruise for our final evening together.

Saturday - Transfer to Paris, Geneva or Lyon
After a leisurely enjoyable breakfast, depart the Grand Victoria around 9:00 am for transfer by minivan to Lyon or to your Paris or Geneva destination, arriving there about midday.

Note: This is a sample itinerary and is subject to change. It runs in reverse on alternate weeks.



---
Dining Aboard The Grand Victoria:
SAMPLE MENU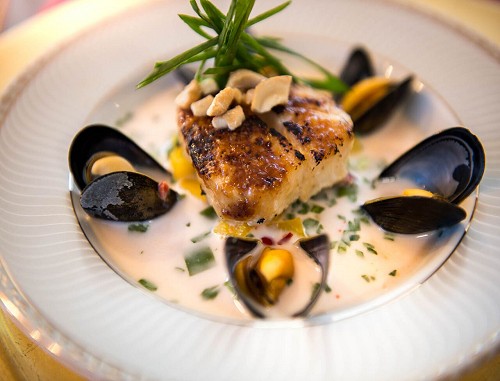 BREAKFAST
Champagne or Juice
A selection of freshly baked pastries and breads, with various butters & conserves
Cereals, fruit & yogurt
Coffee or tea
LUNCH
A Selection of salads
Greek Style Village Salad
Vietnamese Egg Noodle Salad
Sweet and Spicy Shaved Vegetable Salad
Black Forest Ham and Comte Quiche
Charcuterie platters of quality cold meats and local specialities
Traditional French fine herb omelet
Pan-fried foie gras with a prune and eau de vie jus
A selection of local cheese
Dessert of the day
Coffee or tea
DINNER
Seared scallops with truffled potato purée and sweet ginger chili
Roasted duck breast with prosciutto roasted vegetables, fennel purée, parsnip crisps, and veal demi glace
Spiced duck wontons in a lime and chili broth with cashews and cilantro
Prosciutto-wrapped cod with crab risotto, cherry tomatoes marinated in an olive oil vinaigrette
The finest French Charolais beefsteak with a merlot and mushroom jus
Sea scallops served on a bed of spinach
Grilled Monk fish in butter and lime sauce
DESSERT
Chocolate mousse
Crème brulee
Crepe suzettes
Ille flotante
Tarte tatin
Chocolate profiteroles
Raspberry soufflé
CHEESE BOARD SAMPLES
A selection of French cheeses will be offered at lunch and dinner. A description of the cheese will be provided along with information about its region, and will be accompanied by specially selected wines.
SAMPLE WINE LIST
Red Wines: Margaux - Château Desmirail; Lalande de Pomerol; Saint Emilion Château - Graves de Rabion ( Medaille d'Bronze); Beaune 1er Cru - Coucherias; Vaqueras - La Tour de Montmirail; Côte de Nuit - Domaine Saint Saturnin de Verge White Wines: Chablis; Mercurey - Domaine de la Guiche (Medaille d'Argent); Saint Veran; Rully Clos du Chaigne - Domain de la Folie; Sauternes - Domain de Moulin Neuf; Rully Clos de Jacques - Domain de la Folie
---
Passenger Comments:
This was our first barge experience. Edward and Cindy were incredible hosts and their staff is exceptional. The accomdations on the barge are first class. The decor is beautiful. It is very obvious that attention was given to every detail and far exceeded our expectations. The cabins were spacious and the king size bed was very comfortable. Attention was given to every detail to insure our comfort. The private bathrooms for each cabin were exceptional in design and function! The meals were delicious and the wines were always a great accomponiment. The dishes were very well presented with the freshest of ingredients and always pleased the palate. The high points were enjoying the comfort of the outdoor furniture on the upper deck after incredible meals, making memories to cherish with dear friends with lots of laughter while enjoying the ambiance of two flame-lit tables, all the while enjoying the stars in the night sky and the sounds of nature all around us. This truely is a unique vacation experience. If you are looking for relaxation with first class accomodations,surrounded by the beauty of the french countryside while enjoying fantastic meals, this is the trip to take.
T. H,VA, USA, June 2017
---
LINKS to Grand Victoria Information
---
Email us at: info@bargesinfrance.com
This page last updated August 3, 2018