Sunday - Paris to Dole - Private Chauffeured Transfer
In the afternoon, you will be met by a crew member of the Grand Cru at the designated meeting point. From here, relax as you are chauffeured to the barge, moored in the village of Dole. A traditional champagne welcome and introduction to the crew awaits you, before your first gourmet dinner aboard. Perhaps enjoy a glass of Grand Cru wine after dinner while lounging under the stars in the hot tub.

Château du Clos de Vougeot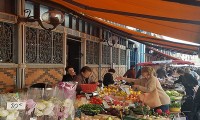 Dijon Market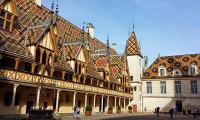 Hospice of Beaune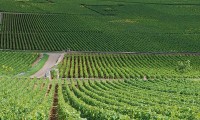 Montrachet Vineyards


Monday - Dole to Saint Jean de Losne - Visit Clos de Vougeot
A morning cruise is the perfect time to discover the towpath's flora and fauna with a gentle pedal or leisurely stroll. This afternoon, explore Clos de Vougeot, where Cistercian monks made wine in the 12th century. The ancient Clos now serves as the headquarters of the revered wine society Chevaliers du Tastevin, who annually award special labels to the finest Côte d'Or vintages. Explore the presses from which these iconic wines were first produced; a tasting of local vintages follows. Chef serves dinner onboard.
Tuesday - Saint Jean de Losne to Verdun sur le Doubs - Visit Dijon
The town of Dijon offers a pleasurable assault of the senses. "Les Halles", the covered food market, presents colorful produce; jars of mustard are displayed in boutiques and public spaces beckon with greenery and scenery. Shop, sip, and stroll through this charming town brimming with authentic French life. Your Tour Guide returns you to the barge in time for a relaxing afternoon of cocktails and cruising. Complete the day with a gourmet dinner -- paired, of course, with Grand Cru wines.
Wednesday - Verdun sur le Doubs to Fragnes - Visit Château de Rully - Michelin 3-star Lunch
A leisurely cruise begins the day. Upon arrival, you are escorted to the Château de Rully, a preserved medieval fortress. Complete the tour with samples of the estate's boutique wines. Then it is on to a special lunch ashore at Lameloise, a Michelin 3-star rated restaurant, recently voted as one of the world's best. Return to the barge and enjoy an afternoon cycling, walking, or lazing in the hot tub. Tonight, Chef serves another gourmet dinner.
Thursday - Fragnes to Rully - Visit Beaune
Enjoy a scenic cruise this morning to today's beautiful riverside mooring. Your Tour Guide escorts you to the charming town of Beaune, the region's wine capital, for a guided visit to the Hospice de Beaune, a preserved Medieval hospital built in the 15th century. Afterwards, browse the shops and galleries lining the pedestrian area, or enjoy a coffee in the town square. Return to the Grand Cru in time for a leisurely stroll or gentle pedal along the towpath. Cocktail hour precedes another gourmet dinner.
Friday - Rully to Saint Leger-sur-Dheune - visit Chassagne/Piuligny Montrachet winery
Relax on the deck with a cup of coffee or tea during this morning's final cruise, or traverse the towpath by bicycle or on foot. Upon mooring, your Tour Guide escorts you to Chassagne/Puligny Montrachet, which are among the most recognized appellations in Burgundy, and synonymous with high-quality, complex wines. Here, a private sampling at one of Burgundy's foremost wine labels awaits. Back on board, enjoy canapes, Grand Cru wines, and a celebratory Captain's Dinner, culminating the cruise in style.
Saturday - Transfer to Paris - A Sad Farewell
After breakfast, you will be chauffeured to the designated drop off point in Paris.
Note: This is a sample itinerary and is subject to change. It runs in reverse on alternate weeks.
Text and images Copyright © 2010, 2011, 2012, 2013, 2014, 2015, 2016, 2017 by Special Places Travel, LLC, Edgewater, MD, and by other copyright holders used by permission. Web design by Special Places Travel, LLC. All rights reserved. No further use without express written permission from copyright holders. Contact Special Places Travel LLC, +1-443-321-3614 for further information.
This and all of our web pages are hand-crafted with NO cookies, NO Javascript, NO plug-ins. Compatible with all currently tested mobile, tablet and desktop browsers with equivalent content and information for both mobile and desktop. We value your time, so ALL our barge web pages are designed for one-stop access = no multiple clicks to access barge details such as deckplan, itineraries, cruise routes, and cruise prices. We are by your side as experienced partners -- all the way from initial decision about the best barge cruise for you, through ANY question leading up to your cruise, hotel and rental car recommendations, suggestions for pre- and post-cruise travel, through post-cruise debriefing. We know that you will have the time of your life!