Cruise In The South Of France On The Canal du Midi Aboard The Deluxe Hotel-Barge CLAIR DE LUNE
BARGE CRUISES: SEVEN DAYS/SIX NIGHTS
The 6-passenger Clair de Lune is tastefully furnished with Mediterranean plane tree and American cherry wood furnishings. There is a stylish, modern salon with a comfortable sitting area, a large dining table and a well stocked bar. There are three spacious cabins, each of which can be configured with a queen bed or two twin sized beds. Each cabin has a large wardrobe, dressing table, and an ensuite bathroom, with large shower. The cabins and the salon all have large picture windows. The beds in each cabin face the windows, so that you can enjoy the scenery even from inside of the barge. For easy access, the boat has been built with as few stairs as possible.
A very large sundeck takes command on the exterior of the barge, where you can lounge in comfort on reclining chairs. Sun-lovers can soak up the sun and cool down in the Jacuzzi, while those who prefer the shade can relax under the awning while watching the picturesque scenery unfold. The sundeck is a perfect setting to enjoy an al fresco lunch or a leisurely candlelit dinner on beautiful summer evenings.
The Clair de Lune cruises on the quaint Canal du Midi between the charming village of Homps (near the fortified city of Carcassonne) and Beziers, discovering some of the most beautiful scenery in the south of France along the way. During the cruise you will visit historical sites such as the spectacular Cathar village of Minerve and the walled town of Carcassonne, the elegant city of Narbonne and enjoy a private wine tasting at a renowned local domaine. Clair de Lune offers half-board or full-board 6-night cruises as well as 4- and 5-night cruises.
The Clair de Lune team is led by its French owner, Yves Pastor, who is accompanied by an English-speaking crew: a professionally trained Chef who will be responsible for all of the meals on board, a tour guide who will lead all of the excursions, and a hostess. Yves' lifelong love of boating and desire to provide a luxury barge experience to passengers from all over the world is what drives his passion for barging. While on board, the crew invites you to relax and enjoy the landscapes and natural beauty of this magnificent canal. We have been on board the Clair de Lune many times over the years and think Yves and his crew provide an excellent cruise on one of the most beautiful canals in France. We were most recently on board in April 2017, met with the owners and saw the new sun canopy on deck.
---
Features
Size of barge: 100 ft by 16.5 ft
Number of Passengers: 6
Number of Cabins (all with private bath): 3
Crew: 4
Air Conditioning and Central Heating: Yes
Salon: Large salon/dining area with corner banquette, club chairs, and dining table for 6. Four large picture windows.
Bar: Open bar
Deck: Large teak sundeck with spa pool, sun canopy, reclining chairs, dining table
Spa Tub: Yes
Cabin Features: 3 cabins each 135 sq ft, configured as twin beds or queen bed, with ensuite bathroom with shower. All with large picture windows and writing desk.
Vehicle for Transfers/Excursions: Air-condtioned Volkswagen Caravelle minivan seating 9.
Accessibility: No gangplank from the shore is needed and there are no steps to enter the salon. Seven steps from the salon to sundeck.
Bicycles: 6 Touring Bicycles
Wi-Fi: Yes - limited in some areas
Meal Plan: Offers full board, half board and 5-night cruises
---
Clair de Lune's Deck Plan


All three cabins can be configured as twin beds or queen bed.

---
CLAIR DE LUNE
2018 SEASON PRICES in US DOLLARS
TYPE
REGULAR

---

Apr 1 thru Oct 27
Charter for 4

$29,830

Charter for 5

$31,245

Charter for 6

$32,650

Half Board Charter for 4

$20,530

Half Board Charter for 5

$21,350

Half Board Charter for 6

$22,285

Four Night Charter for 4

$12,900

Four Night Charter for 5

$14,660

Four Night Charter for 6

$16,420

Five Night Half Board Charter for 4

$19,935

Five Night Half Board Charter for 5

$20,530

Five Night Half Board Charter for 6

$21,115
---
CLAIR DE LUNE
2019 SEASON PRICES in US DOLLARS
TYPE
REGULAR

---

Apr 7 thru Jun 29
Aug 4 thru Nov 2
Stateroom (per person, double occupancy)

$4,600

Charter for 4

$24,500

Charter for 5

$25,500

Charter for 6

$27,000

Half Board Charter for 4

$20,200

Half Board Charter for 5

$21,000

Half Board Charter for 6

$22,000

Four Night Charter for 4

$16,100

Four Night Charter for 5

$17,000

Four Night Charter for 6

$18,000
Please visit our ...
Special Offers Page
... to see potential discounts for this barge or many others.

What's Included
- 7 days and 6 nights on the barge in a cabin with ensuite bathroom
- Transfers from Narbonne or Beziers to the barge and return
- All meals beginning with dinner on Sunday through breakfast on Saturday, including one meal at a local restaurant with wine of guests' choice
- All wines with lunches and dinners
- Open bar
- All escorted side-excursions (golf, etc. at additional cost)
- Use of bicycles
What's Not Included
- Overseas air transportation to Paris and return
- Transportation from Paris to Narbonne or Beziers and return
- Suggested 5% gratuity for the crew, to be paid in equivalent Euros to the captain
- Trip cancellation insurance
---
Clair de Lune
2018 Season Cruise Schedule*
Week
Route (Or Reverse)
Season
Apr 8
Homps-Beziers
Regular
Apr 15
Beziers-Homps
Regular
Apr 22
Homps-Beziers
Regular
Apr 29
Beziers-Homps
Regular
May 6
Homps-Beziers
Regular
May 13
Beziers-Homps
Regular
May 20
Homps-Beziers
Regular
May 27
Beziers-Homps
Regular
Jun 3
Homps-Beziers
Regular
Jun 10
Beziers-Homps
Regular
Jun 17
Homps-Beziers
Regular
Jun 24
Beziers-Homps
Regular
Aug 5
Beziers-Homps
Regular
Aug 12
Homps-Beziers
Regular
Aug 19
Beziers-Homps
Regular
Aug 26
Homps-Beziers
Regular
Sep 2
Beziers-Homps
Regular
Sep 9
Homps-Beziers
Regular
Sep 16
Beziers-Homps
Regular
Sep 23
Homps-Beziers
Regular
Sep 30
Beziers-Homps
Regular
Oct 7
Homps-Beziers
Regular
Oct 14
Beziers-Homps
Regular
Oct 21
Homps-Beziers
Regular
Clair de Lune
2019 Season Cruise Schedule*
Week
Route (Or Reverse)
Season
Apr 7
Homps-Beziers
Regular
Apr 14
Beziers-Homps
Regular
Apr 21
Homps-Beziers
Regular
Apr 28
Beziers-Homps
Regular
May 5
Homps-Beziers
Regular
May 12
Beziers-Homps
Regular
May 19
Homps-Beziers
Regular
May 26
Beziers-Homps
Regular
Jun 2
Homps-Beziers
Regular
Jun 9
Beziers-Homps
Regular
Jun 16
Homps-Beziers
Regular
Jun 23
Beziers-Homps
Regular
Aug 4
Beziers-Homps
Regular
Aug 11
Homps-Beziers
Regular
Aug 18
Beziers-Homps
Regular
Aug 25
Homps-Beziers
Regular
Sep 1
Beziers-Homps
Regular
Sep 8
Homps-Beziers
Regular
Sep 15
Beziers-Homps
Regular
Sep 22
Homps-Beziers
Regular
Sep 29
Beziers-Homps
Regular
Oct 6
Homps-Beziers
Regular
Oct 13
Beziers-Homps
Regular
Oct 20
Homps-Beziers
Regular
Oct 27
Beziers-Homps
Regular
*Note: Cruise directions and sample itineraries may be in reverse and are subject to change and may depend on bookings and local navigation conditions. Alternate excursions of equal appeal are substituted when needed. For charter cruises special itineraries can be arranged.
SAMPLE ITINERARY*
Canal du Midi
Beziers to Homps 2018

Sunday - Beziers
Guests are met at Beziers or Narbonne and transferred by private chauffeured minibus to Clair de Lune. The crew welcomes you on board with a glass of chilled champagne and canapés. Time for a short cruise before your first dinner on board.

Monday - Colombiers to Capestang
During this morning's cruise you can enjoy the sundeck or perhaps cycle or walk at your leisure on the banks of the Canal du Midi. After lunch, there is a private wine-tasting and visit to the Oppidum d'Ensérune, a 2000-year-old hilltop archeological city-site located near the mooring,

Tuesday - Capestang to La Croisade
After breakfast cruise to La Croisade. Lunch will be on board. During the afternoon visit, we take an excursion to Pézenas, a delightful village, mostly known for its associations with the famous French playwright Molière, who is said to have written many plays while staying there. Dinner on board.

Wednesday - La Croisade to Le Somail
After breakfast, we drive to the beautiful city of Narbonne, a Roman Mediterranean capital where the Visigoth monarchs once lived. Enjoy the Archbishop's Palace and Roman Horreum and explore the indoor market, Les Halles de Narbonne, at the hub of this bustling town where you will have time to shop or simply absorb the relaxed atmosphere. Then we enjoy lunch in a typical French restaurant close to Les Halles. After returning to Clair de Lune, enjoy a relaxing afternoon cruise to Le Somail. Dinner on board.

Thursday - Le Somail to Argens-Minervois
In the morning we cruise to Argens-Minervois. After lunch, we take you to the impressive village of Minerve, boasting a 12th century Cathar fort surrounded by deep limestone gorges. Besieged by Simon de Montfort in 1210, its hilltop location affords spectacular views. A fascinating recreation in miniature of the blood thirsty Cathar rebellion and a small museum complete this intriguing visit. On the way back to the barge we visit a producer of fine Minervois wines, Domaine Massamier La Mignarde, for a private tasting. Dinner on board.

Friday - Argens-Minervois to Homps
This morning you embark on the last cruise to Homps, one of the main commercial harbors in the old times. We will pass four locks and enjoy lunch ashore in a Homps restaurant on the banks of the Canal du Midi. After lunch, your guide will accompany you to Carcassonne, the restored and most complete medieval fortified city in existence today, dating back to the Gallo Roman era. With its 52 watchtowers, portcullis and extraordinary repertoire of defenses, it resisted the many armies who tried to storm this Camelot setting. You can walk the ramparts and step back in time. Last dinner on board.

Saturday - Homps
After breakfast, guests are transferred by private chauffeured minibus to their choice of location in Narbonne.

Note: This is a sample itinerary and is subject to change. On alternate weeks the cruise is in the reverse direction.

---
Dining Aboard the Clair de Lune
SAMPLE MENU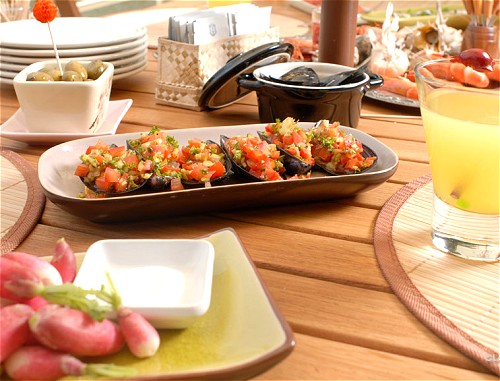 BREAKFAST
Freshly baked croissants, pastries and breads
Cereals
Fresh fruits
Fresh fruit juices
Coffee and a selection of teas
LUNCH
Quiche Lorraine
Assorted salads may include green bean salad with lardons and walnuts, tabbouleh salad,
mesclun salad with pine nuts and raspberry vinaigrette
Ballotine of chicken stuffed with leeks & spinach, fondant potatoes and brandy mustard sauce
Ratatouille quiche and warm potato salad with shallot dressing
Assorted seafood platter
Assorted cheese board that may include Tomme de Lozere, Roquefort, Bleu des Causses
and Comte Cheese
Peach sabayon with balsamic peaches
DINNER
St Agur and walnut souffle tart with rocket and apple salad
Roasted lamb loin with mustard-herb crust, braised lamb with roasted baby vegetables
& riz de Marseillette
Honey glazed quail with Waldorf salad
Cod steaks with gnocchi in a rich chilli tomato sauce
Jerusalem artichoke veloute with warm quince pannacotta
Pork filet mignon with Parma ham, agen prunes, Armagnac and apple & celeriac gratin
Spinach, caramelized garlic, red pepper and potato pithivier
Seared peppered tuna steak with quail egg nicoise
Prawn and crab ravioli with prawn bisque foam
Pan fried breast of pintade with honey & lemon roasted fennel with shaved fennel & mache salad
Assorted cheese board to include Chaorce, Brebis Basque, Gaperon, Bleu de Causses,
Bleu d'Auvergne, Saint Felicien, Epoisse, Pelardon, Cantal and Cabecou
DESSERTS
Trio of crème brulee's
Chocate crumble tart with hazelnut ice cream and butterscotch sauce
Molten chocolate and chilli cakes with caramel ice cream
Liquorice poached pear with honey and praline ice cream
Pomegranate and yogurt pannacotta with spun sugar
SAMPLE WINE LIST
Château de Gorgazaud, Viognier; Domaine Beauvignac, Picpoul de Pinet; Château La Liquiere, Cistus; Domaine des Ânes, Fontanilles; Domaine de l'Hortus, Pic Saint Loup; Domaine de l'Ancienne; Mercerie, Fougères; Château Puech-Haut, Coteaux du Languedoc Prestige; Château Aqueria, Tavel
---
Passenger Comments:
The trip was fabulous. Everything was handled beautifully. The food was a work of art, and delicious. The service was impeccable. The staff was friendly and attentive. I loved it all. The high points were certainly the food; the trip to the market with Alex, the chef; Yves playing guitar and singing for us; Ruth's descriptions of the cheeses and wines.
L.V. Puerto Rico April 2015
Absolutely wonderful!!! The trip exceeded all of our expectations and our expectations were very high to begin. We (the 3 couples) had a debriefing (as I like to call it) and we all agreed the cruise and the crew, especially the very talented chef Alex, made this trip an event of a lifetime.
P.S. TN USA April 2015
The barge was in excellent condition The crew was outstanding The food was creative and suburb. The cabins were well designed and comfortable. The bathroom was surprisingly good. We really enjoyed the picture windows which made the cabin more comfortable. The high points were the visit to Carcassonnem the crew and the meals.
D & A K, MA USA, June 2014
---
LINKS to Clair de Lune Information
---
Email us at: info@bargesinfrance.com
This page last updated August 3, 2018