Cruise In The South Of France On The Canal du Midi Aboard The First Class Hotel-Barge ATHOS
BARGE CRUISES: SEVEN DAYS/SIX NIGHTS
Built in 1964 as a commercial sand, grain and wine freight barge, the ATHOS was converted into a luxury holiday vessel in 1982, and remodeled especially for the Canal du Midi. She has 5 cabins (10 passenger capacity) and each can be configured into a queen or two twin sized bed accommodation. For maximum privacy, each cabin has its own en-suite bathroom. The main salon has a large dining area with a lounge and bar. The large and spacious sun deck has sun loungers and a dining table for ten people. A canopy over part of the deck offers maximum enjoyment of this beautiful exterior space.
The ATHOS is run by an experienced crew of 5, which include Julian Farrant, who has been captain for nearly 20 years, a full-time on-board Chef, a tour guide and 2 hostesses. The barge is managed by Dannielle, the Captain's wife, who was the ATHOS' tour guide for many years. The ATHOS Crew has a well-earned reputation for hosting their guests with charm and competence. Combined with the scenic and historical Canal du Midi, the ATHOS is a perfect choice for vacationers who want to enjoy the the sunny Mediterranean climate, gourmet French cuisine and superb wines, while enjoying the company of family, or new friends. We visit the Athos as well as its owners every time we come to France and have always enjoyed being on board with them. They provide a top quality cruise that is always fun for all -- in fact, we chartered the barge many years ago with our friends, who still talk about the great time they had on board! We most recently visited the barge in April 2017 and enjoyed catching up with the owners again.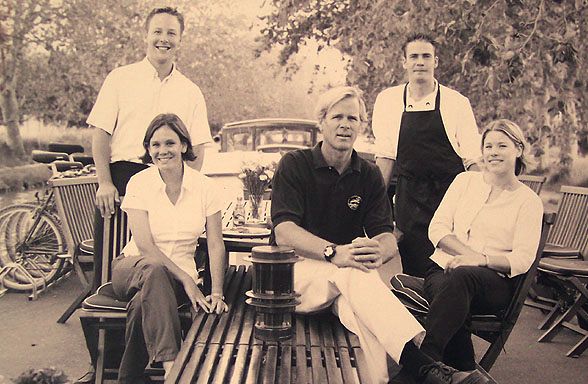 (Photo from the Athos archives which includes Julian and Dannielle, taken in the early days that established Athos' well earned reputation.)
Nestled in the shade of giant plain trees and surrounded by endless vineyards, Athos cruises through low 16th century bridges, past rustic stable houses, and into the slow-moving southern French villages. This historical setting makes for spectacular landscapes and scenery. The unrivaled, smooth and relaxing pace is enjoyed by all aboard this beautiful luxury hotel barge.
Come along and experience La Belle Vie aboard the hotel-barge ATHOS!
CRUISE HIGHLIGHTS:
Narbonne:
Once the capital of the Roman province, it is now a famous market town dominated by the Cathedral of St. Just, the fourth tallest in France. Next to this is the former Archbishop's Palace housing a museum of antiquities. The Mediterranean sea is close by for swimming and other sports, when available.
Minerve:
This nearly-deserted village, located on a promontory, surrounded by deeply carved gorges, sustained a long siege by Simon de Montfort in 1210 A.D. The village was ultimately destroyed and 200 Carthare heretics were burned in front of the church. Despite this turmoil, the village was revived and today its inhabitants continue to cultivate their grapes for the production of one of the most popular wines in southern France.
---
Features
Number of Passengers: 10 (12 passengers if a family charter with 4 children)
Number of Cabins (all with private bath): 5
Crew:5
Air Conditioning and Central Heating: Yes
Salon: Saloon/dining area with 8 picture windows, 2 sofas and dining table seating 12.
Bar: Open bar
Deck: Large sundeck with recliners, dining table, chairs, and hydraulic canopy
Spa Tub: No
Cabin Features: Five cabins from 93 to 108 sq ft each with twin beds or queen bed and ensuite bathroom with shower
Vehicle for Transfers/Excursions: Two air-conditioned minivans.
Accessibility: 6 steps from deck to salon, 3 steps from salon to cabins.
Bicycles: 10 21-speed touring bicycles
Wi-Fi: Yes - limited in some areas
---
Athos's Deck Plan

---
ATHOS
2018 SEASON PRICES in US DOLLARS
TYPE
VALUE

---

Apr 8 thru Apr 28
Oct 7 thru Oct 27
REGULAR

---

Apr 29 thru Oct 6
Cabin (per person, double occupancy)

$4,550

$4,990

Single Occupancy Supplement

$1,500

$1,700

Charter for 4

NA

$41,500

Charter for 5

NA

$41,500

Charter for 6

$36,800

$41,500

Charter for 8

$39,400

$44,500

Charter for 10

$42,000

$47,500
---
ATHOS
2019 SEASON PRICES in US DOLLARS
TYPE
VALUE

---

Mar 31 thru Apr 27
Oct 6 thru Oct 26
REGULAR

---

Apr 28 thru Oct 12
Cabin (per person, double occupancy)

$4,690

$5,140

Single Occupancy Supplement

$1,545

$1,750

Charter for 6

$37,900

$42,700

Charter for 8

$40,580

$45,800

Charter for 10

$43,200

$48,900
Please visit our ...
Special Offers Page
... to see potential discounts for this barge or many others.

What's Included
- 7 days and 6 nights on the barge, in a cabin with private bath
- Transfers from Beziers to the barge and return, as agreed with the barge owner.
- All meals beginning with dinner on Sunday, through breakfast on Saturday
- All wines with lunches and dinners
- Open bar
- All escorted side-excursions
- Use of bicycles
What's Not Included
- Suggested gratuity of 200 Euros per passenger to be given to the captain for distribution to the crew
- Overseas air transportation to Paris and return
- Transportation from Paris to Beziers and return
---
Athos
2018 Season Cruise Schedule*
Week
Route (Or Reverse)
Season
Apr 1
Argeliers-Marseillan
Apr 8
Marseillan-Argeliers
Value
Apr 15
Argeliers-Marseillan
Value
Apr 22
Marseillan-Argeliers
Value
Apr 29
Argeliers-Marseillan
Regular
May 6
Marseillan-Argeliers
Regular
May 13
Argeliers-Marseillan
Regular
May 20
Marseillan-Argeliers
Regular
May 27
Argeliers-Marseillan
Regular
Jun 3
Marseillan-Argeliers
Regular
Jun 10
Argeliers-Marseillan
Regular
Jun 17
Marseillan-Argeliers
Regular
Jun 24
Argeliers-Marseillan
Regular
Jul 1
Marseillan-Argeliers
Regular
Jul 8
Argeliers-Marseillan
Regular
Jul 15
Marseillan-Argeliers
Regular
Jul 22
Argeliers-Marseillan
Regular
Jul 29
Marseillan-Argeliers
Regular
Aug 5
Argeliers-Marseillan
Regular
Aug 12
Marseillan-Argeliers
Regular
Aug 19
Argeliers-Marseillan
Regular
Aug 26
Marseillan-Argeliers
Regular
Sep 2
Argeliers-Marseillan
Regular
Sep 9
Marseillan-Argeliers
Regular
Sep 16
Argeliers-Marseillan
Regular
Sep 23
Marseillan-Argeliers
Regular
Sep 30
Argeliers-Marseillan
Regular
Oct 7
Marseillan-Argeliers
Value
Oct 14
Argeliers-Marseillan
Value
Oct 21
Marseillan-Argeliers
Value
Athos
2019 Season Cruise Schedule*
Week
Route (Or Reverse)
Season
Mar 31
Argeliers-Marseillan
Value
Apr 7
Marseillan-Argeliers
Value
Apr 14
Argeliers-Marseillan
Value
Apr 21
Marseillan-Argeliers
Value
Apr 28
Argeliers-Marseillan
Regular
May 5
Marseillan-Argeliers
Regular
May 12
Argeliers-Marseillan
Regular
May 19
Marseillan-Argeliers
Regular
May 26
Argeliers-Marseillan
Regular
Jun 2
Marseillan-Argeliers
Regular
Jun 9
Argeliers-Marseillan
Regular
Jun 16
Marseillan-Argeliers
Regular
Jun 23
Argeliers-Marseillan
Regular
Jun 30
Marseillan-Argeliers
Regular
Jul 7
Argeliers-Marseillan
Regular
Jul 14
Marseillan-Argeliers
Regular
Jul 21
Argeliers-Marseillan
Regular
Jul 28
Marseillan-Argeliers
Regular
Aug 4
Argeliers-Marseillan
Regular
Aug 11
Marseillan-Argeliers
Regular
Aug 18
Argeliers-Marseillan
Regular
Aug 25
Marseillan-Argeliers
Regular
Sep 1
Argeliers-Marseillan
Regular
Sep 8
Marseillan-Argeliers
Regular
Sep 15
Argeliers-Marseillan
Regular
Sep 22
Marseillan-Argeliers
Regular
Sep 29
Argeliers-Marseillan
Regular
Oct 6
Marseillan-Argeliers
Value
Oct 13
Argeliers-Marseillan
Value
Oct 20
Marseillan-Argeliers
Value
*Note: Cruise directions and sample itineraries may be in reverse and are subject to change and may depend on bookings and local navigation conditions. Alternate excursions of equal appeal are substituted when needed. For charter cruises special itineraries can be arranged.
SAMPLE ITINERARY*
Canal du Midi
Argeliers to Marseillan 2018
Sunday - Argeliers
Guests are met in Beziers and transferred by private chauffeured minibus to Athos. A champagne welcome with canapés awaits you and you meet the Captain and crew. Once you are settled into your cabin, you will be invited to your first 4-course dinner on board, prepared by the highly skilled chef.

Monday - Argeliers to La Croisade
Enjoy breakfast in a comfortable chair on the upper deck of the hotel barge, before we drive to the famous medieval double-walled city of Carcassonne. Your knowledgeable guide will provide a full tour of this historical place and ensure that you also have time to browse the shops. Return to the barge for a gourmet lunch (perhaps including the famous duck confit stew, cassoulet) and an afternoon's cruise to La Croisade, with plenty of opportunity to walk or bicycle along the towpath. Dinner on board.

Tuesday - La Croisade to Capestang
After breakfast, we enjoy a tasting at "L'Oulibo", the local olive oil press. After tasting those organic and wholesome olives accompanied by a glass of rosé, we take a short drive up the Gorge de la Cesse and into the hilltop village of Minerve. Your guide will regale you with the harrowing tale of the Cathar siege launched at Minerve during the 13th century. Relax after lunch on board, while we cruise to Capestang, or you can enjoy a wine tasting at a local château, such as Château Cabezac. Return to the hotel barge for dinner on board and admire the view of the floodlit Collégiale St. Étienne.

Wednesday - Capestang to Fonserannes
After breakfast, we enjoy the weekly morning market in Narbonne. Even for non-shoppers, Narbonne offers much entertainment. Explore an excavated portion of the original Roman road, the Via Domitia, browse through the Roman Museum, discover the beauty of St. Juste Cathedral, or simply relax at one of the many cafés. After lunch in the atmospheric market, we return to Athos and cruise to Fonserannes. From our mooring tonight you will have a glorious view of the town of Beziers and the Cathedral St. Nazaire. Dinner on board.

Thursday - Fonserannes to Portiragnes
This morning we drive to the old market town of Pezenas, which was the first seat of the Languedoc court. The architecture is unique within this region because of the "Hotels Particuliers" or mansions belonging to the noble families who followed the Court. It is filled with artisans' shops, including painters, hat makers, and costume designers. Once again, your guide makes sure that there is time to browse, as well as learning about the history. After lunch we begin our negotiation of a 17th century feat of engineering, the Fonserannes Staircase Locks. Then we traverse the 18th century aqueduct over the River Orb. The paved towpath and the many locks leading to our mooring, make it an ideal afternoon for walking or bicycling alongside the barge. Dinner on board.

Friday - Portiragnes to Marseillan
This morning, we get underway earlier than usual, cruising through the area known as the "Petit Camargue". Bird watchers should look out for the local species such as pink flamingoes, African Rollers and Bee Eaters. After crossing through the exceptional "round lock" at Agde, a spectacular and appropriate seafood lunch awaits you, as you enter the open waters of the Étang de Thau, which boasts Europe's largest mussel and oyster beds. As we moor in the port at Marseillan, you will notice the enclosure of the Noilly Prat vermouth distillery. End a perfect day with a fascinating tour of the distillery and if you choose, a tasting of Noilly Prat, before the Captain's Farewell Dinner on board.

Saturday - Marseillan
After breakfast, guests are transfered by private chauffeured minibus to their choice of location in Beziers.

Note: This is a sample itinerary and is subject to change. On alternate weeks the cruise will be in the reverse direction.

---
Dining Aboard The Athos:
SAMPLE MENU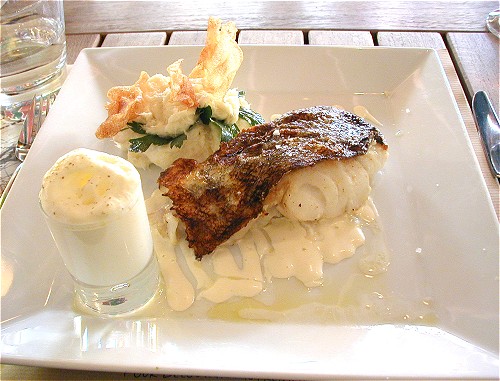 BREAKFAST
Freshly baked croissants, pastries and breads
Cereals
Fresh fruits
Fresh fruit juices
Coffee and a selection of teas
LUNCH
Salad of fresh rocket greens with garlic roasted peppers and pine nuts garnished with parmesan shavings
Moules marinieres with white wine sauce and parsley, served with herb-crusted roast wedges
Assorted cheese board that may include Chevre Frais, Tomme de Pyrenees, Bleu des Causses, garnished
with muscat grapes and almonds
White chocolate mousse with passion fruit coulis
DINNER
Foie gras sautéed in Armangac served on brioche toasts with caramelized pears and melted Camembert
Rack of lamb in a Dijon mustard and rosemary crust with its wine and herb jus, served on polenta cakes,
grilled Mediterranean vegetables, tomato and black olive salsa
Assorted cheese board may incude Roquefort, Crottin de Chavignol, Laguiole
Molten chocolate cake with crème anglaise and fresh raspberries
SAMPLE WINE LIST
Domaine Pierre Cros Les Costes AOC Minervois, Les Costières de Pomerols AOC Coteaux de Languedoc; Picpoul de Pinet; Château Mire l'Etang AOC La Clape Rosé
---
Passenger Comments:
High points were eating on deck and waving at the other boats we passed, petanque on the towpath, conversations with crew members, the food, surprise birthday/anniversary party, lazy afternoons, the captain's dinner, and Deisel (the barge dog). The food was incredible. The chef even created wonderful substitutions for my husband's vegan diet. The wine list was extensive and the stewards presented details of each selection. The excursion guide was really fun to be with. Extensive knowledge about the area and wide network of contacts that added greatly to the experiences. Relaxed and creative touring.
C.E. & D.D., CA, USA, October 2016
Three generations of our family, ages six to 76, had a five-star experience on the Athos. The captain and crew could not have been more accommodating, the guided excursions more interesting, the food more delicious, the days on the barge more enjoyable. We came home with new memories we will always treasure. The high points were the meals, birthday & anniversary celebrations, interaction with the crew, Matt's knowledge during the tours, floating in the lagoon.
B.&.L.P. MA, USA, July 2016
Julian and the Athos Crew really do make you feel special. I would do the same trip again with the same crew. I loved every minute of my trip. Our tour guide (Matthew) was fantastic! He is a very knowledgeable guide and I enjoyed hearing about the history of each place we visited.
D.A. CA USA June 2015
It was very delightful! The crew made every day special with good humor, gourmet meals, and attention to every detail. Matthew was a fantastically knowledgeable tour guide. Both young women were efficient and personable The meals and wines were super.. including the information on all the wines as well as the chef's explanation of each course at both lunch and dinner. This added to our appreciation.The Canal du Midi was somewhat different than our prior experience with a canal in that passage thru locks was not a daily experience.
M.G., WI, USA,_April 2014
Fantastic -- the boat was well designed and decorated. The crew was marvelous. Julian was a wonderful host and the staff were very professional, outgoing and fun. Food was innovative and very good. Local wines and cheeses were both educational and delightful with food pairings. Best surprise (and tour highlight) was Matthieu, the guide. His historical and geographical knowledge brought the morning excursions to life and will last a lifetime. He was also very engaging and entertaining, which made the whole experience a delight.
S & A W. WY, USA, October 2013
---
LINKS to Athos Information
---
Email us at: info@bargesinfrance.com
This page last updated August 3, 2018