Cruise In France On The Canal du Nivernais In Northern Burgundy Aboard The First Class Hotel-Barge L'ART DE VIVRE.
BARGE CRUISES: SEVEN DAYS/SIX NIGHTS
The 8-passenger L'Art de Vivre was built in England during World War One as a munitions carrier and was transformed into a hotel barge in 1998. There are four identical cabins 108 sq ft each, which may be configured with a queen bed or two twins, and all include an ensuite bathroom. The barge has a comfortable salon with dining table and a sundeck with jacuzzi and lounge chairs. Your crew of four comprises a Captain, tour guide, master Chef and hostess, who each share a love for the Nivernais canal.
L'Art de Vivre cruises the lower Nivernais and the Yonne Valley between Chevroches and the medieval town of Auxerre. The region simply oozes charm and the cruise is a journey back in time along a magical waterway. The Upper Nivernais remains an undiscovered region, well off the beaten track on the edge of the Morvan hills. The sleepy hamlets, white grazing Charolais cattle, woods and forests are typical of the scenery the barge cruises through. The Canal du Nivernais region is where time seems to have stood still for over two hundred years. The hand-swung bridges are a delight and we pass old logging sites which are now almost a forgotten memory for the local people. Luxury barging is a rarity that is welcomed by all, and every journey is made into a great event that is shared and enjoyed by everyone.
We have visited L'Art de Vivre many times over the years and think it provides an excellent cruise on the beautiful and secluded Canal du Nivernais in Northern Burgundy. We most recently visited the barge in April 2017 with its new banquette seating and bar in the salon.
Highlights include:
Auxerre and its magnificent cathedral
Wine tasting of fine Chablis wines in a 12th century cellar
Chateau de Bazoches, home of Maréchal Vauban
Noyers, one of the most beautiful villages in Burgundy
Picturesque Vézelay and its hilltop basilica
The medieval town of Clamecy
Optional hot air ballooning
---
Features
Size of barge: 100 ft by 16.6 ft
Number of Passengers: 8
Number of Cabins (all with private bath): 4
Crew: 4
Air Conditioning and Central Heating: Yes
Salon: Banquette seating, bar and dining table with picture windows
Bar: Open bar
Deck: Deck with jacuzzi, eight chairs, large dining table and two parasols
Spa Tub: Yes
Cabin Features: Four identical staterooms about 108 sq ft each with twin beds or queen, including ensuite bathroom with shower.
Vehicle for Transfers/Excursions: Air-conditioned 9-seater (including driver) long wheelbase Mercedes minibus
Accessibility: 7 steps from deck to salon, 6 steps from salon to cabins, 2 steps from hall to bow cabins
Bicycles: 8 all terrain bicycles
Wi-Fi: Yes - limited in some areas
---
L'Art de Vivre: Deck Plan

---
L'ART DE VIVRE
2018 SEASON PRICES in US DOLLARS
TYPE
VALUE

---

Apr 8 thru Apr 28
Jul 22 thru Aug 25
Oct 7 thru Oct 27
REGULAR

---

Apr 29 thru Jul 21
Aug 26 thru Oct 6
Stateroom (per person, double occupancy)

$4,490

$5,250

Single Occupancy Supplement

$1,700

$1,900

Charter for 6

$31,300

$36,200

Charter for 7

$32,400

$37,500

Charter for 8

$33,500

$38,800
---
L'ART DE VIVRE
2019 SEASON PRICES in US DOLLARS
TYPE
VALUE

---

Apr 7 thru Apr 27
Jul 21 thru Aug 24
Oct 6 thru Oct 26
REGULAR

---

Apr 28 thru Jul 20
Aug 25 thru Oct 5
Stateroom (per person, double occupancy)

$4,690

$5,390

Single Occupancy Supplement

$1,750

$1,950

Charter for 6

$32,600

$37,200

Charter for 7

$33,800

$38,600

Charter for 8

$35,000

$40,000
Please visit our ...
Special Offers Page
... to see potential discounts for this barge or many others.

What's Included
- 7 days and 6 nights on the barge, all cabins with private bath
- Transfers from Paris to the barge and return
- All meals beginning with dinner on Sunday through breakfast on Saturday, including one lunch at a local restaurant
- All wines with lunches and dinners
- Open bar
- All escorted side-excursions (hot air ballooning, golf, etc. at additional cost)
- Use of bicycles
What's Not Included
- Overseas air transportation to Paris and return
- Suggested 5-7% gratuity for the crew, to be paid in equivalent Euros to the captain
---
L'Art de Vivre
2018 Season Cruise Schedule*
Week
Route (Or Reverse)
Season
Apr 8
Auxerre-Chevroches
Value
Apr 15
Chevroches-Auxerre
Value
Apr 22
Auxerre-Chevroches
Value
Apr 29
Chevroches-Auxerre
Regular
May 6
Auxerre-Chevroches
Regular
May 13
Chevroches-Auxerre
Regular
May 20
Auxerre-Chevroches
Regular
May 27
Chevroches-Auxerre
Regular
Jun 3
Auxerre-Chevroches
Regular
Jun 10
Chevroches-Auxerre
Regular
Jun 17
Auxerre-Chevroches
Regular
Jun 24
Chevroches-Auxerre
Regular
Jul 1
Auxerre-Chevroches
Regular
Jul 8
Chevroches-Auxerre
Regular
Jul 15
Auxerre-Chevroches
Regular
Jul 22
Chevroches-Auxerre
Value
Jul 29
Auxerre-Chevroches
Value
Aug 5
Chevroches-Auxerre
Value
Aug 12
Auxerre-Chevroches
Value
Aug 19
Chevroches-Auxerre
Value
Aug 26
Auxerre-Chevroches
Regular
Sep 2
Chevroches-Auxerre
Regular
Sep 9
Auxerre-Chevroches
Regular
Sep 16
Chevroches-Auxerre
Regular
Sep 23
Auxerre-Chevroches
Regular
Sep 30
Chevroches-Auxerre
Regular
Oct 7
Auxerre-Chevroches
Value
Oct 14
Chevroches-Auxerre
Value
Oct 21
Auxerre-Chevroches
Value
L'Art de Vivre
2019 Season Cruise Schedule*
Week
Route (Or Reverse)
Season
Apr 7
Auxerre-Chevroches
Value
Apr 14
Chevroches-Auxerre
Value
Apr 21
Auxerre-Chevroches
Value
Apr 28
Chevroches-Auxerre
Regular
May 5
Auxerre-Chevroches
Regular
May 12
Chevroches-Auxerre
Regular
May 19
Auxerre-Chevroches
Regular
May 26
Chevroches-Auxerre
Regular
Jun 2
Auxerre-Chevroches
Regular
Jun 9
Chevroches-Auxerre
Regular
Jun 16
Auxerre-Chevroches
Regular
Jun 23
Chevroches-Auxerre
Regular
Jun 30
Auxerre-Chevroches
Regular
Jul 7
Chevroches-Auxerre
Regular
Jul 14
Auxerre-Chevroches
Regular
Jul 21
Chevroches-Auxerre
Value
Jul 28
Auxerre-Chevroches
Value
Aug 4
Chevroches-Auxerre
Value
Aug 11
Auxerre-Chevroches
Value
Aug 18
Chevroches-Auxerre
Value
Aug 25
Auxerre-Chevroches
Regular
Sep 1
Chevroches-Auxerre
Regular
Sep 8
Auxerre-Chevroches
Regular
Sep 15
Chevroches-Auxerre
Regular
Sep 22
Auxerre-Chevroches
Regular
Sep 29
Chevroches-Auxerre
Regular
Oct 6
Auxerre-Chevroches
Value
Oct 13
Chevroches-Auxerre
Value
Oct 20
Auxerre-Chevroches
Value
*Note: Cruise directions and sample itineraries may be in reverse and are subject to change and may depend on bookings and local navigation conditions. Alternate excursions of equal appeal are substituted when needed. For charter cruises special itineraries can be arranged.
SAMPLE ITINERARY*
Burgundy: Canal du Nivernais
Auxerre to Chevroches 2018
Sunday - Auxerre
Guests are met in Paris and transferred by private chauffeured minibus to the pretty L'Art de Vivre. Following a champagne welcome, you are free to explore the medieval town of Auxerre, or take a stroll along the banks of the River Yonne before returning for dinner on board.

Monday - Auxerre to Vincelles
Our morning cruise takes us through some delightful locks and past vineyard-clad hillsides to our rural mooring at Vincelles. The afternoon excursion is to Chablis, home of one of the most famous white wines in the world. A tasting in one of the town's aged cellars will introduce you to some of the local Petit Chablis and Chablis wines. Dinner on board.

Tuesday - Vincelles to Mailly-la-Ville
After breakfast, our excursion is to the medieval town of Auxerre. Originally the capital of Lower Burgundy, the town prides itself on its lavish Renaissance houses, fine churches and particularly a magnificent cathedral situated close to the river. We then return to the hotel barge for our cruise southwards through rich pasture-lands past grazing Charolais cattle to the sleepy village of Mailly-la-Ville. After your relaxed lunch on board, perhaps this is a good time to enjoy a walk or bicycle ride along the towpath. Dinner on board.

Wednesday - Mailly-la-Ville to Le Saussois
This morning, we visit the charming 14th century medieval market village of Noyers-sur-Surein, one of the most beautiful villages in France, on an excursion through delightful countryside. In the afternoon we cruise past the cliffs at Le Saussois, a stunning natural setting with an international climbing center. There will also be the opportunity to enjoy delightful walks or bicycle rides along the towpath. Dinner ashore this evening at Le Château de Vault-de-Lugny, a secluded and romantic 5 star Hotel with a history that dates back almost nine hundred years. On the menu you will find dishes such as Burgundy Truffle, hand-picked from the plantation housed somewhere amidst the 40 hectares of land, or Charolais Beef, some of the finest red meat in the entirety of Europe.

Thursday - Le Saussois to Lucy-sur-Yonne
Our morning cruise is through the picturesque Yonne Valley to our mooring point at Lucy-sur-Yonne. After lunch on board, we enjoy an excursion to the pilgrimage town of Vezelay, one of Burgundy's most famous treasures with the Romanesque Basilica of St Mary Magdalene, craft shops and fine views of the surrounding countryside. Dinner on board.

Friday - Lucy-sur-Yonne to Chevroches
A morning cruise through beautiful countryside takes us to our final mooring at the pretty canalside village of Chevroches and again this is a perfect time for a walk or a bicycle ride. In the afternoon, we visit the elegant Château de Bazoches, built in the 12th century and whose illustrious visitors included Richard the Lionheart. The château was later remodeled by Maréchal Vauban and there are wonderful views from its elevated hillside setting. Captain's Farewell Dinner on board.

Saturday - Chevroches
After breakfast, guests are transfered to Paris.

Note: This is a sample itinerary and is subject to change. On alternate weeks the cruise is in the reverse direction.

---
Dining Aboard L'Art de Vivre:
SAMPLE MENU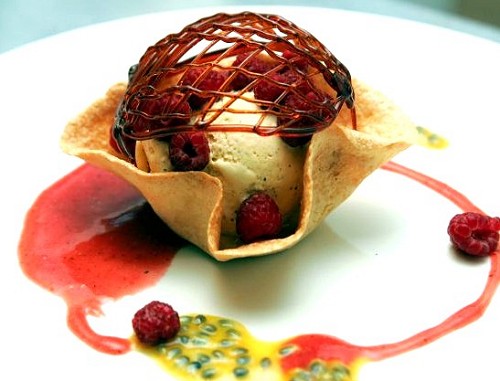 BREAKFAST
Cereals
Fresh Fruit
Yogurt
Freshly baked croissaint, pastries and breads
Eggs and pancakes cooked to order
Fresh fruit juices, coffee and a selection of different teas
LUNCH
Sea bass with creamed leeks & tartar sauce
Assorted quiche
Selection of cured, cold meats
Guinea fowl with green papper sauce
Assorted cheese tray that includes selections such as Comté, Beaufort and Chaource
Assorted salads such as Greek salad and mixed green salad
Desserts include chocolate and orange tart and pineapple carpaccio
DINNER
French onion soup
Smoked salmon and celeriac salad
Beef fillet with potato rosti and red wine jus
Chicken filo parcels
Duck confit with orange jus, wilted spinach and cherry tomatoes
Goat cheese tart
Salmon with avocado salsa & beurre blanc sauce
Chili garlic prawns
Lamb loin with ratatouille and red wine jus
Escargots and foie gras en croute
Pork loin with Dijon mustard, roasted yellow carrots
Assorted cheese trays that may include Valencay, Epoisses, Roquefort, Brie de Meaux, St Maure,
Soumaintrain, Bleu de Chevre, Morbier, Régal de Borgogne with Garlic and Herbs, Forme D'Ambert and Camembert
DESSERTS
Chocolate molten cake
Chocolate truffle cake
Poached pears
Raspberry crème brulée
SAMPLE WINE LIST
Domaine Ferrari, Irancy 'Les Palottes'; Domaine Bouchard Père & Fils; Pouilly Fuissé; Domaine Borgnat; Coulanges la Vineuse
---
Passenger Comments:
Excellent trip, outstanding crew, great food & wine. Enjoyed the other passengers. the high points were the peaceful countryside, Chablis winery, cathedral in Auxerre. the cruise route was perfect for a relaxing cruise though peaceful countryside, small villages..
D.M, MA, USA, April 2017
It was a great success, and everything we had hoped for in celebration of our 80th birthdays (5 of us). The service was excellent. Beyond what we might have expected. The high points were the meals and wine certainly, the excursions, bicycling along the tow path. Perhaps above all the great sense of humour of all the crew members. This goes a long way to making the cruise relaxed and enjoyable!.
R&M.O., Canada, October 2017
The overall experience was excellent, especially the service, meals and excusions. The high points were the experience, the crew, the scenery.
G.P., FL, USA, July 2014
The service was outstanding. I can't say enough about the crew. They all contributed to my enjoyment of the cruise. They weren't intrusive but were always there to help when needed. The meals and wines were even better than we expected. We enjoyed them all. The dinner out was also good. The excursions were interesting. The wine tasting in Chablis was good, and the historical visits to Auxerre, Vezalay and the Chateau Bazoches interesting. We really liked becoming familiar with rural France, both through the excursions and the barge route. We left with a good feel for the area.
D.H., WA, USA, September 2013
It was a spectacular week! The barge route was beautiful, the crew was wonderful, the food beyond belief, the wines excellent and the tours fun and informative. Our trip was beyond our expectations!
D.A., TX, USA, April 2012
---
LINKS to L'Art de Vivre Information
---
Email us at: info@bargesinfrance.com
This page last updated August 10, 2018