Cruise In France On The Cher River In The Loire Valley On The First Class Hotel-Barge NYMPHEA
SEVEN DAYS / SIX NIGHTS
The-6 passenger Nymphea is a classic Dutch barge, whose shallow draft design is ideal for navigating the incredibly beautiful, yet somewhat sandy reaches of the river Cher, in the Loire valley. To date, the Nymphea is the only cruising barge navigating the fabled Loire Valley. Refitted throughout, her traditional ship's interior features a warm classic decor of rich varnished hardwoods, stained glass and a welcoming country house atmosphere. There are three charming cabins -- two with twin beds and a third that can be configured with either double bed or two twin sized beds-- provide lots of cozy comfort. The Nymphea is operated by its owner Leigh Wooten. The crew, which includes the Captain, Chef and tour guide are very knowledgeable about the history of this beautiful area, and are the perfect hosts for your cruise.

Some of the cruise highlights include: a cruise under the famed Château de Chenonceau, a visit to a Troglodyte cave dwelling and silkworm nursery, an excursion to the Château d'Amboise, private tastings at Montrichard and Civray, a visit to the château of Valençay or Blois, a visit to the colorful street markets and optional hot air ballooning. The Nymphea cruises between the end of June and beginning of October.


---
Features
Size of barge: 81 ft. by 14 ft.
Number of Passengers: 6
Number of Cabins (all with private bath): 3
Crew: 3
Air Conditioning and Central Heating: Yes
Salon: Lower level salon has built-in seating and dining table for 6. Upper salon has picture windows and built-in seating.
Bar: Open bar
Deck: Sundeck with reclining chairs and a parasol
Spa Tub: No
Cabin Features: Chenonceau bow Stateroom: twin beds or double, approx. 91 sq. ft. with entrance from deck. Cheverny Stateroom: twin beds approx. 65 sq. ft. Chambord Stateroom: twin beds approx. 75 sq. ft. All cabins include ensuite bathroom with shower
Vehicle for Transfers/Excursions: 7 seater air-conditioned VW Sharan minibus
Accessibility: Steps from deck to salon and two cabins. Steps from deck to Chenonceau cabin.
Bicycles: 6 mountain bikes
Wi-Fi: No - limited internet access
---
Nymphea's Deck Plan


---
Dining Aboard The Nymphea:
SAMPLE MENU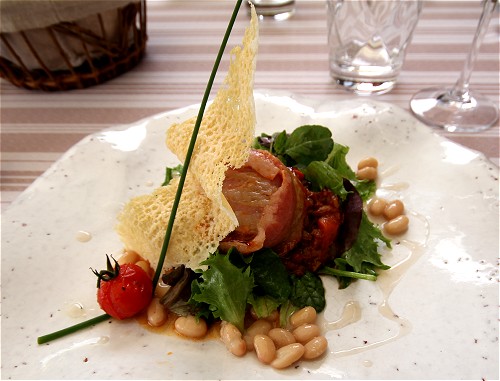 BREAKFAST
Freshly baked croissants, pastries and breads
Cereals
Fresh fruits
Fresh fruit juices
Coffee and a selection of teas
LUNCH
Local white asparagus with crispy parmesan tuiles
Ripe tomatoes stuffed with basil & roasted pine nuts
Corn fed chicken breast coated with a duo of whole grain Dijon mustard
Roasted artichokes with a garlic persillade
Smoked salmon quiche with whole wheat pastry
Seared quail's breasts with seasonal greens and cep mushroom vinaigrette
DINNER
Cheese soufflé with curly chickory salad and red currants
Roasted saddle of lamb, gratin dauphinoise potatoes and French beans with shitake mushrooms
Onion and potato tart, seared scallops and balsamic vinaigrette
Duck confit with roasted celeriac purée and red wine jus
Assorted cheese board may include Chèvre de Valencay, Tomme de Savoie, Roquefort, Colommiers, Epoisses, Beaufort, Brie de Melun and Affiné au Chablis
DESSERTS
Strawberries & crème fraîche
Dark chocolate molten cake with white chocolate ice cream
Apple tatin with crème Normande au Calvados
---
Passenger Comments:
Fabulous! I have traveled all over the US, Central America, into South America, extensively in the UK and Ireland, France, Spain, Scandinavia, Italy, Greece, and Egypt. This was by far the most relaxing and enjoyable trip I have ever had!
M.H., OH, USA, September 2012
It was a lot of fun.! Our daily trips were also everything you would want. SPT was outstanding, probably the best group I have worked with when planning a trip.
A & J F., WA, USA, October 2011
Nymphea exceeded our expectations. The excursions were great fun. A little bit of exercise, a lot of history and culture, and some gorgeous sights. The crew service was beyond reproach -- elegant, friendly, entertaining. We have never felt so pampered! Meals were fantastic, gourmet fare with a wonderful variety of offerings. There was something to tickle the palate of the most discriminating diners! Our cabin was comfortable, clean, and inviting. The vase of flowers was a special and unexpected touch. To sum it up; this cruise was fun, relaxing, informative, companionable, and delicious!
P & J K., NH, USA, September 2011
The Nymphea excursions were well planned and very interesting. Meals and wines were delicious. We listed the food in our journal as it was one of the high points of the trip. Caroline, our chef, was a genius in a tiny kitchen. We enjoyed the deck, upper level lounge and lower level lounge and dining area, they gave a variety of locations during the day, good for different weather conditions.
K.I., CO, USA, July 2011
SAMPLE ITINERARY*
The Loire Valley: Cher River
Moulin de Nitray to Montrichard 2015

Sunday - Moulin de Nitray
Guests are met at the designated meeting point (St Pierres des Corps TGV Station) and transferred to Nymphea where the crew and a champagne welcome awaits you at our mooring opposite the 17th century Moulin de Nitray. Dinner on board.

Monday - Moulin de Nitray to Larcay
A morning cruise through two locks takes us to the quaint town of Larcay where we moor under the weeping willows for lunch. In the afternoon we enjoy an excursion to Chateau de Villandry, with its world-renowned Renaissance gardens. Dinner on board.

Tuesday - Larcay to Vallet
After a morning cruise past no less than six private chateaux, we tie up opposite the hamlet of Vallet, a cluster of classic Tourangeau architecture grouped around its 18th century mill. After lunch we transfer by minibus to Amboise on the banks of the Loire, where we visit the Royal Chateau D'Amboise and the Clos Luce, Leonardo Da Vinci's home. Dinner on board.

Wednesday - Vallet to Chissay-en-Touraine
While cruising in the morning we pull in to the tiny landing stage next to Domaine de Chateau de Fontenay. A two minute walk brings us to their courtyard where we can taste their range of Touraine wines as an aperitif before lunch moored at Blere. In the afternoon we cruise under the 5 arch bridge of the impressive Château de Chenonceau and moor at Chisseaux. From there we depart by minibus to visit the Chateau. Upon our return we cruise upstream to Chissay-en-Touraine. We have dinner tonight in one of the local restaurants specializing in Loire regional cooking.

Thursday - Chissy-en-Touraine to Montrichard
A morning cruise takes us towards the troglodyte village of Bourré. We tie up at the lock, a short walk from which is one of the more unusual dwellings in the Loire Valley, La Magnaneraie. The Coquillat family have grown up in this hillside troglodyte habitation, which has been in turn wine cellar, quarry for the tuffeau stone, and lastly a silkworm nursery. After lunch we drive east to Valencay, one of the most splendid chateaux of the Loire and the home of Napoleon's foreign minister, Talleyrand. Returning to the hotel barge we cruise to Montrichard where we moor for the night. Dinner on board.

Friday - Montrichard to Nitray
Following breakfast, a short stroll takes us to the heart of Montrichard, into the midst of one of the largest weekly street markets in Touraine. There is much to explore at the 11th century Chateau de Foulques Nerra overlooking the medieval town square. Before lunch we can visit the local vineyard of the Meriau family, to taste the regional Touraine vintages. After an early lunch, Nymphea sets off downstream again, for another passage under Chenonceau and arrives at the hamlet of Nitray in time to visit the Chateau and rose garden of Nitray. Enjoy an aperitif from their vineyards before the Captain's Farewell Dinner on board.

Saturday - Nitray
After breakfast, disembark and return to the designated drop off point (St Pierres des Corps TGV Station).
On alternate weeks the cruise will be in the reverse direction.


---
Nymphea
2015 Season Cruise Schedule*
Week
Route
Season
Jun 28
Montrichard-Nitray
Regular
Jul 5
Nitray-Montrichard
Regular
Jul 12
Montrichard-Nitray
Regular
Jul 19
Nitray-Montrichard
Regular
Jul 26
Montrichard-Nitray
Regular
Aug 2
Nitray-Montrichard
Regular
Aug 9
Montrichard-Nitray
Regular
Aug 16
Nitray-Montrichard
Regular

Cruise Schedule* ... continued
Week
Route
Season
Aug 23
Montrichard-Nitray
Regular
Aug 30
Nitray-Montrichard
Regular
Sep 6
Montrichard-Nitray
Regular
Sep 13
Nitray-Montrichard
Regular
Sep 20
Montrichard-Nitray
Regular
Sep 27
Nitray-Montrichard
Regular
Oct 4
Montrichard-Nitray
Regular
NOTE: This barge only cruises between June and October

The Nymphea's routes through the Loire Valley, from Azay sur cher to Nitray. For a more detailed look at the cruise route, view our map of the Cher River in the Loire Valley.
*Note: Cruise directions and sample itineraries may be in reverse and are subject to change and may depend on bookings and local navigation conditions. Alternate excursions of equal appeal are substituted when needed. For charter cruises special itineraries can be arranged.
---
NYMPHEA
2015 SEASON PRICES in US DOLLARS
ACCOMMODATION
REGULAR

---

Jun 28 thru Oct 10
Stateroom (per person, double occupancy)

$4,475

Single Occupancy Supplement

$1,850

Honeymoon Charter for 2

$18,500

Charter for 4

$22,700

Charter for 5

$24,100

Charter for 6

$25,500

Cycling Charter Supplement for up to 6

$2,000

Golf Supplement (pp w/ 4 players minimum)

$500
What's Included for 2015
- 7 days and 6 nights on the barge, all cabins with private bath
- transfers from Tours (St Pierre des Corps TGV station) to the barge and return
- all meals beginning with dinner on Sunday through breakfast on Saturday, including one dinner at a local restaurant
- all wines with lunches and dinners
- open bar
- all escorted side-excursions (hot air ballooning, golf, etc. at additional cost)
- use of bicycles
What's Not Included for 2015
- overseas air transportation to Paris and return
- train transfers from Paris to Tours (St Pierre des Corps TGV station) and return
- suggested 5-7% gratuity for the crew, to be paid to the captain in equivalent Euros
Please visit our Special Offers page to see potential discounts for this barge or many others.
Special Places Travel, LLC
"Barges in France (and the rest of Europe) ... for the experience of a lifetime!" ™


For booking information,
Phone (toll-free): 1-877-64-BARGE (1-877-642-2743)
Outside of the U.S.: 001.443.321.3614
or E-mail:

info@specialplacestravel.com
Return to TOP of PAGE
---
Text and images Copyright © 2010, 2011, 2012, 2013, 2014 by Special Places Travel, LLC, Edgewater, MD, and by other copyright holders used by permission. Web design by Special Places Travel, LLC. All rights reserved. No further use without express written permission from copyright holders. Contact Special Places Travel LLC, +1-443-321-3614 for further information.
Last Update: December 4, 2014
Barges in France, A Division of Special Places Travel, LLC.
Barges in Europe, A Division of Special Places Travel, LLC.
Member: American Society of Travel Agents (ASTA), Cruise Lines International Association (CLIA), Outside Sales Support Network (OSSN). Bonded. Founded 1997. American Express, Visa, Mastercard, Discover accepted.
Accredited, Better Business Bureau