Cruise In France On The Canal du Nivernais In Northern Burgundy Aboard The First Class Hotel-Barge LUCIOLE
SEVEN DAYS / SIX NIGHTS
Beautiful and historic, the waterway on which the Luciole travels provides a step back in time. Out of all of the European barge cruise routes, this is surely one of the finest. Each curve in the route presents a new and exciting panorama to be explored. You can enjoy this beautiful, scenic route on the towpath that runs alongside the canal either on foot or with one of the bicycles provided for you on board. Our warm-spirited and expert crew of six, all of whom are British or English-speaking, will combine gastronomy and comfort with thoughtful personal service throughout each day of your cruise. Excursions are made to vineyards, market towns or chateaux in this peaceful region where the hustle and bustle of busy life has no place.

The Luciole is owned by John and Penny Liley. Previously, John was editor of a leading British yachting magazine, and has even written books that include " France-the Quiet Way " , an exploration of the entire canal and river system of France. His early journeys inspired him to select the Nivernais cruising area and establish the present hotel-barge business in 1976 with the Secunda, forerunner to Luciole. Penny is now responsible for the overall running of the business.

Penny first worked on the Luciole as a chef in 1986, and since then has played a major role in creating a warm, welcoming atmosphere. A feeling of calm and attention to detail is apparent as soon as one steps aboard.

Available for whole-boat charter or individual bookings, the Luciole allows its guests to explore in comfort the intimate country waterways of central France. From the air-conditioned salon, big picture windows allow uninterrupted views of passing scenery. Refreshments are freely available at all times from our open bar.

Three double-bed cabins are available and can be converted into twins if necessary. Three additional twin-bed cabins and two single bed cabins are also available, and all of them have their own private, ensuite bathroom with shower. Individually-controlled air-conditioning is installed throughout.

Meals on board the Luciole are treasured times and offer an opportunity to sit, relax and share with friends, old or new, a summer luncheon or candlelit dinner of culinary delights.

The chef is encouraged to be innovative and imaginative, marrying French cuisine with a contemporary twist while using fresh local ingredients to inspire and spoil you. Your day commences with the arrival of freshly baked breads and pastries. Lunch is a feast of salads and savory dishes, followed by a selection of cheese. The four-course evening meal includes wines from he region on each menu. With Chablis on our doorstep, local vineyards are well represented, but wines from the Cote d'Or are also on our list, together with Chateauneuf du Pape and selections from Bordeaux.
---
Features
Size of barge: 114 ft. by 17 ft.
Number of Passengers: 14
Number of Cabins (all with private bath): 8
Crew: 6
Air Conditioning and Central Heating: Yes
Salon: The salon/dining area has large picture windows, comfortable seating and dining areas with dining table for 14
Bar: Open bar
Deck: Sundeck with chairs, dining table and umbrellas.
Spa Tub: No
Cabin Features: Cabins average 107 sq. ft. with bath. Three cabins with twin or double beds, three cabins with twin beds, and two single cabins, all including ensuite bathroom with shower.
Vehicle for Transfers/Excursions: l6-passenger air-conditioned Mercedes van
Accessibility: Steps to salon and cabins.
Bicycles: 8 sturdy roadster bicycles. Additional bicycles can be provided upon request.
---
Luciole's Deck Plan


---
Dining Aboard The Luciole:
SAMPLE MENU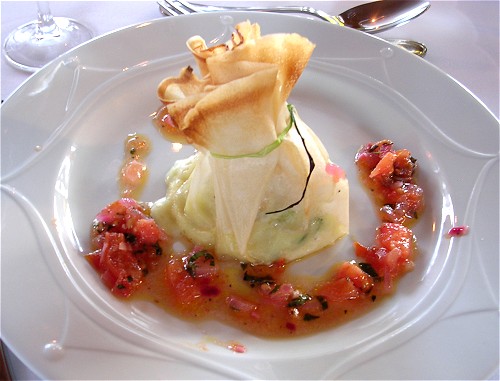 BREAKFAST
Our Continental breakfast offerings include pancakes, Belgian waffles, fresh breads, pastries, cereals, fresh fruits and yogurt.
LUNCH
Chicken encroute with girolles
Marinated seafood salad
Pear and Roquefort salad
Roasted bell peppers and olive salad
Mixed bean and lentil salad
Salmon and red onion tartlets
Burgundian gougere
Pasta, sun dried tomato and pesto salad
Courgette, pine nut and parmesan salad
Marinated artichoke hearts
Frisee salad with bacon lardons
Assorted cheese to include Saint Felicien, Cantal, Bleu d'Auvergne, Chaource, Epoisses, Brie, Roquefort, Saint Agur, Beaufort,Tomme de Chevre
DINNER
Warm asparagus with a Dijon vinaigrette
Smoked duck and parmesan shavings
Grilled Guinea fowl on a bed of wild rice with a tomato and butter sauce, garnished with tomato crisps
Broccoli florets, butter fried zucchini
Pan fried foie gras served on a country style bread with caramelized apples
Pork filet migon with a cognac cream sauce
Potatoes savoyard gratin
Honeyed carrot straws, haricot vert
Passion fruit and orange tarte with Cointreau cream
Molten chocolate cake with vanilla ice-cream, garnished with strawberries
white chocolate dipped strawberry ice cream balls and chocolate sauce
Coffee, chocolates and liqueurs
---
Passenger Comments:
Overall the barge cruise was superlative! The barge, crew, food and attention was top notch, a 10 out of 10 rating!
F.M., CA, USA, October 2012
The barge was comfy, the crew energetic and delightful, the food superb and the wines consumed in wild abandon. This is a crew that knows how to do it though how they managed to stay up so late, rise so early and prepare feast after feast in such small quarters still boggles my mind.
M.H., TX, USA, September 2012
The barge and cabin accommodations were beyond my expectation. Meals were excellent, varied, and beautifully presented. The bottles kept appearing on the table until it was clear that everyone was finished...and then the liquors came out!
D.C., FL, USA, September 2012
Fabulous vacation. This trip exceeded my expectations. The staff was wonderful and everyone made sure that all of our needs were met. The food and wine was delicious. The daily side trips were wonderful. It wasn't long enough, I could have cruised for another week. Life is too short to miss out on this cruise, I highly recommend it. SPT was very easy to work with; staff answered all of my questions. I have no complaints, just compliments and high regard for their great service.
J & M C., CO, USA, July 2012
If planned in heaven, our cruise couldn't have been better. The crew service was beyond great, in the kitchen, on the tours ... everywhere. We were in awe at each meal. Excursions were just the right length. Neil injected fun into the history, too bad that our teachers didn't do the same! Please tell the wonderful crew that they set the tone for this successful trip.
J.M., Canada April 2011
SAMPLE ITINERARY*
Burgundy: Canal du Nivernais
Auxerre to Clamecy 2013
Sunday
The rendezvous in Paris at the Hotel Mansart with the Luciole representative is at 2.30 pm, followed by the journey to Auxerre in the barge's private bus. There the Luciole herself is moored on the impressive river frontage of the city, overlooked by the Cathedral, the 13 - 15th Century Abbey and Parish Church. A Champagne reception welcomes our guests on board.

Monday
A cruise upriver leads us into beautiful pastoral countryside intermingled with sweeping reaches of the River Yonne. After lunch we arrive at the Crément-making centre of Bailly. An afternoon visit is made to a wine cellar in the vicinity of Chablis. The picturesque villages of St Bris and Irancy, also devoted to wine stand nearby.
Tuesday
The morning's cruise along the Nivernais takes us up an arm of the canal to the small town of Accolay. In the afternoon we return for a tour to historic Auxerre, providing also a good opportunity to visit the shops and take time to enjoy French provincial life.
Wednesday
From Accolay, we make the short journey to delightful Noyers-sur-Serein. With its friendly market stalls, half timbered houses and turreted ramparts it is easy to see why Noyers is considered "one of the most beautiful villages in France." After lunch Luciole continues southwards to a night-time mooring beneath the walls of Mailly-le-Chateau.
Thursday
A morning drive takes our group to Vézelay, where the spectacular 12th Century Basilica dominates the town. Here St Bernard preached the 2nd Crusade. In the afternoon Luciole cruises through a region where dramatic cliffs stand by the waterside, to an evening mooring at Lucy sur Yonne.

Friday
A morning voyage takes us to the delightful Medieval town of Clamecy, a worthy venue for the climax of our cruise. Our final visit is to the imposing Chateau of Bazoches. Set on a hillside amidst splendid rolling countryside, this was the 17th Century home of the Marquis de Vauban, France's great military engineer.
Saturday
An after-breakfast departure in our bus for Paris anticipates arrival there around 1pm. For guests wishing to travel elsewhere in France, by train or hire car, a stop can always be made in Auxerre again on our journey up to Paris.
Note: This is a sample itinerary and is subject to change.
On alternating weeks this itinerary operates in the reverse
.
SAMPLE ITINERARY*
Burgundy: Canal du Nivernais
Bailly to Clamecy Activity Barge Cruises For Charter Groups 2013/2014
For those interested in chartering an hotel barge with more activity and adventure, the Hotel Barge Luciole is now offering the option of tree walking, horse riding, cave climbing and kayaking alongside their regular visits. Note: A surcharge of $3,000 is added to the usual charter price for this Adventure Barge Cruise.

Sunday
Rendezvous at a location of your choice in Paris or Auxerre.

Monday
Morning cruise to the wine village of Bailly.
Afternoon activity: rope walking in the trees at Bois de la Folie.
Alternative visit to Guedelon, a 13th Century style village in construction using traditional methods and tools from Medieval Burgundy.

Tuesday
Morning visit to Chablis for wine tasting and tour of the vineyards.
Afternoon cruise to Accolay.
Alternative afternoon activity: cave climbing in Dissangis.

Wednesday
Visit to Noyers-sur-Serein - the delightful town with its Wednesday market and then up to the rambling remains of the castle - free time to stroll and scramble.
Afternoon cruise to Mailly-le-Château.

Thursday
Morning cruise to Lucy-sur-Yonne.
Afternoon activity: horse riding at Montillot in the hills.
Alternative visit to Vézelay, the 12th Century Basilica.

Friday
Morning cruise to Clamecy.
Afternoon activity: Canoe-kayak at Saint Père.
Alternative visit to the Chateau of Bazoches, the 17th Century home of the Marquis de Vauban, France's great military engineer.

Saturday
Return transfer back to Paris.

Note: This is a sample itinerary and may run in reverse. It is subject to change.

---
Luciole
2013 Season Cruise Schedule*
Week
Route
Season
Apr 21
Auxerre-Clamecy
Value
Apr 28
Clamecy-Auxerre
Value
May 5
Auxerre-Clamecy
Value
May 12
Clamecy-Auxerre
Value
May 19
Auxerre-Clamecy
Regular
May 26
Clamecy-Auxerre
Regular
Jun 2
Auxerre-Clamecy
Regular
Jun 9
Clamecy-Auxerre
Regular
Jun 16
Auxerre-Clamecy
Regular
Jun 23
Clamecy-Auxerre
Regular
Jun 30
Auxerre-Clamecy
Regular
Jul 7
Clamecy-Auxerre
Regular
Jul 14
Auxerre-Clamecy
Regular
Jul 21
Clamecy-Auxerre
Value

Cruise Schedule* ... continued
Week
Route
Season
Jul 28
Auxerre-Clamecy
Value
Aug 4
Clamecy-Auxerre
Value
Aug 11
Auxerre-Clamecy
Value
Aug 18
Clamecy-Auxerre
Value
Aug 25
Auxerre-Clamecy
Value
Sep 1
Clamecy-Auxerre
High
Sep 8
Auxerre-Clamecy
High
Sep 15
Clamecy-Auxerre
High
Sep 22
Auxerre-Clamecy
High
Sep 29
Clamecy-Auxerre
High
Oct 6
Auxerre-Clamecy
High
Oct 13
Clamecy-Auxerre
Value
Oct 20
Auxerre-Clamecy
Value
Oct 27
Clamecy-Auxerre
Value
Luciole
2014 Season Cruise Schedule*
Week
Route
Season
Apr 20
Auxerre-Clamecy
Value
Apr 27
Clamecy-Auxerre
Value
May 4
Auxerre-Clamecy
Value
May 11
Clamecy-Auxerre
Value
May 18
Auxerre-Clamecy
Regular
May 25
Clamecy-Auxerre
Regular
Jun 1
Auxerre-Clamecy
Regular
Jun 8
Clamecy-Auxerre
Regular
Jun 15
Auxerre-Clamecy
Regular
Jun 22
Clamecy-Auxerre
Regular
Jun 29
Auxerre-Clamecy
Regular
Jul 6
Clamecy-Auxerre
Regular
Jul 13
Auxerre-Clamecy
Regular
Jul 20
Clamecy-Auxerre
Value

Cruise Schedule* ... continued
Week
Route
Season
Jul 27
Auxerre-Clamecy
Value
Aug 3
Clamecy-Auxerre
Value
Aug 10
Auxerre-Clamecy
Value
Aug 17
Clamecy-Auxerre
Value
Aug 24
Auxerre-Clamecy
Value
Aug 31
Clamecy-Auxerre
High
Sep 7
Auxerre-Clamecy
High
Sep 14
Clamecy-Auxerre
High
Sep 21
Auxerre-Clamecy
High
Sep 28
Clamecy-Auxerre
High
Oct 5
Auxerre-Clamecy
High
Oct 12
Clamecy-Auxerre
High
Oct 19
Auxerre-Clamecy
Value
Oct 26
Clamecy-Auxerre
Value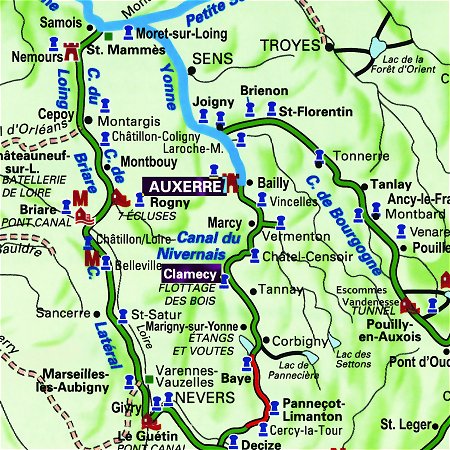 The Luciole's route through Burgundy, from Auxerre to Clamecy on the Canal du Nivernais For a more detailed look at the cruise route, view our map of the Canal du Nivernais.
*Note: Cruise directions and sample itineraries may be in reverse and are subject to change and may depend on bookings and local navigation conditions. Alternate excursions of equal appeal are substituted when needed. For charter cruises special itineraries can be arranged.
---
LUCIOLE
2013 SEASON PRICES in US DOLLARS
ACCOMMODATION
VALUE

---

Apr 21 thru May 18
Jul 21 thru Aug 31
Oct 13 thru Nov 2
REGULAR

---

May 19 thru Jul 20



HIGH

---

Sep 1 thru Oct 12



Cabin (per person, double occupancy)

$3,950

$4,250

$4,250

Single in Single Cabin

$3,950

$4,250

$4,250

Charter for up to 10

$40,000

NA

NA

Charter for up to 14

$42,000

$52,000

$55,000

Activity Charter for up to 14

$44,000

$54,000

$57,000
LUCIOLE
2014 SEASON PRICES in US DOLLARS
ACCOMMODATION
VALUE [2013 RATES]

---

Apr 20 thru May 17
Jul 20 thru Aug 30
Oct 19 thru Nov 1
REGULAR [2013 RATES]

---

May 18 thru Jul 19
HIGH [2013 RATES]

---

Aug 31 thru Oct 18
Cabin (per person, double occupancy)

$3,950

$4,250

$4,250

Single in Single Cabin

$3,950

$4,250

$4,250

Charter for up to 10

$40,000

NA

NA

Charter for up to 14

$42,000

$52,000

$55,000

Activity Charter for up to 14

$44,000

$54,000

$57,000
*2013 rates will be honored for 2014 bookings placed before the announcement of 2014 prices (expected in late Spring 2013).
What's Included for 2013 & 2014 Cruises
- 7 days and 6 nights on the barge in a cabin with private bath
- transfers from Paris to the barge and return
- all meals beginning with dinner on Sunday through breakfast on Saturday
- all wines with lunches and dinners
- open bar
- all escorted side-excursions (hot air ballooning, golf, etc. at additional cost)
- use of bicycles
What's Not Included for 2013 & 2014 Cruises
- overseas air transportation to Paris and return
- suggested minimum 5% gratuity for the crew, to be given to the captain in equivalent euros
Please visit our Special Offers page to see potential discounts for this barge or many others.
Special Places Travel, LLC
"Barges in France (and the rest of Europe) ... for the experience of a lifetime!" ™


For booking information,
Phone (toll-free): 1-877-64-BARGE (1-877-642-2743)
Outside of the U.S.: 001.443.321.3614
or E-mail:

info@specialplacestravel.com
Return to TOP of PAGE
---
Text and images Copyright © 2010, 2011, 2012, 2013 by Special Places Travel, LLC, Edgewater, MD, and by other copyright holders used by permission. Web design by Special Places Travel, LLC. All rights reserved. No further use without express written permission from copyright holders. Contact Special Places Travel LLC, +1-443-321-3614 for further information.
Last Update: May 16, 2013
Barges in France, A Division of Special Places Travel, LLC.
Barges in Europe, A Division of Special Places Travel, LLC.
Member: American Society of Travel Agents (ASTA), Cruise Lines International Association (CLIA), Outside Sales Support Network (OSSN). Bonded. Founded 1997. American Express, Visa, Mastercard, Discover accepted.
Accredited, Better Business Bureau