Imagine ... an intimate and tranquil oasis of calm, joie-de-vivre, celebration of life, friendships, cuisines, and wines ... cruising through the beautiful countryside, walking along the canal towpath, biking into a village ... private excursions ... we call it a "barge cruise" and passengers call it "the best vacation of their lives."

Now imagine ... an experienced barge cruise consultant (who has been aboard all of the barges in France) by your side to help you pick just the right barge for you ... you've found it all here. Barges in France, a Division of Special Places Travel, where since 1997 we have been helping clients and travel agents decide on the perfect all-inclusive barge cruise on the picturesque canals and rivers of France, England, Scotland, Ireland, Holland, Belgium, Germany, and Italy. For canal cruises, river cruises, and barge cruises you're on the most comprehensive site on the web for barge cruise information.




ABOUT HOTEL BARGES AND BARGE CRUISES ...

The barges on this website carry from 4 to 24 passengers. Most were working cargo barges (peniche, in French), but have now been been transformed into elegant floating hotels.

Cruise Dates and Length: Hotel barges typically cruise for seven days and six nights from early April to late October. Most start on a Saturday or Sunday. A few barges offer half week charter cruises.




8-passenger deluxe barge Hirondelle cruises in France on the Burgundy Canal


Cost: Prices apply to the 2017 cruise season but there are still some openings remaining this 2016 season, through October. You can charter a barge for friends or family or book individual cabins on most barges. Charters are a fantastic way to celebrate special occasions, and can be tailored to your interests. All rates listed are in US Dollars and range from just under $4,000 to $8,000 per person, based on double occupancy, and equivalent pro-rata prices per person when chartering a barge. For single occupancy there is usually a single supplement.

Category: Categories relate primarily to the size of the cabins, with "Ultra Deluxe" offering the most spacious cabins (up to 300 square feet) and highest level of elegance and amenities, "Deluxe" barges have cabins up to 200 square feet and "First Class" barges have cabins closer to 100 square feet.

What's included and not included: Barge cruises are typically ALL-INCLUSIVE: your cabin with ensuite bathroom, all meals, wines, open bar, WiFi, daily escorted side excursions and transfers from a major city to the barge and return. A few barges offer half-board with some meals not included. Not included: Overseas airfare, suggested crew gratuity, and trip insurance.


WHY IS A HOTEL BARGE CRUISE SO SPECIAL?

-- The outstanding cuisine and carefully selected wines and cheeses to accompany meals aboard the barge.
-- The beauty and tranquility of the canals and rivers, with the chance to bike and walk along the canal or waterway.
-- The pampering and attention from enthusiastic crewmembers, and the luxury of having them provide personal, guided tours of special places along the way.




6-passenger deluxe barge Saint Louis cruises in Southwest France near Bordeaux


As one of our passengers said about her cruise on the Saint Louis this year:
"I've run out of adjectives to describe our week on the Saint Louis. I mean, they're all there -- wonderful, fun, amazing, delicious, surprising, jolly, hysterical (in the good sense), funny, heartwarming, extraordinary, etc. – and they all apply, but none of them captures any more than a tiny aspect of the magic that is Saint Louis."



ABOUT US:

We are a small, family-run business, and arranging luxury hotel barge cruises is our only business. We serve travelers throughout the world who search for a unique travel experience that combines exquisite cuisine, exclusive wine tastings, intimate excursions, biking and walking, and pampered relaxation into a magical week that is the perfect stage for celebrating a special birthday or anniversary, a family adventure, or simply to savor 'joie de vivre'!

To make sure we have the most current information and to share our first-hand experience with you, we visit barges in France and the rest of Europe every year. Our long-standing relationships with each barge owner provide us with the background to help you select the best canal cruise or river cruise for the vacation of a lifetime. Based in Edgewater, Maryland, USA, we provide you with personal attention and detailed answers to your questions 7 days a week. With our many years of experience aboard Barges in France and Barges in Europe, Special Places Travel is a leading, trusted source you can rely on. In addition to helping you select the barge and cruise area that's best for you, we can also provide detailed recommendations on hotels, itineraries, things to do, and how to get to your cruise destination.

When you telephone or email us, you will be reaching owners Don Dillin, or Sally Dillin, or Chip Banister, or Sales Manager Kathy Lynch -- all are passionate about barge travel and all have first-hand experience aboard the 50+ barges in France and the rest of Europe.

In 1997, Don, who lived in Europe for seven years, and Sally, a former French linguist, started Special Places Travel to focus on travel to unique and special places. In 1999, they cruised on a barge on the Canal du Midi and decided to launch BargesInFrance.com to share their barge cruise experience with travelers seeking a different kind of vacation. Chip, Don and Sally's son-in-law, joined the business in 2009, and Kathy joined in 2012. Team members have visited barges in France and elsewhere in Europe every year since 1999.

As a team we are focused on helping you make the very best decision from among the many choices based on our personal experience. We are all familiar with each booking, so you can always get knowledgeable answers to any question from your initial inquiry through your return home from your cruise.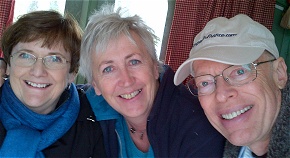 BargesInFrance.com/Special Places Travel owner Sally Dillin, left, with Barge Emma owner Liz Jacquot, center, and Special Places Travel owner Don Dillin, right.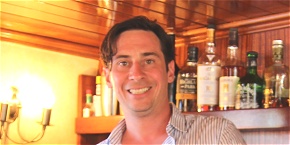 BargesInFrance.com/Special Places Travel owner, Chip Banister, aboard the barge Scottish Highlander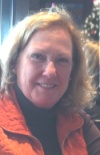 BargesInFrance.com/Special Places Travel Sales Manager, Kathy Lynch
What Our Clients Say About Us ...
"The pre-trip information from Special Places Travel was a very detailed and informative compilation of all the information needed from departing the US, arrival in France, transport to barge, and departure. I do not believe we have seen such a detailed travel piece completed by any of our other trips. Great job."
P.& R.S. WY, USA, May 2016

"Special Places Travel was always responsive, helpful, and informative. I especially liked the itinerary booklet. The pre-trip information was perfect. I always obsessively research trips - Our information always squared with SPT's. Even better was the communication between SPT, us, and the barge. This communication contributed to the success of the trip."
W.M. & J.W., GA, USA, June 2016

"The service from Special Places Travel was also fantastic! You guys thought of every detail and had everything set up so that there were no glitches in the trip. Having never traveled to Europe, we were a little anxious, but you made it a piece of cake."
J.K., Michigan

"Excellent service in every way: Communication, timely and complete receipt of documents, insurance recommendation, even extra tidbits of general travel info that we found others who booked through someone else had not been given."
D.G., North Carolina

"Your services were first class. You answered every one of our questions fully and promptly. We took a lot of comfort and confidence from that. In the pre-booking stages, you were enormously helpful to me in sorting through the various alternatives, and providing objective criteria for evaluation."
C.H., Washington, DC

"Special Places Travel was very helpful and informative with respect to all our travel needs. The detail they provided with respect to train schedules, cruise specifics, and Paris options was spectacular."
J.C., Washington State

"The service from Special Places Travel was extremely helpful and professional. Kathy's suggestions regarding trains, hotels and day trips post barge cruise was a lifesaver."
D.A., California

"The service from Special Places Travel was excellent! I got rapid responses and complete answers to all my questions. We immediately felt that somebody really cared about our enjoying the cruise experience."
S.T., Oregon

"The trip ranks in our top five. My wife would say the best trip ever. Thanks so much for all your personal recommendations and for your in-depth knowledge of the hotels, the local scene and of course the barges. We had a great time!"
M.V., Illinois



---
About Barge Cruises
Barges By Region
Barges Alphabetically
Barges By Price
Barges By Capacity
Barges By Category
Special Offers
Contact Us
About Us
Barge Blog
---
Return to TOP of PAGE
Barges in France: Master Barge Lists
---
Text and images Copyright © 2010, 2011, 2012, 2013, 2014, 2015, 2016 by Special Places Travel, LLC, Edgewater, MD, and by other copyright holders used by permission. Web design by Special Places Travel, LLC. All rights reserved. No further use without express written permission from copyright holders. Contact Special Places Travel LLC, +1-443-321-3614 for further information. This and all of our web pages are hand-crafted with NO cookies, NO Javascript, NO plug-ins. Compatible with all mobile, tablet and desktop browsers with EQUAL CONTENT and information for both mobile and desktop. We value your time, so ALL our barge web pages are designed for one-stop access = no multiple clicks to access barge details such as deckplan, itineraries, cruise routes, and cruise prices. We are by your side as experienced partners -- all the way from initial decision about the best barge cruise for you, through ANY question leading up to your cruise, hotel and rental car recommendations, suggestions for pre- and post-cruise travel, through post-cruise debriefing. We know that you will have the time of your life!
Barges in France, A Division of Special Places Travel, LLC.
Barges in Europe, A Division of Special Places Travel, LLC.
Accredited, Better Business Bureau
Member: American Society of Travel Agents (ASTA), Cruise Lines International Association (CLIA). Bonded. Founded 1997. American Express, Visa, Mastercard, Discover accepted.






Last Update: September 23, 2016