Cruise In The South Of France On The Canal du Midi Aboard The Deluxe Hotel-Barge FANDANGO
SEVEN DAYS / SIX NIGHTS
The 6-passenger Fandango is a classic cargo barge that was built to the specific dimensions of the French locks and low stone bridges of the 1939 era. In the 1980's, the concrete highways took over the transport of goods across waterways and most barges were sold for scrap. Fandango was rescued from this fate by French fragrance company L'Occitane, and became a floating showroom for their Provence-based brand.

Hazel Young, already well known for restoring vintage barges, took on the project with a team of talented craftsmen, and completed the transformation in 18 months. Mahogany and teak furnishings, authentic brass portholes, custom-made skylights, antique fittings and Provençal hand-made tiles created a uniquely glamourous ambiance, soon to be featured in French home decorating magazines and on television.

When L'Occitane outgrew this jewel-like promotional tool, Hazel Young and her son, Daniel Sak decided to bring Fandango back to the canals of France, but this time as a luxurious private charter barge for 4 to 6 passengers that would provide both style and comfort for all passengers.

Starting in 2013 Fandango will be offering a beautiful new Pissarro bow cabin with separate entrance along with its Degas and Monet cabins. Each cabin can be congfigured for either a king or two twin sized beds, and each has its own ensuite bathroom that is decorated with colorful Provençal tiles. Beautiful linens, and premium mattresses make your cabin a restful haven. The sky-lit salon is a cozy and comfortable space to curl up with a book or discuss the day's adventures. The spacious sundeck, replete with cool pool and lounge chairs is also a perfect place to enjoy the sun and passing vistas.

The open galley and bistro atmosphere on Fandango is perfect for those who enjoy a glass of wine while watching the Chef create a sumptuous feast for the evening meal. Your group will savor the regional specialties of the Languedoc, all made with fresh local ingredients and accompanied by fine French wines. Most meals are served al fresco on the terra-cotta tiled deck, with views of Cathar castles, quaint villages, vineyards as far as the eye can see and the peaceful Lauragais countryside. The English speaking crew will do its best to make your trip memorable. Your personal Chef will ensure that you dine in style, with fresh produce, artisanal cheeses, pates, and seasonal fresh fruits, guaranteed to be the finest that the Languedoc region has to offer. Fandango's tour guide escorts your group on daily excursions in an air-conditioned minivan, where you will be immersed in local history, enjoy wine-tastings, shopping, and sight-seeing.

Fandango's owner Hazel Young, is a graduate of the French National Cooking School in Beaune. She was introduced to traditonal French cuisine at a young age during family holidays in Normandy and aboard elegant French ocean liners between New York and England. Raising her family in southern France, Hazel developed an equally strong passion for the casual and colorful cuisine of Provence which are based on delicious olive oils, home-made pastas, and sun-ripened vegetables. The cuisine served aboard Fandango is an eclectic blend of French culinary tradition and regional specialties, always with the emphasis on top-quality ingredients and seasonal flavor combinations. Passengers can take part in designing the menus, choosing recipes from Hazel's own cookbook (A Week on the Water) and drawing inspiration as hazel does, from seasonal fruits and vegetables.

Eating aboard the Fandango is like taking in a dinner-and-a-show. There's always a glass of wine (like bubbly Limoux) available at Fandango's bar, which offers front-row seats at the open-plan kitchen. Guests can watch as every dish is prepared and plated, taking home tips and recipes to recreate the wonderful dishes enjoyed during their cruise.

The Fandango's week long cruises take place on two beautiful stretches of the historic Canal du Midi. In the spring and fall it stays close to the sunnier Mediterranean coast to enable the guests to enjoy more outdoor dining. This cruise takes you from the medieval walled city of Carcassonne into the heart of the Minervois wine region, mooring in the picturesque canal village of Le Somail. In the summer, it cruises in the Lauragais, just west of Carcassonne, for uncrowded peaceful cruising under the shaded avenues of the famous sycamore trees. Colorful vistas of sunflower fields in full bloom, and quiet back-road visits to farmers' markets, as well as Carcassonne in mid week make this an exceptional cruise. In both areas, an ever-changing scenery of vineyards, spectacular views to the Pyrenees, and pretty villages are on each day's cruise route. Tranquil moorings are the setting for each evening's enjoyment. The sample itineraries will give you an idea of each day's perfect blend of touring and cruising. Any private charter itinerary can be tailored to the group's special interests in wine, food, history, art, and anything else you may desire.

---
Features
Size of barge: 100 ft. by 16 ft.
Number of Passengers: 4 to 6
Number of Cabins (all with private bath): 3
Crew: 4.
Air Conditioning and Central Heating: Yes
Salon: Salon with beautiful Provencal furnishings, antiques, skylight, and comfortable sofas. Galley/dining area with table for 6.
Bar: Open bar
Deck: Tiled sundeck with spa tub, chairs, dining table and large parasols.
Spa Tub: Yes
Cabin Features: Two cabins, each about 128 sq.ft. (Monet & Degas) and a bow cabin (Pisarro) at 161 sq. ft. all with either twin beds or king bed. Each cabin has an ensuite Provencal-tiled bathroom with shower.
Vehicle for Transfers/Excursions: VW minivan seating 9.
Accessibility: Steps to galley and to salon. No steps to cabins.
Bicycles: 6 aluminum frame Scott mountain bicycles with gel seats (3 mens, 3 womens).
---
Fandango's Deck Plan


---
Dining Aboard The Fandango:
SAMPLE MENU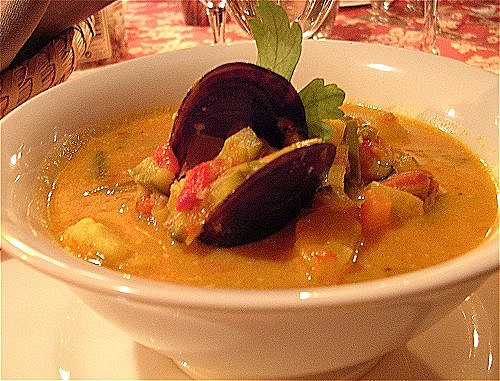 Continental breakfast every morning will include assorted fresh breads, croissants and pastries, fresh fruit, yogurt, cereals, sliced cured meats, fruit juice and freshly brewed coffee, tea and hot chocolate.
Lunch will include an assortment of different salads, including salad Nicoise, savory souffles, quiche and other savory tarts, an assortment of charcuterie (sliced meats), soups, homemade fresh pastas, pizzas, fresh seafood like monkfish, mussels and an assorted cheese platter with roasted figs. A choice of chilled rose, white and red wines will also be available.
DINNER:
Cream of sweet French winter squash
Fresh seafood with white wine shrimp bisque sauce
French green beans with butter and garlic
Provençale olive oil roasted summer vegetables with tomato sauce, herbes de provence
Tossed butter lettuce salad
Freshly made raviolis filled with cèpes mushrooms and a delicate cèpes mushroom sauce
Foie gras on little toasts with baby greens
Barbecue grilled charolais beef filet steak
Pork tenderloin with Dijon mustard wine sauce
Scalloped potatoes
Chestnut and fennel risotto
Assorted cheese platter
Poached pears in spiced amber vermouth
Grand Marnier souffle
For a great sample recipe from Hazel Young, see:
http://bargesinfrance.blogspot.com/search/label/Cuisine%20Aboard%20Barge%20Fandango
---
Passenger Comments:
The cruise was just great! Service was outstanding, everything we could have wished for was done, and yet it was unobtrusive. The food was varied and delicious. The presentation was great. Before the trip, I had thought I would have preferred to have a few more meals in different restaurants along the route, but I changed my mind very quickly when I experienced the meals on the barge.
G.B., TX, USA, May 2012
We had a wonderful time. The Fandango was very comfortable and I loved the fabrics and interior design. The crew was fantastic. They could not have been nicer or more professional. We all hated to get off the barge as we all thought Sara's meals were better than any we had at the restaurants. This is not a criticism of the restaurants, they were all very good. I own a small cooking school and would be proud to serve any of Sara's recipes to our classes. Thank you again for a wonderful cruise.
J.K., IL, USA
It was a lot of fun and certainly met our expectations. High points were having fun with the crew and seeing the scenery.
S.L., ME, USA
Had Pierre Paul Riquet only realized that the Canal du Midi that he created 200 years ago would allow us to experience leisure travel befitting King Louis XIV! The Tango and Fandango are the two most exclusive of the twelve premier boutique hotel barges quietly plying the canals of France. Thank you, Capts. Danielle and Thomas, chefs Marcus and Yanika, and the entire crew for providing a gastronomic/cruising experience available only to a privileged few.
G.H., MO, USA
SAMPLE ITINERARY*
Canal du Midi
Narbonne to Carcassonne, Spring and Fall 2013

Sunday - Le Somail
Your tour guide picks you up and brings you to the barge moored in the most picturesque village of Le Somail. After a champagne welcome cruise you will enjoy your first wonderful dinner on board.

Monday - Pech Laurier, Visiting the Vineyard
To start the day, a five minute drive to the local olive oil mill of L'Oulibo. Established in the 1930's, this is now a thriving and dynamic producer of gold medal winning varieties of olives and their oil. Learn about the cultivation, taste and choose to enjoy on board. A beautiful day's cruising, followed by a sunset visit to Minerve, offering panoramic views and a chance to learn the history of the Cathars.

Tuesday - Jouarrez
The open air morning street market of Olonzac, vibrant and full of local produce, such as fresh strawberries, melons and asparagus in the Spring, is always enjoyed by all. Great cruising with double and triple staircase locks enable passengers to easily disembark to walk or bike alongside the barge. The evening mooring in the midst of vineyards with views to the distant mountains is a perfect setting to enjoy being on deck for dinner.

Wednesday - Les Aiguilles, Dining Deckside on Fandango
Today's visit is to Narbonne, once Roman capital of the region. Discover the contrast between old and new from the impressive cathedral to vibrant pedestrian shopping streets on what was once the Via Dometia. Everyone's favorite part is the 'les halles' covered market. Here you will lunch on local delicacies, such as an oyster and seafood platter or grilled duck and french fries, all accompanied by local wines. Back to the barge for 'feet up' relaxing cruising to the evening mooring by our favorite lock keeper, Joel the sculptor.

Thursday - Millepetit
Passengers can enjoy a lengthy breakfast on board as the barge cruises through locks, countryside and villages. In the afternoon, the tour guide will take you on an historical visit to the Caunes-Minervois Roman Abbey. The red marble quarries of Caunes furnished Versailles for Louis XIV the Sun King. A wine tasting on the way back to the barge to savor delicious Liviniere vintages.

Friday - Carcassonne
In the morning, the tour guide will whisk you up to the Cite, the largest Medieval fortress town in Europe. As well as being steeped in the fascinating history of this unique historic site, walking the cobbled streets will give you the appetite to enjoy the famous cassoulet. An afternoon cruise with pretty locks will bring you into the port of 'modern' three hundred year old Carcassonne in time for some downtown shopping before your farewell dinner on board.

Saturday
After breakfast your tour guide will accompany you to your nearby train station, rental car, airport or hotel.

Note: This is a sample itinerary and is subject to change. It runs in reverse on alternate weeks.


SAMPLE ITINERARY*
Canal du Midi
Castelnaudary to Carcassonne, Summer 2013
Sunday
- Castelnaudary
Your tour guide will meet you at your chosen rendezvous and accompany you to the barge moored on the "Grand Bassin" with the town of Castelnaudary as a backdrop. This is a magnificent setting for your champagne toast and first dinner on board.
Monday
- Cruise to Sauzens
Monday begins with a visit to the farmers' market of Castelnaudary. The chef stocks up with wonderful cheeses and produce while guests may find an authentic "beret" or wine opener. Before lunch, a visit to the pottery NOT to see the terra cotta cassoulet baking dishes being thrown. Castelnaudary is home to this succulent dish of duck confit and white beans which you will feast upon for dinner. An afternoon cruise down the many staircases of locks enables those who want to walk or bike to follow on the towpath.
Tuesday
- Cruise to Villeseque
This morning the barge cruises through fields of wheat and sunflowers as we cross the rich agricultural Lauragais plain. We enjoy exceptional views to the Pyrenees on one side and the Black Mountains on the other. Following lunch, an excursion to the reservoir of St. Ferreol, the source of the water supply for the Canal du Midi. We'll also visit the Pierre Paul Ricquet museum and learn about the intricate engineering of the Canal, stopping in Revel's marketplace for a refreshment on the way back to the barge.
Wednesday
- Cruise to Carcassonne
After a stunning cruise with long stretches of winding canal framed by centuries-old oak, pines and Mediterranean cypress trees, we enter the port of Carcassonne. You'll tour "La Cité de Carcassonne" the largest Medieval fortress in Europe, and finish the afternoon with a stroll through the shopping district to visit the varied and elegant shops. A nice little evening cruise carries us back to the peaceful countryside for dinner and our mooring for the night.
Thursday
- Cruise to Millepetit
Today's excursion is to the Caunes-Minervois Roman Abbey nestled in the hills of the Minervois wine region. We combine the visual delights of this visit with a private vineyard tasting of the rich fruity flavors which make this wine exceptional. Today's cruising highlight is ending the day under a canopy of sycamore trees. The captain lights up the deck at night creating a romantic atmosphere for your alfresco dining. With olive trees alongside and a chateau in the distance, it's quite a fairytale.
Friday
- Cruise to Les Aiguilles
This morning we'll take you to Narbonne, once Roman capital of the region, offering a Cathedral and cloisters, pretty architecture, shopping and, best of all, the 100yr. old covered market. This is the chance to enjoy the seafood of the Languedoc Mediterranean coast along with chilled white wine and anything you want grilled with "frites" and salad. A scenic drive back to the barge and your last cruise through a series of staircase locks. The chef and crew will host your farewell dinner.
Saturday
After breakfast your tour guide will accompany you to your nearby train station, rental car, airport or hotel.
Note: This is a sample itinerary and is subject to change. It runs in reverse on alternate weeks.
---
Fandango
2013 Season Cruise Schedule*
Week
Route
Season
Apr 21
Narbonne-Carcassonne
Regular
Apr 28
Carcassonne-Narbonne
Regular
May 5
Narbonne-Carcassonne
Regular
May 12
Carcassonne-Narbonne
Regular
May 19
Narbonne-Carcassonne
Regular
May 26
Carcassonne-Narbonne
Regular
Jun 2
Narbonne-Carcassonne
Regular
Jun 9
Carcassonne-Narbonne
Regular
Jun 16
Carcassonne-Castelnaudary
Regular
Jun 23
Castelnaudary-Carcassonne
Regular
Jun 30
Carcassonne-Castelnaudary
Regular
Jul 7
Castelnaudary-Carcassonne
Regular
Jul 14
Carcassonne-Castelnaudary
Regular
Jul 21
Castelnaudary-Carcassonne
Regular

Cruise Schedule* ... continued
Week
Route
Season
Jul 28
Carcassonne-Castelnaudary
Regular
Aug 4
Castelnaudary-Carcassonne
Regular
Aug 11
Carcassonne-Castelnaudary
Regular
Aug 18
Castelnaudary-Carcassonne
Regular
Aug 25
Carcassonne-Castelnaudary
Regular
Sep 1
Castelnaudary-Carcassonne
Regular
Sep 8
Le Somail-Marseillan
Regular
Sep 15
Marseillan-Le Somail
Regular
Sep 22
Narbonne-Carcassonne
Regular
Sep 29
Carcassonne-Narbonne
Regular
Oct 6
Narbonne-Carcassonne
Regular
Oct 13
Carcassonne-Narbonne
Regular
Oct 20
Narbonne-Carcassonne
Regular
Oct 27
Carcassonne-Narbonne
Regular
*Note: Cruise directions and sample itineraries may be in reverse and are subject to change and may depend on bookings and local navigation conditions. Alternate excursions of equal appeal are substituted when needed. For charter cruises special itineraries can be arranged.
---
FANDANGO
2013 SEASON PRICES in US DOLLARS
ACCOMMODATION
REGULAR

---

Apr 21 thru Nov 2
SHORT CRUISE

---

Apr 21 thru Nov 2
Cabin (per person, double occupancy)

$4,950

NA

Single Occupancy Supplement

$1,500

NA

Charter for 4

$21,000

NA

Charter for 5

$24, 750

NA

Charter for 6

$29,700

NA

Four Night Charter for 4

NA

$14,400

Four Night Charter for 5

NA

$18,000

Four Night Charter for 6

NA

$21,600
What's Included
- 7 days and 6 nights on the barge in cabins with private baths
- Transfers from Narbonne or Carcassonne to the barge and return, depending on the cruise route
- All meals beginning with dinner on Sunday, through breakfast on Saturday, including one lunch at a restaurant chosen by the captain (alcoholic beverages not included on shore)
- All wines on board with lunches and dinners
- Open bar on board
- All escorted side-excursions
- Use of bicycles
What's Not Included
- Overseas air transportation to Paris and return
- Transportation from Paris to Narbonne or Carcassonne and return
- Suggested minimum 5% gratuity for the crew, to be paid to the captain in equivalent euros
Please visit our Special Offers page to see potential discounts for this barge or many others.
Special Places Travel, LLC
"Barges in France (and the rest of Europe) ... for the experience of a lifetime!" ™


For booking information,
Phone (toll-free): 1-877-64-BARGE (1-877-642-2743)
Outside of the U.S.: 001.443.321.3614
or E-mail:

info@specialplacestravel.com
Return to TOP of PAGE
---
The contents of this web page Copyright © 2003-2007, 2008, 2009, 2010 Canals of France. Web design by Special Places Travel, LLC., Edgewater, MD USA
Last Update: March 28, 2013
Barges in France, A Division of Special Places Travel, LLC.
Barges in Europe, A Division of Special Places Travel, LLC.
Member: American Society of Travel Agents (ASTA), Cruise Lines International Association (CLIA), Outside Sales Support Network (OSSN). Bonded. Founded 1997. American Express, Visa, Mastercard, Discover accepted.
Accredited, Better Business Bureau