Wine And Chocolate Cruise In France On The Canal de Bourgogne On The First Class Hotel-Barge ELISABETH
SEVEN DAYS / SIX NIGHTS
The 6-passenger barge Elisabeth is a 30-meter Dutch Luxemotor barge built in Rotterdam Holland in 1930. The barge is very comfortably appointed, and resembles a small boutique hotel that has been reserved just for you. There are three identical roomy cabins with twin or queen size beds, each with its own ensuite bathroom. The salon/dining area offers a comfortable sofa, bar and dining table. The large wheelhouse is the perfect place to watch the world go by while chatting with the captain, who also happens to be the owner. The sundeck is ideal for enjoying 'al fresco' lunches and sunset dinners. The bow deck is great for quiet reading or peaceful sunbathing. Your leisure canal cruise aboard the Elisabeth will be restful and relaxed because your every desire will be taken care of by your personal crew of 4 who are there to serve you...what better way to enjoy the tranquil and picturesque canals of France?

Your hosts, Peter and Sheena Jenner love to welcome groups of friends or families. Even young children are welcome since there is no minimum or maximum age limit, because there is something for everyone to enjoy on the Elisabeth. For family charters, she can be prepared with toddlers in mind, such as providing cots, high chairs, paddling pools, kayaks or children's bikes. Naturally, when we have young guests aboard, our itineraries can be adjusted to suit the needs of all of the members of the party.

You may also chooste to cruise between Tanlay and Veneray les Laumes on the Canal de Bourgogne in the heart of Burgundy, for a fabulous "Chocolate and Wine Cruise". Our scheduled route will pass bucolic farms and quaint old villages. Catch up on the daily news from the lockkeepers as we assist them in working the locks on this beautiful 18th Century canal. If you are feeling energetic you can walk, jog or cycle along the tow path and through the villages, as the barge floats down the canal. Our knowledge of the area and the use of our comfortable minivan will provide you with unforgettable excursions to some of our favorite places.

One day might involve a trip to a medieval village, with cobblestone streets and another may take you to the Abbey de Fontenay, a UNESCO World Heritage Site. We have also found a delightful renaissance chateau, and provide a private tour of the Grottes D'Arcy sur Cure, which is one of the oldest caves with ancient paintings in the world. We will also visit Alesia, site of the last great battle between the Romans and the Gauls, before driving across the valley to visit Flavigny where the film 'Chocolat', was made. Of course, no visit to Burgundy is complete without sampling the superb wines of this world-famous wine region.

Join the Elisabeth for a delicious week of Wine and Chocolate!


---
Features
Size of barge: 100 ft by 16.6 ft
Number of Passengers: 6
Number of Cabins (all with private bath): 3
Crew: 4
Air Conditioning and Central Heating: Yes
Salon: Split level salon/dining room with comfortable L-shaped sofa and easy chairs, high windows provide privacy. Internet access available.
Bar: Open bar
Deck: Sundeck with arm chairs, benches, dining tables plus umbrellas. Covered, enclosed wheelhouse with seating for six.
Spa Tub: No.
Cabin Features: All cabins 103 sq ft with twin beds or queen bed and ensuite bathroom with shower.
Vehicle for Transfers/Excursions: Air-conditioned minivan
Accessibility: Steps to salon/cabins.
Bicycles: Six 21 speed all terrain bicycles. Children's bicycles available.
---
Elisabeth's Deck Plan

---
Dining Aboard The Elisabeth:
SAMPLE MENUS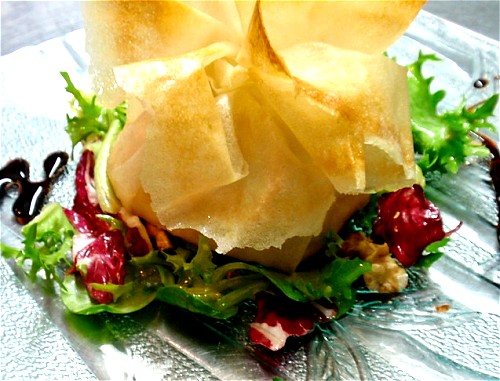 BREAKFAST
Assorted breads, croissants & pastries
Yogurt
Cereals
Fruit
Juice
Coffee, tea & hot chocolate
LUNCH
Quiche Lorraine
Rice salad (with peppers, onion, ham, olives and vinaigrette dressing)
Assorted salads that include: Mixed green salad, tomato and mozzarella with olive oil and balsamic vinegar, and a grated carrot salad with lemon and garlic dressing
French onion soup
Smoked chicken, mango, pear and apple salad with slightly spicy sauce (marscapone cheese, fresh cream, ginger and a little curry powder)
Pissaladiere (Provencal bread with onions, olive oil and black olives) with celeriac remoulade (celery root in lemon mayonnaise)
Waldorf salad
DINNER
Gougere forestiere (a cheese profiterole that is a regional specialty) filled with wild mushrooms in a cream and garlic sauce
Honey roasted lamb with rosemary roasted potatoes mange tout and a light wine sauce
Foie de Volaille salad - Chicken livers fried with oil, mustard and a little vinegar
Duck breast with a balsamic vinegar sauce and served with celeriac and potato puree and green beans
Cauliflower and Roquefort soup
Crème Brulee
Crepes a la peniche - crepes filled with a fresh fruit salad accompanied by home made strawberry sorbet
Lemon tart
All the lunches on board are served as a buffet with either white, red or rosé wine for your pleasure.
SAMPLE MENU FOR CAPTAIN'S DINNER: We make our last dinner on board extra special.
Fresh foie gras on a tartelette with sautéed red cabbage and onion jam
Scallops and Langoustine served with filo pastry and a light saffron sauce
Champagne and melon sorbet
Rack of lamb, dauphine potatoes, broccoli and carrots with a wine sauce
Selection of cheeses: camembert, bleu de Causse, St. Maure and a Comte
Molten chocolate cake served with a crème anglais, chocolate sauce and fresh fruits
Coffee and chocolates
The wines listed are only a selection of the types that are served on board. The final selection is chosen by Peter and Sheena according to age, taste and quality. We do serve as many regional wines as we can but also enjoy giving you a taste of France with a tour of all the wine and cheese regions. Our wines vary in age from the 1990's up to last year. Even the youngest of our wines are chosen for their flavor and quality.
Whites
. Chablis Vielle vigne
. Melon de Bourgogne
. Chablis Grand cru
. Rouy
. Coulanges
. Alsace
. Sauvignon de St Bris
. Sancerre
. Chablis Premier Cru
. Tokay Pinot Gris Vendange tardive
Reds
. Epineuil (near Tonnerre)
. Irancy
. Pommard
. Pernand Vergelass
. Coulanges
. Alsace Pinot Noir
. Cotes D'Auxerre
. Sancerre
. Santenay
. St Emilion grand cru classe
---
Passenger Comments
The service was impeccable and the meals were unbelievable. The barge route was peaceful and the scenery was absolutely beautiful, the trip exceeded any expectation that I had!
P.N., NJ, USA, September 2012
We have never been catered to and pampered like we were by the crew. The countryside was beautiful with our morning walks and bike rides along the canal something we will always remember. The service was beyond excellent and the meals were of the highest quality. The trip exceeded our expectations.
D.B., HI, USA, September 2012
The meals and wines were superlative...we are still recovering from our over-indulgence. I totally enjoyed the morning bike rides, the wine tasting, the wealth of information provided by our hosts, and the warm hospitality.
J.H., HI, USA, September 2012
Overall, the trip was fabulous! The food, the wines, the accommodations, the canal, the barge itself and its crew... everything was just perfect!
T & J R., MA, USA, September 2010
SAMPLE ITINERARY*
"Chocolate and Wine Cruise"
Burgundy: Canal de Bourgogne, Tanlay to Venarey-les-Laumes 2013
The Elisabeth La Chocolat Cruise for Wine lovers, chocoholics and cyclists! The theme this year is wines and chocolate. From our visits to our tastings and demonstrations we hope to surprise you ... all this with gorgeous cruising, adorable villages, and a romantic chateau, as well as the option to cycle on your own daily!

The following is Elisabeth's typical itinerary that focuses primarily on wine and chocolate. However, each barge cruise can be customized to include as much or as little cycling as you like. Charter cruises can be tailored entirely to any specific interests you may have, including cycling. Whether you are participating in either a charter or an individual cabin booking, you can consult with your crew each day on specific cycling routes and destinations that may be of interest to you!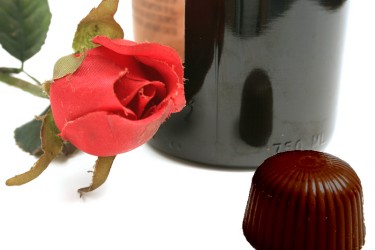 Saturday
Pick up in Paris at 2pm. Drive to the Elisabeth moored in the delightful chateau village of Tanlay. Settle in after a champagne reception and maybe take a stroll around the village. We start our chocolate week with tonight's dessert.

Sunday
This morning we will cruise to Lezzines and from here we will go to Ancy le Franc chateau. This beautiful renaissance chateau is well furnished and has incredible frescoes and artwork. A truly lovely visit. Then back to the barge for a tasting of the local tonnerroise wines. For those that are interested we can arrange a cooking demonstration today.

Monday
Today's cruise is to Ancy le Franc and here we will depart for a pleasant drive through the villages to Chablis for our wine tasting and a visit to the chocolaterie to hear the history of and taste the chocolate Pillars of Chablis. Back to the barge for more chocolate and perhaps to watch the film "Chocolat" before we visit the village.

Tuesday
Today starts with a leisurely cruise to Ravierres. After lunch we depart Elisabeth to visit the Grottes d'Arcy sur Cure to visit the caves and see some of the oldest cave paintings in the world. Formed 150,000 years ago the Stalagmite and Stalactite formations are fantastic. Cromagnon man painted in these caves 30,000 years ago. Back to Elisabeth for dinner and our next chocolate dessert.

Wednesday
This morning we will cruise to Montbard. The cruising just gets prettier as we go. Our visit this afternoon is to the Abbay de Fontenay, a UNESCO world heritage site. This wonderful abbey is the last complete Cistercian monastery left in France. Tranquility and beauty describe it perfectly. Back at Elisabeth our chef will give a demonstration on the making of tiny chocolate petit fours.

Thursday
Our last cruise takes us to Veneray les Laumes, a climb up and fabulous views over the countryside. We finish our week with a lunch in the village of Flavigny (where the movie "Chocolat" was made) and a walking tour of the village. If we have time we can visit the winery of Flavigny Alesia for a tasting before we drive the short distance to Alesia to see the site of the last great battle between the Romans and the Gaules. The Roman ruins and amphitheatre date back to 345BC. Return to Elisabeth in time for a rest before the Captain's dinner and our last chocolate fest.

Friday
This morning we drive you back to Paris after breakfast. We hope you have enjoyed your cruise aboard the Elisabeth.

Note: On alternate weeks, this cruise is offered in reverse. This itinerary is a suggested itinerary which can be adapted to special requests and needs and may change.

---
Elisabeth
2013 Season Cruise Schedule*
Week
Route
Season
Mar 30
Tanlay-Venarey-les-Laumes
Regular
Apr 6
Venarey-les-Laumes-Tanlay
Regular
Apr 13
Tanlay-Venarey-les-Laumes
Regular
Apr 20
Venarey-les-Laumes-Tanlay
Regular
Apr 27
Tanlay-Venarey-les-Laumes
Regular
May 4
Venarey-les-Laumes-Tanlay
Regular
May 11
Tanlay-Venarey-les-Laumes
Regular
May 18
Venarey-les-Laumes-Tanlay
Regular
May 25
Tanlay-Venarey-les-Laumes
Regular
Jun 1
Venarey-les-Laumes-Tanlay
Regular
Jun 8
Tanlay-Venarey-les-Laumes
Regular
Jun 15
Venarey-les-Laumes-Tanlay
Regular
Jun 22
Tanlay-Venarey-les-Laumes
Regular
Jun 29
Venarey-les-Laumes-Tanlay
Regular
Jul 6
Tanlay-Venarey-les-Laumes
Regular

Cruise Schedule* ... continued
Week
Route
Season
Jul 13
Venarey-les-Laumes-Tanlay
Regular
Jul 20
Auxerre-Clamecy
Regular
Jul 27
Clamecy-Baye
Regular
Aug 3
Baye-Auxerre
Regular
Aug 10
Auxerre-Briare
Regular
Aug 17
Briare-Tanlay
Regular
Aug 24
Tanlay-Venarey-les-Laumes
Regular
Aug 31
Venarey-les-Laumes-Tanlay
Regular
Sep 7
Tanlay-Venarey-les-Laumes
Regular
Sep 14
Venarey-les-Laumes-Tanlay
Regular
Sep 21
Tanlay-Venarey-les-Laumes
Regular
Sep 28
Venarey-les-Laumes-Tanlay
Regular
Oct 5
Tanlay-Venarey-les-Laumes
Regular
Oct 12
Venarey-les-Laumes-Tanlay
Regular
Oct 19
Tanlay-Venarey-les-Laumes
Regular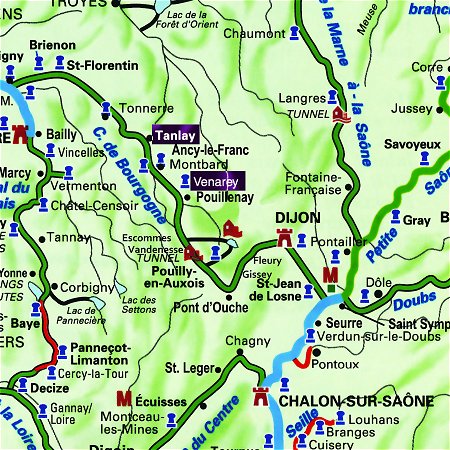 The Elisabeth's route through the Central Burgundy, from Tanlay to Venarey les Laumes on the Canal de Bourgogne. For a more detailed look at the cruise route, view our map of the Canal de Bourgogne.
*Note: Cruise directions and sample itineraries may be in reverse and are subject to change and may depend on bookings and local navigation conditions. Alternate excursions of equal appeal are substituted when needed. For charter cruises special itineraries can be arranged.
---
ELISABETH
2013 SEASON PRICES in US DOLLARS
ACCOMMODATION
VALUE

---

Mar 30 thru Jun 7
REGULAR

---

Jun 8 thru Oct 25
Cabin (per person, double occupancy)

$4,500

$5,000

Single Occupancy Supplement

$1,000

$1,500

Honeymoon Charter for 2

$12,500

$13,000

Charter for 4

$18,300

$20,200

Charter for 5

$20,500

$22,500

Charter for 6

$23,800

$25,800
NOTE: Guaranteed departures may require minimum number of passengers booked.
What's Included
- 7 days and 6 nights on the barge in a cabin with private bath
- Transfers from Paris to the barge and return
- All meals beginning with dinner on Saturday, through breakfast on Friday
- All wines with lunches and dinners
- Open bar
- All escorted side-excursions (hot air ballooning, golf, etc. at additional cost)
- Use of bicycles
Honeymoon or Anniversary Cruise:
In addition to "what's included" above, this special charter for two includes three crew members to pamper you and look after your every need, special Wine and Chocolate and Romance Itinerary, and red roses and champagne in the cabin as an extra treat!
What's Not Included
- Suggested minimum 5% gratuity for the crew, to be given to the captain in equivalent Euros
- Overseas air transportation to Paris
Please visit our Special Offers page to see potential discounts for this barge or many others.
Special Places Travel, LLC
"Barges in France (and the rest of Europe) ... for the experience of a lifetime!" ™


For booking information,
Phone (toll-free): 1-877-64-BARGE (1-877-642-2743)
Outside of the U.S.: 001.443.321.3614
or E-mail:

info@specialplacestravel.com
Return to TOP of PAGE
---
Text and images Copyright © 2003-2007, 2008, 2011, 2012 by Special Places Travel, LLC, Edgewater, MD, and by other copyright holders used by permission. Web design by Special Places Travel, LLC. All rights reserved. No further use without express written permission from copyright holders. Contact Special Places Travel LLC, +1-443-321-3614 for further information. Chocolate and Wine photo © Photographer: Andi Berger | Agency: Dreamstime.com
Last Update: March 28, 2013
Barges in France, A Division of Special Places Travel, LLC.
Barges in Europe, A Division of Special Places Travel, LLC.
Member: American Society of Travel Agents (ASTA), Cruise Lines International Association (CLIA), Outside Sales Support Network (OSSN). Bonded. Founded 1997. American Express, Visa, Mastercard, Discover accepted.
Accredited, Better Business Bureau