Cruise In France On The Burgundy Canal, Saone River, And Canal du Centre In Central And Southern Burgundy On The First Class Hotel-Barge CAPRICE
SEVEN DAYS / SIX NIGHTS
The 21-passenger Caprice is a classic Dutch Luxemotor hotel barge that returned to service in 2010, and cruises between Dijon and St Leger sur Dheune in Southern Burgundy. Caprice has a cozy salon, bar and dining area with comfortable furnishings, and a two-level forward sundeck at the bow, wreathed in flowers. There are chairs, parasols and even a barbecue on the sundeck for an outdoor lunch, weather permitting.

The lower deck offers 11 comfortable cabins (two double bed cabins, 8 twin cabins, and one single cabin) with ample closet storage and additional room beneath the beds. Each cabin has a private bath that includes a shower. The Caprice offers a laptop computer for passenger use, two French cell phones for rent while on board and hot air ballooning where available (fee to be paid on board).

Caprice follows a popular itinerary along the Burgundy Canal, Saone River and the Canal du Centre. This is one of the most beloved areas of France and the itinerary provides an abundance of interesting shore excursions by coach, on foot, by balloon or by bicycle. This incomparable region is world-renowned for its exquisite cuisine and fine wine. The cruise route affords plenty of opportunity for walking or biking along the canal.

Highlights include:
The barging capital of Europe, St Jean de Losne
Dijon, the capital of Burgundy
The 12th century monks winery of Clos de Vougeot
Medieval town of Chalon-sur-Saone
The 12th Century Chateau of Rully
The picturesque village of Chagny
Wine tasting in Meursault
A tour of historic Beaune, the capital of the vineyards
The world famous Hotel Dieu, the first charity hospital of Europe founded in 1443
A mooring in the vineyards of Santenay
A tour of the Chateau de Marguerite of Burgundy, one of the best preserved vestiges of a vast medieval fortress.
A tasting of wine at Chateau de Marguerite of Burgundy
---
Features
Size of barge: 128 ft by 17 ft
Number of Passengers: 21
Number of Cabins (all with private bath): 11
Crew: 7
Air Conditioning and Central Heating:Yes
Salon: Salon with banquette seating, bar area and separate dining area, all with large picture windows
Bar: Cash bar - wine included with lunch and dinner
Deck: Bi-level sundeck at bow with small tables and chairs
Spa Tub: No
Cabin Features: Two doubles, 8 twins, 1 single, from 68 to 98 sq ft each (average 82 sq ft), including ensuite bathroom with shower
Vehicle for Transfers/Excursions: Motorcoach
Accessibility: Not wheelchair accessible.
Bicycles: Yes
---
Caprice's Deck Plan


---
Dining Aboard The Caprice:
SAMPLE MENU
BREAKFAST
Our Continental breakfast includes fresh breads, assorted sliced meats, fresh butter, pastries, cereals, fresh fruits and yogurt.
LUNCH
Bacon and cheese quiche tart
Assorted cold meat platter
Sun dried tomatoes and goat cheese in pastry
Salmon baked in a salt crust
Lentil salad with orange juice dressing
Potato salad with chervil
Crayfish & pasta salad
Chocolate mousse
Lemon tart
Pistachio creme brulee
DINNER
Snails served with a garlic sauce
Cheese soufflé
Foie gras in filo pastry, blackcurrant sauce
Breast of guinea fowl served with an honey and saffron sauce, baby vegetables
Beef Bourguignon and tagliatelle pasta
Black cod served with a white wine and pink peppercorn butter sauce
Duck breast served with a whole grain mustard sauce
Scallops pan fried with cardamom accompanied by a chervil and whisky cream sauce
Rack of lamb with thyme, vegetables provencale and wild mushroom flan
Blackcurrant clafoutis
Marc de Bourgogne sorbet
Almond cake with a lemon tea mousse, exotic fruits and lime sorbet
Strawberry and raspberry napoleon
Fresh fruit gratin with a sabayon sauce
Wine Cellar:
Saint Véran
Saint Emillion
Entre deux Mers
Côtes de Castillon
Chablis
Bourgogne Pinot Noir
Riesling
Saumur Champigny
Sancerre
Irancy
Chardonnay
Brouilly
Touraine Sauvignon
Touraine Gamay
Muscadet Coteaux du Lyonnais
Bourgogne Aligote
Côtes de Provence
Picpoul de Pinet
Côtes du Rhone
Cheese Board:
Roquefort
Brie de Meaux
Bresse Bleu
Chaource
Livarot
Macon Villages
Camembert
Gapero
Comté
Epoisses
Fourme d'Ambert
Chinon
---
Passenger Comments:
We had the most AMAZING honeymoon! It was far beyond our dreams... It had the perfect combination of activities/excursions and relaxation, meeting new friends and having private time, enjoying FABULOUS meals and wines and walking it off along the canals. The meals and wines were FABULOUS! Not a single lunch or dinner disappointed! We received excellent services from Special Places Travel from the very first contact. Chip Bannister was our point person and he was always friendly, helpful and very responsive. We are very grateful for their excellent service! I would recommend Special Places Travel to others without the slightest hesitation. It was a delight to be their customer.
L.L., MD, USA June 2012
ABSOLUTELY MARVELOUS! I travelled with a friend and were somewhat unsure of what we would find,...but we loved everything!
D.H., Australia, June 2012
Excellent service, outstanding meals and wines, accommodations exceeded my expectations!
B.E., VA, USA, June 2012
Caprice offers an easy and enjoyable way to see the France countryside, whilst enjoying good cuisine and wine. I enjoyed the easy contact with the other passengers because of small numbers on the boat; the opportunity to bike along the canal towpath and go further into smaller villages along the route.
M.C., Australia, September 2011
Caprice is well run with excellent service and food. The route was scenic and pleasant, I liked the tours and visiting nearby towns, and walking around.
C.M., VA, USA, May 2011
Cabin accommodations were small as expected but clean and with good storage space. This is about the best way to travel with a group. You are spoiled rotten with food and wine and a crew that wants to do everything to make sure your cruise is perfect.
G.T., CA, USA, September 2010
SAMPLE ITINERARY*
Burgundy:
Canal de Bourgogne, Saone River, Canal du Centre
Dijon to St Leger sur Dheune 2013
Your Heart of Burgundy cruise on the Caprice begins in Dijon where the cruise group meets at the Dijon railway station. From Dijon you will cruise the Burgundy Canal, one of the oldest in France. From there you will join the Saone River for a one day cruise to the Canal du Centre where you will enter the vineyards of Burgundy. Whether your mooring is in a vineyard or a quaint village, your heart of Burgundy Cruise offers a true taste of the treasures of Burgundy. This cruise offers an abundance of interesting shore excursions by coach, on foot, by balloon, or by bicycle. This incomparable region is world-renowned for its exquisite cuisine and fine wine.
Saturday
Meet at the Dijon railway station on Saturday afternoon at 4:30pm. We will then transfer you to Caprice located at the Port in Dijon where a welcome aboard Kir Royale awaits you. We will introduce you to the crew and to Caprice while your luggage is quietly taken to your cabin. You will have a chance to unpack and we will place your empty luggage in the baggage compartment of our bus. Before and after dinner there will be time to use the internet cafe at the Port, have a quiet drink at the Barge Lounge across the street, stroll along the towpath or walk uptown. Dijon center is but 10 minutes away. Tonight you will enjoy your first gourmet dinner on board Caprice and before dinner we will offer your a happy hour with open bar.
Sunday
After your buffet breakfast we begin our cruise on the Canal de Bourgogne. Later our motor coach will whisk us off for a guided tour of Dijon, the capital of Burgundy. After we return to Caprice we will continue our cruise on the Canal de Bourgogne. There are many opportunities for guests to walk along the towpath or cycle into nearby villages. This evening we will moor in Longecourt, a quiet canalside town. Our mooring spot allows a magnificent view of the Chateau Longecourt from the forward deck. There is time to explore the village after dinner, stroll along the tow path, or sit on the deck and get to know your fellow passengers.
Monday
This morning your guide will take you to visit to Clos de Vougeot. Wine was produced here as early as the 12th century, by none other than the local monks. A private wine tasting follows in Nuits St Georges before we return to Caprice. We continue our cruise to St Jean de Losne where the Canal de Bourgogne merges with the river Saône. There are hundreds of barges moored here in addition to major barge manufacturers. Live-aboard barge owners are abundant. We will continue our cruise on the Saône to Seurre, a lovely riverside town with a 16th century church and beautiful brick houses from the 17th century.
Tuesday
This morning we will visit the Museum of Seurre before setting out on a beautiful river cruise to Chalon sur Saône where we arrive in mid afternoon. A guided walking tour of the old town begins shortly after we arrive. There will be time for shopping in the town's elegant shopping district. Chalon sur Saône was built alongside the Saône about 3000 years ago. The town was a naval base during Antiquity, the place of big fairs during the Middle Ages, and a trading centre in modern and contemporary times. The old town is magnificent.

Wednesday
Today we enter the Canal du Centre from the Saône through a lock with a 50-foot rise. Our shore excursion today will be to beautiful Beaune. Beaune is the wine capital of Burgundy and home to the magnificent Hôtel-Dieu, a charity hospital founded in 1443. This monument boasts the finest Burgundian-Flemish architecture in the world. Wednesday is market day in Beaune. We will spend some time at the market before returning to Caprice and setting off for the canal side town of Chagny. Your cruise today is in the midst of the Chalonaise and Santenay vineyards. There is ample time to walk and cycle the towpath.
Thursday
Our shore excursion will be to the village of Rully for a private guided tour of the 12th century Chateau Rully. Chateau Rully has been in the same family for 900 years. This Medieval fortress is built around a 12th century keep and reveals some interesting features of medieval military architecture with its parapet walk, battlements, machicoulis and loopholes. The main building dates back to the Renaissance. The vaulted kitchen in the keep has a monumental fireplace and an extensive range of copper utensils. An 18th Century building boasts Burgundy's largest stone roof. The Rully vineyards surround the Chateau. There is ample time for walking or cycling today. Later we cruise to the picturesque village of St Léger-sur-Dheune for a farewell gala dinner.
Friday
After breakfast, passengers are transferred to the Dijon train station. Our plan is to leave the boat so as to arrive at about 10:30am.
Note: This is a sample itinerary and is subject to change if necessary due to waterway or venue closures. On alternating cruise weeks, this itinerary operates in the reverse.
---
Caprice
2013 Season Cruise Schedule*
Week
Route
Season
Apr 6
Dijon-St Leger
Value
Apr 13
St Leger-Dijon
Value
Apr 20
Dijon-St Leger
Regular
Apr 27
St Leger-Dijon
Regular
May 4
Dijon-St Leger
Regular
May 11
St Leger-Dijon
Regular
May 18
Dijon-St Leger
Regular
May 25
St Leger-Dijon
Regular
Jun 1
Dijon-St Leger
Regular
Jun 8
St Leger-Dijon
Regular
Jun 15
Dijon-St Leger
Regular
Jun 22
St Leger-Dijon
Regular
Jun 29
Dijon-St Leger
Regular
Jul 6
St Leger-Dijon
Regular
Jul 13
Dijon-St Leger
Regular

Cruise Schedule* ... continued
Week
Route
Season
Jul 20
St Leger-Dijon
Regular
Jul 27
Dijon-St Leger
Value
Aug 3
St Leger-Dijon
Value
Aug 10
Dijon-St Leger
Value
Aug 17
St Leger-Dijon
Value
Aug 24
Dijon-St Leger
Regular
Aug 31
St Leger-Dijon
Regular
Sep 7
Dijon-St Leger
Regular
Sep 14
St Leger-Dijon
Regular
Sep 21
Dijon-St Leger
Regular
Sep 28
St Leger-Dijon
Regular
Oct 5
Dijon-St Leger
Regular
Oct 12
St Leger-Dijon
Regular
Oct 19
Dijon-St Leger
Value
Oct 26
St Leger-Dijon
Value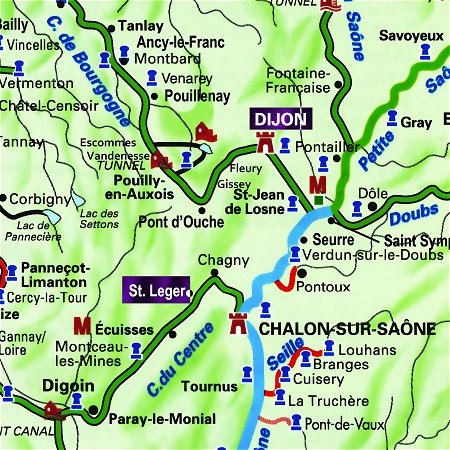 The Caprice's route through Central and Southern Burgundy, from Dijon to St Leger, along the Canal de Bourgogne, the Saone River and the Canal du Centre. For a more detailed look at the cruise route, view our map of the Canal de Bourgogne, Saone River and the Canal du Centre.
*Note: Cruise directions and sample itineraries may be in reverse and are subject to change and may depend on bookings and local navigation conditions. Alternate excursions of equal appeal are substituted when needed. For charter cruises special itineraries can be arranged.
---
CAPRICE
2013 SEASON PRICES in US DOLLARS
ACCOMMODATION
VALUE

---

Apr 6 thru Apr 19
Jul 27 thru Aug 23
Oct 19 thru Nov 1
REGULAR

---

Apr 20 thru Jul 26
Aug 24 thru Oct 18


Cabin (per person, double occupancy)

$3,190

$3,290

Single Occupancy Supplement

$1,590

$1,590

Small Twin Cabin 1 (per person, double occupancy)

$2,790

$2,990

Small Twin Cabin 1 Single Supplement

$1,290

$1,290

Single in Single Cabin

$3,490

$3,690

Charter for 15

$52,720

$54,610

Charter for 16

$53,720

$55,610

Charter for 17

$54,820

$56,710

Charter for 18

$56,020

$57,910

Charter for 19

$57,320

$59,210

Charter for 20

$58,710

$60,610

Charter for 21

$60,220

$62,110
What's Included
- 7 days and 6 nights on the barge in a cabin with private bath
- Transfers from Dijon train station to the barge and return
- All meals beginning with dinner on Saturday through breakfast on Friday
- All wines with lunches and dinners and bar drinks during cocktail hour before dinner
- All escorted side-excursions (hot air balloon at extra cost when available)
- Use of bicycles
What's Not Included
- Overseas air transportation to Paris and return
- Transfers from Paris to Dijon train station to the barge and return
- Special services such as hot-air balloon excursions, booked separately with the balloon company, but coordinated by the crew
- Bar drinks (outside of cocktail hour): to be paid in euros to the cruise manager on board at the end of the cruise
- Suggested gratuity for the crew of 110 Euros per passenger, to be given to the barge manager
Please visit our Special Offers page to see potential discounts for this barge or many others.
Special Places Travel, LLC
"Barges in France (and the rest of Europe) ... for the experience of a lifetime!" ™


For booking information,
Phone (toll-free): 1-877-64-BARGE (1-877-642-2743)
Outside of the U.S.: 001.443.321.3614
or E-mail:

info@specialplacestravel.com
Return to TOP of PAGE
---
Text and images Copyright © 2010, 2011, 2012 by Special Places Travel, LLC, Edgewater, MD, and by other copyright holders used by permission. Web design by Special Places Travel, LLC. All rights reserved. No further use without express written permission from copyright holders. Contact Special Places Travel LLC, +1-443-321-3614 for further information.
Last Update: March 28, 2013
Barges in France, A Division of Special Places Travel, LLC.
Barges in Europe, A Division of Special Places Travel, LLC.
Member: American Society of Travel Agents (ASTA), Cruise Lines International Association (CLIA), Outside Sales Support Network (OSSN). Bonded. Founded 1997. American Express, Visa, Mastercard, Discover accepted.
Accredited, Better Business Bureau